WASR 10/63
(AK-47, modified)

(7.62x39mm)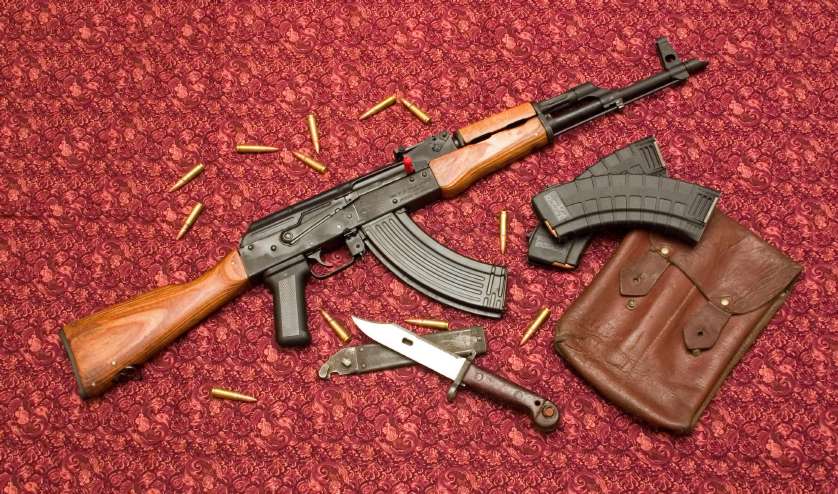 There is no weapon more successful than the AK-47. Since its inception, it has been produced by the 10s of millions in a whole host of countries. So many have been produced that in point of fact, only estimates of production figures can be made. To this day, the rifle's designer, Mikhail Kalasnikov, continually expresses great pride at the success of his design, and rightly so. There is no where on this world you can go without finding the AK-47 in use by some group. Part of the success of the Kalashnikov is its legendary reliability. These rifles will function wet, they will function in a sand storm, they will function in the humidity of the jungles, they will function in the snow... any condition you can immagine that an army can fight in, these rifles can take. I do not doubt that there are specimens out there that are more than 30 years old that have never been cleaned and possibly never oiled and yet still function.
Some exceedingly good variants are even being produced in this nation. These are not merely copies of his design, they are new weapons derrived from the foundation Kalashnikov provided. The makers of these new derrivations largely have sought to retain the reliability that has helped make the AK-47 the immortal arm it has become.
One of the key objectives of Kalashnikov's design was ease of production. This design incorporates many stamped parts and a fairly simple and straightforward design. In many production facilities, there is virtually no polishing done inside or out, tolerances are very loose except where critical, and the stocks often left rough, sanded only for the purpose of removing splinters. These factors mean that there is little wasted effort in producing this rifle. Fully automatic weapons are made available around the world for less than $500 a piece. Remarkably, it doesn't matter if a rifle was made in Russia, China, Poland, Romania, Yugoslavia, or any other state, as a result of the tolereances, the parts from one will generally work flawlessly in another.
The affordability, reliability, and simplicity of this rifle have made it an attractive service arm for armies and police agencies around the world for over half a century. Over the course of time, there have been some small improvements to the design including the subsequent AK-74 chambered for the smaller 5.45mm round but the basic design of the AK-47 remains unchanged. It is entirely conceivable that this rifle will still be standard issue for many nations after another 50 years have passed.
Type:
Semi-Automatic Rifle
Mechanism:
Gas Piston
Caliber:
7.62x39mm
Capacity:
30 round detachable magazine
Barrel Length:
16 in.
Twist:
1:9 LH
Overall Length:
35 in.
Weight:
apx 7 lbs.
Sights:
Fixed front, ladder rear
Finish:
Phosphate
Market Price:
$650
Adding to My Collection
Since the start of 2007, I had wanted to add an AK type to my collection but never got around to it. Then after the elections in 2008, guns in pretty much any category outside of hunting rifles disappeared. Any that remained went up 30% or more in price. This situation continued for the better part of six months until demand fell off enough to allow gun makers and importers to catch up. So while still a high item on my wish list, this rifle would have to wait. Besides, the greater share of my budget had been set aside for the purchase of an M4 type.
Well, after I was finaly able to get my M4 and repay that portion of the credit card bill, I was back to more or less normal purchasing status. That left an opening for another gun. I had hesitated to pick this one up, wanting first to try to pay off the rest of the credit card (school bills and other things still demanded attention), but also because, being a diligent collector and writer, I had begun to fall behind in testing, evaluating, researching, and writing about some of the more recent purchases and a couple of articles that still hadn't been written after my website redesign from the end of 2008. (Hey, I still have my other job to deal with too, ya know.)
Seeing the stack of unfinished articles get ever deeper and realizing the amount of work that would have to be done to complete the range testing and research was considerable, I was inclined to take a break from adding to my collection so I could catch up. (My bank account wouldn't really object either.) Part of this backlog also resulted from a personal weariness that had begun to set in as a result of all the effort that had been put in at work, school, and several of the previous articles, not to mention that I still had to maintain a personal life and meet family and social obligations. In fine, a goal was set for a reduction in the backlong followed by a much needed vacation.
Then came the 4th of July, Independance Day. I had an appointment that weekend to meet a coworker down at the local range so he could examine a couple of the carry guns I own. To make a long story short, he couldn't make it but since it had been a while since I had taken one of them out for some practice, I went down anyway. As it happens, there was a nice looking import on the rack (well, nice for an AK) and a sale on. For a few weeks, I had been looking at my bank account and wondering how hard it would be to set aside $600 for another pistol I had been eyeing. Since work had already begun on making that a reality, the sale combined with prices that had finaly come mostly back down to earth was enough to for me bite. Just like that, one more article got added to the stack. Oh well...
On the positive side of things, what better way to celebrate Independance Day than by buying a gun?
Tuning and Tweaking
The rifle I purchased was a Romanian production WASR-10/63 imported by Century Arms stamped as having been produced in 1985. As with other imports by them that I have examined, their markings were done most tastefully and did not detract at all from the overall appearance of this rifle. Since fully automatic weapons cannot be sold to the public, this is not an AK-47 proper but is termed an AK type since, thanks to the machine gun ban from 1986, you can't market automatic weapons to the public, hence, when it was imported, this was converted to semi-automatic configuration. That means that certain internals are not original. On examination at the shop, the Tapco name appeared on more than one rifle in more than one location. In my case, the pistol grip, trigger group, magazines, and piston rod are all replacements. Some of this was a part of the conversion but also may have been necessary to ensure the safe and correct function prior to sale to the public. The exterior of this rifle as well as some of the interior pieces have also apparently been refinished since the import marks seem to have been put on before the finish, nor were there any scratch marks from the safety lever or the locking lever for the gas tube.
With a rifle that has been thusly modified, its value as a collectible is pretty well nil and that's okay, I wanted a shooter anyway. The WASR-10s are considered among the poorer AK-47 coppies out there and I can agree with that statement. "Rough" only begins to describe this rifle. Once I got this thing home, I found that I had to sand or file several parts merely to keep from bleeding on the thing. Receivers on the original Soviet weapons were milled, this one is stamped. The wood looked like it was finished with no finer than 50 grit sand paper prior to being stained, the action was stiff and somewhat sticky, there were burrs on the spring housing that tried to catch the return spring, machining marks everywhere and sharp corners just aching to dig into my hands.
On a historical item, I might be content to leave anything which would not directly impact the safe function of the rifle (and being very selective about even that.) But since this is just a shooter, and a dirt common one at that, I had no qualms about immediately knocking down those burrs and sharp corners. I'm not going to waste money on a gunsmith to fix this thing up but it's definitely worth spending a little time in front of the TV to do some simple smoothing and tuning. I should take time to stress that doing even this sort of work incorrectly can be dangerous. I have a pretty good understanding of how this mechanism operates and what to watch out for. Even so, I'm very careful with exactly what gets done and how. Don't take on a project like this yourself unless you are 100% certain that your rifle will be safe afterwards and even then, it's a good idea to think twice about it.
Next on my list of alterations was the wood. While it will serve its intended function well enough, I just didn't like it as it was. Complete sanding and refinishing was in order. For my tastes, I didn't exactly want a high gloss eurythane finish but I didn't want it rough either. Considering that this woodwork is mass produced, the grain of the wood looked reasonably attractive to me and I wanted to preserve that. No, all I wanted was to sand it to a smooth finish, add a little light stain to better show the grain of the wood and rub oil into it to condition it and make it look good followed by a bit of buffing.
Unfortunately, even after cleaning, there was enough dirt in the pores of the wood along with some pretty deep scratches that it was necessary to start with 150 grit sand paper and work up from there. After spending about four hours carefully sanding and smoothing, things were looking much better. Two weeks and maybe a dozen applications of oil (refinishing a stock in this manner is not a job for the impatient) really brought the woodwork back to life. When all was said and done, I was quite pleased with how things turned out.
Inbetween coats of oil, I set to work carefully examinng the internals to locate metal to metal contact points and identify bearing and working surfaces. As noted, the rifle has been refinished and that includes the interior parts that probably shouldn't be finished in this manner. There were also gliding surfaces that were so rough and uneven that I am amazed that the bolt even closed after being drawn open. The trigger pull and trigger return, being a brand new factory fresh replacement from Tapco, were also somewhat grittier than they should have been. All of these areas were attacked with deliberate effort. After smoothing things over and adding a bit of oil in appropriate spots, the differerence was astounding. It's still a bit rough and the action still hesitates more than I would like to see but it is nowhere near as bad as it was when I first picked the thing up. Considering that this is about the limit of my gunsmithing abilities, I'm pretty happy with the results.
At the Range
One disadvantage of the AK is that on many of the various makes and coppies, there is not a hold-open for the action. When the range officer calls a cease fire and demands that everyone leave their guns on the bench with an open and empty action, this can make it hard to demonstrate that. The easy fix here is to acquire a magazine follower with a bolt stop integrated into it. Unfortunately, many magazines (such as the Tapco mags that were included with this rifle) do not incorporate this. The result is that the action does not lock open on an empty magazine. That condition makes it all the harder to demonstrate that you have an empty rifle. Some have gone as far as to file a notch in the receiver cover that the safety lever can slide up into and thereby block the charging handle but that sort of alteration does not appeal to me. An alternative solution (and the path I chose) is to simply carry a wooden dowel or some other non-maring item that you can stick the end of in between the bolt and the chamber so that it will not be able to close all the way.
After I got set up at my bench, the first order of business was a quick safety check to make sure the tune-up I had done didn't have any unintended side effects. The usual "single feed followed by tear down" plus a few rounds and a brief inspection of several additional spent casings showed that things were behaving exactly as they were supposed to. So no worries on the safety front.
Now I realize that in a lot of cases accuracy testing with an AK can almost be a contradiction in terms. Nonetheless, I couldn't leave without at least putting a few rounds through paper just to see if it would group at all. Since this rifle only has and will only ever have iron sights, distances were limited to 50 yards so I'd at least have a chance at getting meaningful results. Even at that, I was not expecting anything impressive. The resulting group was a nice surprise. Two targets showed groups of three and four inches. That actually doesn't strike me as all that bad for a battle rifle.
I was surprised to discover that despite the reputation these arms have that this rifle was pretty controllable. Sure, from a standing position, it would have been a challenge for me to hit a billboard at 300 yards but I wasn't having to fight to keep the rifle on target, either. The biggest problem I ran into was feeding. Seemingly every four to six rounds, the bolt missed the rim of the next round and either closed on an empty chamber or scraped the side of the case, digging into it and dragging it along for the ride, bending the heck out of it in the process. Oh, and even when it did feed correctly, there were a couple of times when it didn't go completely into battery. Looks like I need a new spring. The other bit will take some thought. Usually that would hint at a magazine problem but it occured on multiple magazines. On closer inspection, it appears that the magazine catch is about 75 thousandths short. This is allowing excessive play at the back of the magazine resulting in cartridges being positioned too low for the bolt to pick them up. Since the front of the magazine is higher, this explains why the bolt is able to scrape the cases and jam. This repair may be something I have to have a gunsmith attend to mostly because of how difficult it is to remove and reinstall that part on the rifle.
Despite the problems, it was still a pretty fun morning. I can see that at the very least, the AKm makes for an excellent plinker. It's not really all that heavy when you get right down to it and the 7.62x39 round isn't especially punishing for the shoulder.
Soliloquies
There are many of these and similar rifles being imported into this country each and every year. Some are of better quality than others. Direct imports, refurbs, new manufacture... all have their benefits. The direct import is usually the cheapest but, as illustrated with my experiences above, you get what you pay for. Refurbs are more expensive but will look and function much better. As noted, the variants and coppies newly made here in the states are probably the best and come with a decent warranty to boot but are also likely to be the most expensive.
The AK-47 has been and remains the most widely used rifle this world has ever seen, hands down. There is no indication that this situation will change any time soon. During its history, it has represented many things to many people. To me, it has been a symbol of Soviet expansionism and aggression on the one hand, a weapon of liberation, rebellion, and revolution on the other. At times, it has been a weapon of oppression but turn around and move a few hundred miles away and it has kept the peace and preserved liberty. The AK-47 has almost as many faces as humanity itself and I welcome its likeness into my collection.