Wayne...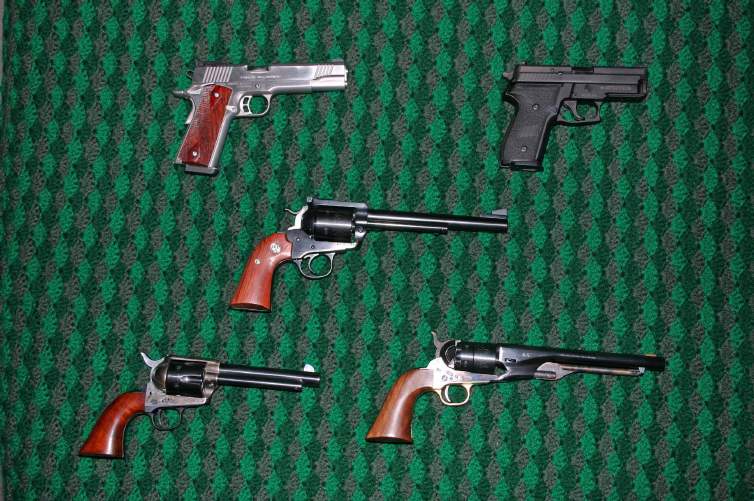 ...WITH GUNS!
So I own several guns and rifles of various types. Personally, I blame my cousin, Corwin, for getting me into this stuff and every time I look at the price of ammunition and cringe, I think, "this is all his fault!"
But seriously, firearms are cool. Many have said that looking at the history of firearms is akin to a look at the history of our nation and and the developed world as a whole, really. I have to say that I agree with this statement. My tastes lean much more towards historical arms than contemporary but I still own more than one modern weapon. I enjoy shooting them all, most especially the black powder weapons. Holding one of those weapons in your hands and seeing that enormous puff of smoke accompanied by actual burning embers flying out the barrel is a feeling I don't think can be matched by a modern gun.
More has been written about firearms than one person can assimilate in one lifetime, even one who dedicates themselves to the study, and more is being written all the time. I've obtained several books and read through them. I'm gonna have to read some of them a couple of times to really commit the information to memory but I learned a great deal, nonetheless. To be a collector of historical arms or historical reproductions, it is not enough to know that "this gun is cool", rather, you should become familiar with the history of the weapon, the period in which it was introduced, the motivation for it's introduction, how it was used and by whom, and even the history of the cartridge initially used, the chamberings that became the most popular, and why those cartridges were chosen. To do less than this is to not be a true collector but just simply to buy a lot of cool guns. MY intention is to be a collector. So my studies continue. (In the mean time, I've got no problems with buying a lot of cool guns.)
I'm not the best shot in the world, but I do well enough and actively work to improve my performance with all of my arms, even though some don't get as much use as I'd like. Some examples of my skills are shown below and in the articles I have written about these weapons, more by way of demonstrating the performance of the various arms rather than to brag (and like everyone, now and again I end up with targets that aren't generally worth bragging about... Some days, I can't miss the 10 ring; other days, it's hard to just hit the paper.) For reference, those targets with a grid printed on them are set at one inch intervals.
The "Hows," "Whys," and "Wherefores"; a brief note about this site.
So what have I obtained so far? Here's the list in order of purchase:
Thus far, my tendancy has been to purchase as many new arms as used. There is no particular reason for this, although I will admit that I tend to shy away from most used items in general because of the potential for the given item to have been done in through abuse. But mainly, I just didn't see a used weapon that I liked at the time I purchased the others.
I started out with the .22LR because I wanted to teach myself to shoot accurately at distance. The .22 is a good start for learning and teaching good rifle handling but as far as distance goes, it has its limits so that means learning distance shooting requires something beefier. I still hold that goal but can't afford to shoot enough to make it happen and am having a hard time finding anywhere where I can shoot over 200 yards at a paper target without paying a fee I likely will not be able to recoup.
The .22 was followed by the 1860 SAA just because I love black powder weapons. And let me tell you, this thing is a hoot to fire. It takes forever to reload, but boy is it fun to shoot. Just watch out for the hair trigger.
This one isn't so great in the accuracy department, as is common to all such weapons. It's meant for close quarters combat and in a "less than 21 feet" scenario, I wouldn't worry about it. Of course, after a few rounds, things start to bind up unless you take the time to give the cylinder pin and barrel a good scrub.
I got the .308 because I wanted something with greater range and a better ballistic trajectory. (Lets face it, the .22, over 100 yards, really starts to feel gravity and wind, no matter how well you shoot.) This is an excellent rifle. There's no question of why a design out of the 50s is still one of the kings today. It feels good in the hands and shoots like a champ. I've never had a problem with it, not even a misfire. (Which is also a testament to improved ammunition manufacturing over the years.) If I were to join someone on a deer or elk hunt, it'd be this rifle that I'd want to take over any other that could be offered to me. Check out one of my targets, 8 shots at 50 yards and I can hit the 18 inch steel out at 300 yards virtually every time. Once I get more experience, I'll probably even be able to hit some of the 6 inch wide varmint silhouettes at the same distance. It's not hard to be a good shot with this rifle as long as you're patient with each shot and can control your breathing.
The SuperBlackhawk was purchased out of a desire to have a decently powerful single-action revolver. I saw this gun at a good price and just had to have it. I will admit to being considerably influenced by John Taffin's book Single Action Sixguns which I was in the midst of reading at the time.
It was Taffin's book which also turned me on to the old model Single-Six. That, and the 15% price hike in ammunition I noted at the start of 2008. The Single-Six is an interesting study. This gun is about 40 years old and shows the holster wear to clearly demonstrate that it got it's share of use. My pistol is a convertable and has the original, matched cylinders and original packaging with the manual and felt cylinder bag.
The Kimber Gold Match II was purchased for personal protection as well as target shooting. Why did I settle on the GM II? One simple reason: budget was not a concern at the time, what was a concern was how it felt. Out of probably 8 separate 1911 style pistols I held when I was making this purchase, this was the only one that felt like it really belonged in my hands and that included the $2500 gun I looked at just because it was there. I don't for one minute think I made the wrong choice. This gun shoots exceptionally well. In fact, of all the guns I own, I think I shoot better with this than with any other, and I like shooting this gun. It's fun, but bullets are expensive these days so it doesn't get as much exercise as it should.
However, the GM II is big and heavy and really meant for competition shooting so I wanted something a little less bulky and easier to conceal as a primary carry. Enter Sig Sauer. I looked long and hard at these guns. I strongly debated the 239 vs the 229 and even .357sig vs .40 S&W as a cartridge. (It was only later that I learned that all I needed to do to change from .40 to .357 was a barrel swap.) I finaly settled on the SigSauer P229r because I thought it would be more usefull during some of the firarms instruction courses offered at the local gun shop here. I also decided that there was too much potential for overpenetration with the .357sig (in the highly unlikely and very much undesireable event that I would have to draw and fire this weapon) so since .40 S&W hydrashock was what was being used by police departments in several municipalities as well as the local DPS, I finaly settled on that since if it was good enough for them, then it ought to be good enough for me and have not once regretted that decision though I ultimately decided to get the short trigger installed. (The picture shows the factory trigger.) At the same time, about a year after I purchased the gun, I also decided to get the .357sig barrel. Makes a nice way to get a new gun without the expense of a new gun. The power in that round actually surprised me. I don't like the necked down case but it seems quite a decent round.
As a post-script, I will note that one of the reasons I bought a Sig was because it had a good reputation among those I spoke to for being rugged and reliable. During the first 6 months I owned this gun, I fired about 1,200 rounds through it and suffered two failures. First, a broken extractor after ~650 rounds and next a take down lever that eventually failed to disengage the sear and allow the slide to be removed. (The lever partly broke free from the shaft, permitting the lever to rotate around it without moving the take down catch.) I am assured by those about me, including a lieutenant with the Arizona DPS whose officers carry the 226s and 229s as duty weapons, that these are not at all typical of Sig but it does give one pause. Still, Sig's customer service is quite good so that partly makes up for this. Both times, I had the weapon back in my hands inside of 10 days from the time I shipped it back to Sig. (And the call to get the RMA took no more than 5 minutes.) After 2200 rounds, the extractor broke again. At this point, I don't believe I will using this as a carry pistol again. If I can't rely on it, I don't want it with me.
There are times, though, when even something like the 239 would be too big so I thought hard about purchasing a pocket pistol. After finaly determining that it really was a good idea, I chose to pucrhase a 9mm because after reading several papers on the subject, I was finaly convinced that while these guns are more easily concealed because of the reduced width, there just wasn't enough power in a .380 or a .32 automatic to be of much use in a confrontation. (Of couse, getting a round of any size into the air, accurately, is what really matters so don't sell your .380 or .32 on my account.)
After examining several, it was a choice between Keltec and Kahr. Kahr looked like it was made better and would probably shoot better so I chose the Kahr Arms PM9. At first, I wasn't exactly thrilled with the design of this gun, not really trusting a 100% polymer frame, but it has since grown on me and now that the breakin period is over and I see how it's holding up, I'm much more satisfied.
My most recent pistol purchase was the Smith &amp Wesson M&P9. This acquisition was mainly prompted by the desire to get a gun I could actually afford to shoot with regularity, also intending that this be an occassional carry. That meant I should be looking at a 9mm. Of course, the way prices are going up, 9mm shells are approaching what .45 ACP was just two years ago. This is still the pistol I use most often on the range, despite the price of bullets.
Later on, I got back into hiking again and decided that the holsters I had were just not going to cut it for that sort of use. My solution was to pick up a leg holster. After tweaking it for fit and form and getting a measure of the positives and negatives, I decided I would just go ahead and write up my own little review of this product.
A little while after that, I also decided it was time to take a low light shooting course. This necessitated picking up a light. I opted for the SureFire G2 LED.
Early in '08, I found myself in Cabella's browsing their gun counter and ran across a decent looking M1 Garand. I just couldn't pass it up. It's been a pleasure to shoot this rifle every chance I get.
Oh, one more small note about the M1. Ever see the U. S. Marines doing their silent rifle drills, swinging them around, tossing them up in the air, and what not? Look closely at the weapon. It ain't an M16 or an M4 carbine. It's a Garand with fixed bayonet. (A traditional wood-stocked rifle looks a heck of a lot better on parade than a piece of black plastic.) Decades after the weapon was removed from general issue, it still has official use. That alone is perhaps the finest praise this weapon could receive.
Towards the end of '08, I got an itch to pick up another gun and had been looking at .357 magnum revolvers for the prior two months. All the Smith & Wesson revolvers seem to be built for someone whose hands are bigger than mine (but I'm liking the way the 686 feels so may get that for those times I feel like carrying a revolver but also for general training with how to properly handle such a thing for defensive purposes) and since I was more after a target weapon, I settled on the Ruger GP100. This revolver is stainless steel with a 6 inch heavy barrel. With this pistol weighing in at a hefty 45 ounces, this is deffinitely not a packin' pistol. If I had known that the recoil was going to be as light as it was, I probably would have gone for the 4 inch barrel and saved the extra 5 ounces. I'm pretty glad I got it when I did though. The post-election carnage was truely amazing. In the first week after the 2008 election, sales at gun shops across the country rose by more than 300%. I've never seen gun shops with darned near empty shelves before. (Even ammunition became hard to find and that included the standard pistol calibers as well as the magnum rounds.)
During the same period, I also had an itch to expand my rifle collection. So I made the decision to go up to Prescott and visit J&G Sales and look at some of the cheaper options such as the Mosin-Nagant and etc. Somewhat to my surprise, this store was crowded, and I mean crowded. Just like all the other shops, J&G is feeling the "Obama effect" pretty hard. This means that some weapons are pretty scarce and I knew that would be the case ahead of time. What I didn't expect was so many people. I had intended to pick up a Mosin-Nagant and an AKm but the AKs, as indicated, are hard to find just now. I thought about the SKS but those too are difficult to find. So I settled on a Mauser. I think I got a really good deal on the Mosin-Nagant since it is marked as a 1930 build and looks to be in the as-issued condition save for a couple of obvious repairs (new floor plate and new barrel bands), but the Mauser is a bit of a disappointment. It looks a perfectly servicable weapon with a 1944 stamp on the barrel but also looks to be a random collection of parts, from what I have been able to see. The stock also gave me a small spliter when I was cleaning the grease off of it so it has not aged as well as the MN has. But I shouldn't be surprised. Afterall, I only paid for a service grade rifle, not a collectors grade, not thinking to ask at the time and being too concerned about budget to think about it.
At the end of February in 2009, the Democrats were in total control in Washington. Everyone anticipated a return of the assault weapons ban but I personally didn't think anything was likely to come about for a year or more, just because the economy was so screwed up at the time of the election that it seemed that there were more important things on their plates. But then the talk began. First a word that there was the first of potentially many gun control measures being introduced into Congress. This was followed a short time later by the Attorney General making statements reminding people that he too was very anti-gun and that this was not a forgotten issue.
I had not participated in the frenzied buying that had previously taken place, considering it largely to be mere paranoia. That week, two coworkers had purchased a total of three rifles, one of which was a Mini-14 Ranch Rifle, probably the same type that I have now. This rifle was previously on my list of things to buy so I carefully took stock of my savings and my credit card and determined that I did indeed have enough money available to make this purchase. After checking a few shops, I found a total of five around town. Two of these disappeared before I got there but they weren't the models I was after anyway. The final shop had just about what I was looking for, differing only in the fact that it's a synthetic stock instead of wood. Good enough.
In May of 2009, with the economy in the shape it was in, there had been some good bargains on the market, some of which I desperately wanted, recognizing the bargain for what it was, but just did not have the cash for. Having missed a 1903-A1 1905 production, I had been eyeing a M1903 service rifle from Rock Island Aresenel that managed to stick around a bit. Well, one week, I found myself at Cabella's and saw that they had moved this rifle to the center display. That made me nervous enough to whip out my credit card and buy it outright.
I had been on a waiting list for many moons for a Bushmaster modular carbine. Unfortunately, it began to look like that rifle might never actually come in and I got tired of waiting. When I put myself on that list, I had been looking at two candidates. The second option was the Smith & Wesson M&P 15T. Well, when I walked into Caswell's at the end of the month, it took me just a moment to see that they had one of these on the rack and no news of the Bushmaster. After talking to the gentleman at the counter for a bit, it was mutually agreed that I was probably better off just getting what was there and not waiting for what may never come. So funding was arranged and paperwork completed, allowing this rifle to occupy a slot in my gun safe along side the others.
Shortly thereafter (very shortly), I had a hankering to pick up a project gun. For quite some time, it had been my desire to pick up something that I could really have worked over, engraved, and fitted with custom grips. Something that would make a real impression whenever I took it out for some exercise. My intention was also to pick up something that would be more suitable for carrying out in the woods for defense against four-legged critters. So off to the shop I went to purchase a 5 1/2" Super Blackhawk. Since this was to be a custom gun, when I bought it, the instant the shop processed my credit card, they turned around and filled out a work order for their gun smith to hav him tune and tighten the gun and slick out the action. From there, it would go off to the engraver, then to be refinished, and finaly fitted with custom grips. Naturally, a problem with getting a custom gun is that this work does not come cheap. By the time all the work is wrapped up, projects like this can easily run three to four times the cost of the actual gun with some even being ten to twenty times that cost, depending on the details. That means it takes time to build the budget (and also means that the associated article will not be written until it's all done.) Its not money I especially mind spending however since the work done in this case directly adds to the overall value of the gun and naturally, any gun such as this needs good leather to go with it. Chalk up another $500 or so.
On July 4th, 2009, I had an appointment to meet a coworker who wanted to evaluate one of my carry guns for himself. Well, unbeknownst to him, he had other plans and was not able to make it. (Why do moms do that?) Well, it had been a whilke since I had been down to the range with that and one of my other pistols so wanted to take time anyway. After I got done, I got to browsing the gun racks over at the retail display. There was a sale going on and lo and behold, there was an AKm (actually a WASR 10/63) on display. Even though they were having a sale and would knock $75 off the price, I hesitated for a while but ultimately said to myself, "What better way to celebrate the 4th of July than to buy a gun?" So home it came.
The very next weeked, I found myself at the Crossroads of the West summer show when what should I see, but what appeared to be a all original Finnish Mosin-Nagant m91. It was too good a deal to pass up.
After several months of no gun buying, I was getting that itch again. Having taken an interest in collecting Mosin-Nagant rifles, I had been after an M44 for a while but allowed the buget to constrain me. But on a holiday weekend, there was a sale on and that settled that. Getting it for a good price, and under $200 made it more pallatable.
Of course, it wouldn't stop there. On one Saturday after cruising the stores looking for ammo during the great ammo drought of 2008-2010, I found myself in my local pawn show looking over their racks. Well, I had been wanting a .30-30 Winchester 1894 (pre-64) for quite some time. They had one for a good price. I swore up and down at myself, trying to convince myself to pay off the credit card before getting another gun but walked out with one anyway.
The next trap I fell into was the Crossroads winter show. I came armed with $200 trying to avoid spending more than $50. Before I was a fourth of the way through the store, I had in my hands a Finnish built Mosin-Nagant m/39 and had to visit the ATM for a cash infusion before I could pick it up. Well, this is a reasonable price for this gun and m/39s are quite desirable so I consider myself lucky to have found one that looks to be in such good condition. So acquisition #24 made its way into my safe. C'est la vie.
Am I done buying guns yet? Not by a long shot (no pun intended). In fact, I had to buy a separate cabinet for storing the lower valued items in addition to having already bought an external cabinet to store the shells in. (Why does it seem that gun safes are designed primarily with rifles in mind? Doesn't anyone think that people will want dense storage for handguns too? I'd love to see a safe with one half for rifles and the other half with a couple of the usual shelves for accessories but to also have two or three layers of felt covered pistol racks, possibly integrated with the door. eg, something approaching but not quite along the lines of a clam shell safe.)
So whats next? Well, here's my wishlist (in no particular order):
1860 springfield (replica, probably)
1903 Springfield A3
Model 1917 Enfield (The "doughboy" rifle)
Maybe an M1 carbine
Ruger Vaquero in .45 colt, possibly
AR15 (as close as I can get to military issue M16 type)
1851 Colt Navy revolver (Oddly, many "navy" revolvers found are chambered in .44. That is the army caliber. The navy caliber is .36. This makes finding the right thing somewhat hard so this will almost certainly have to be a special order.)
Pennsylvania rifled musket
"Brown Bess" smooth-bore musket
"Hawkens" Plains Rifle
Maybe a "Charleville" musket
Flint lock pistol (probably the 1805 "Harper's Ferry" model since these types of arms don't seem to get much attention from the makers of replicas.)
1874 Sharps (.45-70 or .45-90 more probably), replica
An original Winchester 1873 .44 WCF
Smith &amp Wesson model 3 or 4 (the russian or the schofield, probably the russian), replica
Possibly one of American Derringer's model 1, .45 colt
North American Arms .22 derringer presentation set
It would be my intention to have these fully engraved and fitted with ultra ivory or pearlite grips. Depending on the quality, I may also pay for a superior presention case.
Maybe a Sig mosquito (all the other .22 semi-autos look or feel wacky, this one looks and feels like a regular pistol)
Some SA revolver in a .357 magnum. Probably a Ruger Blackhawk with a stainless frame, suitable for egraving if ultimately desired.
Also looking at a Ruger Blackhawk .44 magnum with about a 4 inch barrel
A 1911 of lesser cost for general carry. (Don't want the Kimber GMII getting all dinged up.)
A .45 semiauto compact that's not a 1911, also for carry. (Probably an M&P two-tone tan/black)
Lee Enfield SMLE. The rifle the Brits used to great effect in WWI and WWII.
Russian SKS (if I can find a Russian built model)
Smith & Wesson 686 (.357 magnum)
Springfield 1873 trapdoor (.45-70), original if I can get one
Remington rolling block (.45-70 but maybe also a 7mm Mauser)
Sharps 4 barreled "pepperbox" pistol
maybe a Browning superposed (the first successful over/under)
Baretta M9 (92FS) and M9A1, the current military issue
Browning Auto-5 Magnum 12
Ruger SuperRedhawk in .454 casull. (BLAM! Everyone needs a hand cannon.)
The .454 has the advantage of also being able to fire .45 colt (the parent cartridge) in either standard or +p loads.
A bigger gun safe... maybe two... maybe a gun vault...
I might also be interested in a sixgun from USFA or Freedom Arms but at the present time, I can't see paying that much for a sixgun so will put that idea on hold until my finances improve. (See the stock market and especially the stock of my current employer.) I do not want to contemplate the total cost of my wishlist but gifts and donations are always welcome. Naturally, this means it won't be happening quickly. But if you don't know what you want, you don't know what you'll get.
I'm also interested in obtaining custom grips for some of these guns and possibly having some of them engraved (25-50%). On more than one, I already know I want to have the actions adjusted but these are steps I'm not yet ready to take. Again, budgetary concerns weigh in. (Gunsmiths are a bit pricey at times.)
Others have suggested that I should spend time examining the .41 magnum as an accurate, relatively easy to control target postol. I've read some about this but have not contemplated it before. May deserve some research.
There has been some contemplation recently about getting an old west syle coach gun as well, purely for the entertainment value of a black powder shotgun. Afterall, it was the scattergun that was really the gun that won the west. (Or at least the gun that tamed it.) If I choose to start doing cowboy competitions, this will almost be a necessity.
I might also get something like a 12 gauge shotgun either side by side or over/under for shooting clays (those specifically intended for target shooting vs hunting or defense.)
One day, maybe I will get around to posting pictures of me and my friends out shooting the place up.
Oh, and if you're wondering about my position on gun control laws, you may read my oppinions in a little paper I put together after a few things occured that prompted me to consider where I stood on the whole matter.