Kahr Arms PM9

(9mm)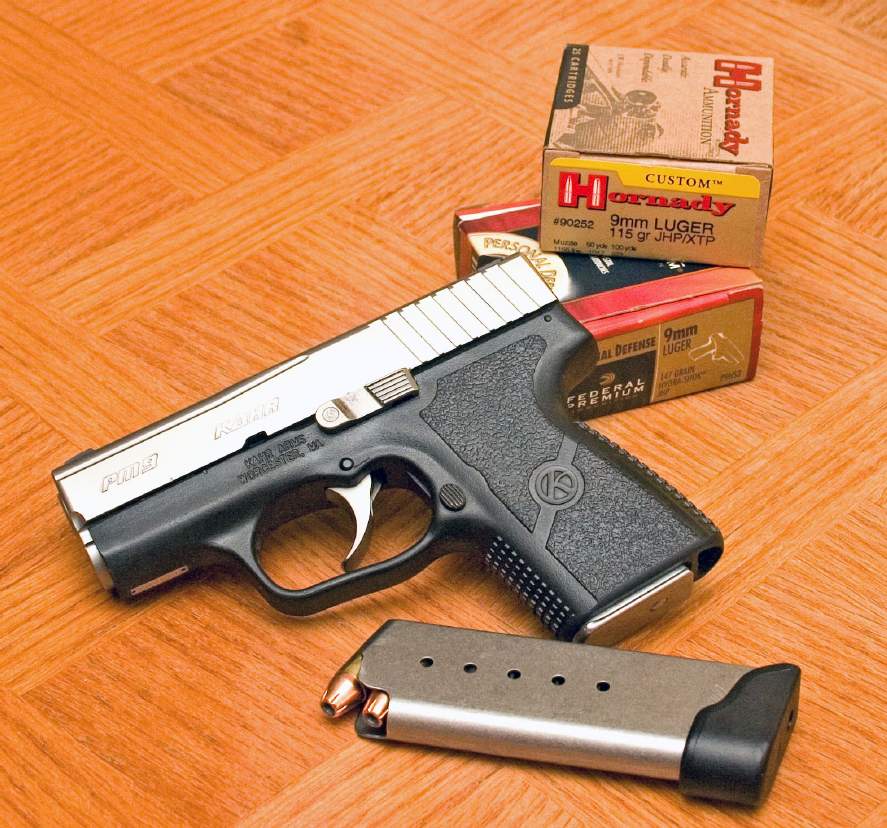 Early on in '08, I found myself wanting for a backup pistol for carry purposes. Once I had made the decision as to whether or not it was really a good idea, that left the choice of what and how big. For years, the .380 has been the caliber of choice for such use but these days there are many more offerings in larger, more powerful rounds. Wether a .380 or a 9mm is the better choice is pretty hotly debated and doubtlessly will be for many more years to come. One of the biggest points in favor of the .380 is that with modern defensive rounds, improving both power and expansion, that the .380 is much more effective that it was just a few years ago. However, the counter to that is that the same advancements have been made in virtually all of the defensive rounds such that the net effect is zero, leaving you back to the question of power.
Some research into the give and take of both offerings ultimately led me to the conclusion that, while a .380 would get the job done, the possibility of a good hit being ineffective was too great for my tastes. So I settled on a 9mm and ultimately, after a few trips to the usual set of gun shops, on the Kahr PM9.
Kahr's Pistols
Kahr started business in 1981 producing precision tools for CNC machines, quickly expanding into other ares, including aerospace, scientific instrumentation, and telecommunications by 1986. It was not until 1995 that Kahr entered the firearms business but when they did, they did with a vengance. Their first offering was their model K9 which immediately took the ultra-compact market by storm, led by the genius of designer and CEO Justin Moon.
These days, Kahr has a wide assortment of pistols in .380, 9mm, .40 S&W, and even offering several ultra-compact .45 ACP pistols with the new PM45 delivering 5+1 rounds from a pistol weighing just 19.3 ounces, unloaded. During their brief history, this company has gained a reputation for quality and reliability that's hard to match in a pistol this small. My particular specimen is the PM9, introduced at the 2002 SHOT show in Las Vegas.
Among the features the company touts is their cocking cam trigger. By using a cam to release the internal safety, cock, and fire the pistol, they have given their pistols a very smooth and even double-action trigger pull. Combined with their patented "offset barrel" – a feature which places the trigger mechanism beside the barrel lug, rather than beneath it, raising the shooter's hand closer to the centerline of the bore – this pistol is quite controlable for a short barreled 9mm.
Among the features that I find particularly nice is Kahr's use of the extractor as a loaded chamber indicator. All that is necessary to verify that you have a round in the chamber is a quick stroke along the side of the slide by your trigger finger. I much prefer tactile indicators over view ports since not only can tactile indicators be used in low light, the view ports become an avenue for crud to enter the chamber.
Not surprisingly, having an extensive background in CNC processes, Kahr machines their slide out of a solid billet of either 4140 chromolly or 416 stainless steel. Machining rather than stamping means greater precision and improved strength. This in turn means greater accuracy and reliability.
But the expertise is not confined to manuafacturing alone. Another side effect of their expience with precision manufacturing is that every weapon is totally designed using electronic means and has been from the beginning. These designs are then fed directly to the CNC machines without the need to re-enter the specifications. So long as the specifications entered are within what the machine is capable of producing, accuracy is guarenteed.
Of course, once a gun is produced, it must be tested and boy do they get tested. During the prototyping and refinement process, Kahr fires litterally thousands of rounds through these pistols. If they can stand up to that, they can stand up to anything you're likely to dish out. Seemingly as something of a challenge for consumers to break it, perhaps the best feature of this gun is Kahr's very generous 5 year warranty.
Evaluation And Impressions
One of the first things I noticed when I got this pistol home was what was required to disassemble it. After removing the magazine and clearing the pistol, in order to get the slide off, you first have to pull the slide back just to the point where two witness marks line up. Holding the slide at that point, you push out the slide stop from the other side. Once removed, you have to release the striker by pulling the trigger on an empty chamber. Once released, the slide is free to be removed. This leads me to my first negative comment about Kahr's design.
While many out there have no problems with this process, I do. First, with a good recoil spring, that slide can be difficult to hold at the correct position. For those of more slight features than myself, this can be a problem. Since Kahr uses a dual spring recoil system – a good choice, I think – that means this spring will stay pretty stiff.
Second, having to pull the trigger at any point during disassembly, to me, is just an inviting an accidental discharge. I'm more paranoid about such things than most, constantly double checking the chamber, and am always careful to point any pistol at a very solid object such as my gunsafe or the wall in front of the water heater but I can envision others less careful.
Finaly, there is a prominent warning, printed in red no less, about reassembly. When putting the slide stop back in, Kahr cautions you most firmly to make certain that the back of the slide stop lines up correctly with the cutout in the slide when you're reinstalling that part. If you fail to get it to line up correctly, you get to send the pistol back to the factory for repair.
So it seems that Kahr has some significant room for improvement in the take down process. Over time, I have gotten more adept at manipulating these parts and pieces and have not encountered any real difficulty in managing this process, however the process still needs improvement, in my oppinion.
Shootin' Time
As I've noted elsewhere, I'm not the world's greatest shot although I try pretty hard and am much better with rifles than I am with pistols. Rarely are trips to the range entertainment for me, rather, each session is concentration and evaluation, searching for areas of improvement, and looking for patterns. That said, I still need more practice.
With a short barreled pistol such as this one, I also expected my accuracy to be further dimminished. I mean, for something this size, are sights really even necessary? It's not supposed to be effective beyond "Oh crud!" ranges anyway, isn't it? Not so! I was pleasantly surprised by how controlable the PM9 actually is. Sure, it's got more kick to it than a full sized 9mm pistol would but that's to be expected. Only a few shots were necessary before I got used to it and from then on, I hardly noticed it. Some of this is probably attributable to the considerations observed earlier that Kahr made to get the shooter's hand more inline with the barrel.
Down at the range, I received a box of Magtech 115gr FMC from the gentleman at the counter and headed to my assigned lane. For my tests for this article, I chose to use the magazine with the grip extender just to give myself that extra bit of help even though I only fired 5 rounds at a time. One thing I noticed right off was that this trigger feels different than other DA pistols I have used. There is no preload with this one, that is, you don't get to feel the trigger gain tension and then break. There is also no short reset. This is the effect of their cocking cam and serves to give ths pistol a smooth, clean stroke that releases without additional tension. You can feel the cam go back into place but that occurs pretty well near the rest point of the trigger. What that meant for me was that the trigger control on this pistol was going to be far more important than on others since each trigger pull required the full stroke.
I was right that my accuracy suffered with this pistol but that had nothing to do with the gun and everything to do with the shooter as noted above. The line and dot sight is also a new one to me. In many ways, I actually found that I can line this up easier than the more traditional dot contrast sights found on so many other pistols. To me, this was a good choice by Kahr and I hope they stick with it. For those who really want it, tritium sights as well as Crimson Trace® laser grips are available and can be factory fitted in some cases.
At the end of the day, I was somewhat disappointed with my performance but not with the pistol. I was quite surprised to find that, despite the short barrel and light weight of the pistol, it was quite possible to get hits out to 50 feet with aimed fire. While the two targets I chose to include here don't exactly show a spectacular grouping of the 15 shots perforating each piece of paper, they do given an indication of the potential of this gun in the hands of someone who has more practice and training than I have.
But I can hear the echos of those of you out there telling me that a light weight, short barreled 9mm can't possibly drive the bullet to full velocity and therefore it's not going to have enough power to get the job done. Well, while I never thought it couldn't do the job, I was curious to see how the size of this pistol affected the muzzle velocity. A few rounds of Winchester 115gr FMJ through my F1 Chrony® gave very encouraging results, clocking out at an average of 1063.5 fps, pretty well inline with expectations. Yes, the rounds did move 123fps slower than in my full sized S&W M&P9 but it's still enough speed to stop a threat.
Tight Leather
Since this, for me, is a gun I intended as a backup pistol but also something I could take to places where I would not neccessarily feel it appropriate to carry a full sized gun on my hip, it naturally follows that another carry position would be in order. My choice was to go for the ankle.
Normally, I buy Kydex® holsters but that's not a good choice for an ankle gun. Instead, I purchased a Galco Ankle Glove with the calf strap. I've noticed though that the thumb break has a tendancy to dig in and I've had to bend it away from my leg a bit to make it comfortable to wear but otherwise, it fits well and with the calf strap, generally stays put. Of course, with an ankle holster, if you have to go for it, it's not a fast draw but at least it's there. Just expect to take between 5 and 10 seconds to get it loose, not the 2 to 3 you are used to from your waist. As with any pistol, an appropriate amount of practice drawing and acquiring a target is necessary. When you actually need your pistol is not the time to be learning how to draw it.
One note about leather holsters... Remember that this sort of holster is designed to keep the gun securely in place. That means it fits tightly. When new, don't expect the gun to slide in and out with ease. The leather will stretch and soften somewhat and over time form more perfectly to the particular gun carried in it (similar to leather work gloves, a good baseball mitt, or leather boots) but it will also be affected by temperature and humidity. The day to day fit will vary slightly because of this although probably not enough to notice. If it's an ankle or shoulder holster, it's advisable that there be some sort of retention mechanism such as a snap or a strap to prevent the weapon from working loose from the holster as you move around during the day. This is especially important if you're quite active.
I've had my holster for a good many months now and at this point it's been thoroughly run in. The PM9 goes in and out of the holster with ease but doesn't budge an inch when the snap is secured. Once I got used to the pistol being on my ankle, there are times when I almost forget that it's even there. (Almost, but not quite.)
The Right Bullet for the Right Gun
With my employer maintaining a policy forbidding weapons to be carried at the office combined with the legal prohibition of arms at the local community college, most days, my pistols tend to remain at home, locked up in my safe. To avoid accidents caused by potential memory lapses, it has been my habit to store my pistols with an empty chamber. The top round in my magazine therefore goes in and out of the chamber repeatedly.
Type:
Semi-Automatic DAO Pistol
Caliber:
9mm
Capacity:
6+1
Barrel Length:
3 in.
Overall Length:
5.3 in.
Weight:
15.9 oz.
Sights:
White Bar and Dot,
Drift Adjustable
Finish:
Two-tone Black Polymer and Stainless Steel
MSRP:
$837
Following the advice of my local shooting instructors, I usually carry Federal's Hydrashock in my magazines. Yet I have noticed that in this particular pistol, the repeated loading and unloading does not mix well with these rounds. Repeated trips across the feed ramp have a tendancy to deform the point of these bullets. While it will still fire, I would not trust the expansion in a soft target after that. As much as my limited knowledge will all me to interpret things, I believe this comes from the angle of the feed ramp being a touch too steep. This interpretation seems to be supported by the fact that in Kahr's booklet, they state explicitly that when loading this pistol, you need to make sure you don't hold the slide as it moves forward but make sure you just let go and let the spring carry it forward. Failing to follow their recommendation will likely result in the round not being chambered but getting stuck on the feed ramp. My other pistols do not suffer this same problem with deformation but just to be safe, I fire off the top two rounds every couple of months anyway.
To correct this issue, I switched to Hornady's JHP/XTP rounds. These bullets seem to fare much better and so far have not shown any signs of the cup collapsing or otherwise becoming deformed. In practice, I expect these two rounds to be comperable in terms of impulse forces on a target and expansion within that target so I consider this to be a net/net trade.
Final Notes
Kahr's pistols continue to be as popular as they were when the K9 was first unveiled and Kahr continues to introduce new models to the market place. My impressions from the time I have spent with my PM9 are that this is a very shootable, very reliable pistol.
The PM9 is one of the smaller offerings from Kahr and therefore usually relegated to the roles offered such small pistols. However, it by no means needs to remain in that role. For those who are looking for an every day carry that doesn't stand out, you could do far worse than this. I would be just as happy carrying one of Kahr's larger pistols on my hip as I am my trusty M&P.
Is this pistol perfect? I don't think so, but then, is any pistol really perfect? Kahr's got some design obstacles to overcome in my oppinion, but what they have produced to date, by all accounts, has completely lived up to expectations and then some. Not everyone will like these pistols, just as not everyone likes the smell of perfume or the taste of a good chocolate. Each individual's tastes are unique but my impression of this pistol is that it will generally satisfy those varied tastes and will easily do the job for which it was designed.
In the end though, discussions of features, likes, dislikes, annoyances... they're all irrelevant. What it ultimately all boils down to is one thing: would you trust your life to the pistol you're carrying right now? For me, if that pistol were a Kahr, yes, I would.