Ruger's Mini-14 Ranch Rifle

(.223 Remington)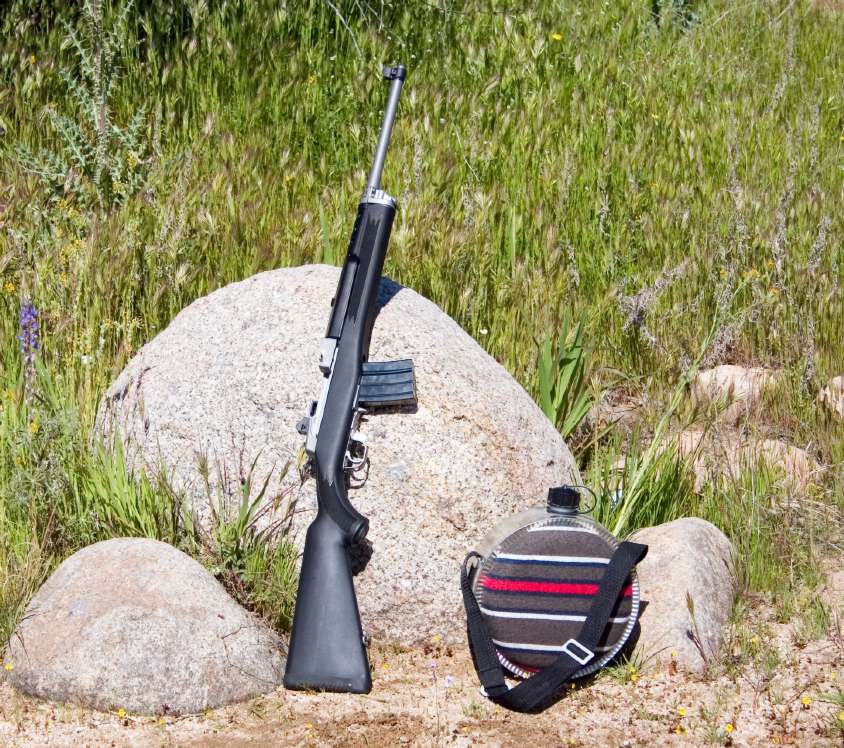 Since the November 2008 elections, thinly populated gun racks have been a fact of life in gun shops all over the country. These days, semi-automatic rifles can be especially hard to find. Anything that can even possibly be classed as an "assault weapon" seems to spend very little time on the shelves of gun shops, often disappearing within mere hours of being put on display. Consequently, that area of my wish list was laid aside as probably unattainable for the present and time marched on.
One thing about my gun collection though is that it's never static for very long. About three months after the election, the itch began again. For three or four weeks prior to my purchase, I had been feeling a desire to get one of the future outlaws into my gun safe before Congress got a mind to start trying to pass some silly law that might well destroy an entire segment of the arms industry in America. About two weeks after the election, seeing what was happening in the gun shops, I decided that if I ever wanted an M4 (a purchase I had been considering all through the previous summer), I needed to get my name on the waiting list sooner rather than later. More than four months have now passed and that rifle has yet to arrive. Based on what I learned about a week after I filed that order regarding that specific manufacturer's backlong, I anticipate that it will be perhaps two months longer before it comes in, if it does at all.
Further down on my wish list was also the procurement of a Ruger Mini-14. I had been considering this rifle for a while because of the rifle's ancestry but was partly attracted to it by the price, well under what most ARs and M4s run, including the particular rifle I signed my name for. However, with manufacturers quoting lead times measured not in weeks but instead in months – and double digits at that – it didn't occur to me that someone might actually have one of these guys until my friend, Adam, picked one up from Cabella's one Thursday evening.
That Friday, sensing an opportunity to grab something at a reasonable price, I checked my bank balance and called a few shops to see what was in stock. As luck would have it, I located not one, but three shops having one or more. I was right that these were not spending a lot of time on the shelves. Cabella's had three others at the time I called but when I got there the next day (only about 12 hours later), they had just one left and it wasn't the variety I was looking for. One of the others was a well worn 186 series (refering to the three digit prefix of the serial number) and, while it had a good price, didn't seem to be a good first choice. So off I went to the last shop on my list. Fortunately, I had the foresight to ask them to hold this one for me before I ever left home to begin with.
On arriving at the shop, out came a Ruger K Mini-14/20P wearing a matte stainless steel finish and sporting a black all-weather synthetic stock. This rifle was of the new 586 series and, judging by the serial number, was made this very year. It didn't take long to decide that I was going to be quite satisfied with this rifle. My preference is for wood stocks but beggers can't be choosers. Besides, stocks are quite readily had and easily changed, a distinct advantage of the Mini-14 over traditional rifles.
Type:
Semi-Automatic Rifle
Caliber:
.223 Remington
Capacity:
20 Round Detachable Magazine
Barrel Length:
18 1/2 in.
Overall Length:
37 1/2 in.
Barrel Twist:
1:9 RH
Weight:
6.75 lbs.
Sights:
Blade Front, Adjustable Ghost Ring Rear
Finish:
Matte Stainless
Stock:
Black Synthetic
MSRP:
$938
There was just one hitch... they couldn't find the box. Oh well, it happens. Doesn't matter much to me anyway since there wasn't much in it. This one came with only the one magazine, a lock, scope rings, and a sight adjusting wrench. The only thing I'll miss is the adjusting wrench. In trade for the missing parts, they allowed me to select an appropriately sized soft case and considered it a net/net trade. Fine by me.
After completing the necessary formalities and exchanging the requisite quantity of currency (that's always the hard part), I was headed home to give this rifle a thorough going over and a good scrub. The fact that the manufacturer's instruction booklet was missing was no big deal. Ruger supplies all their documentation online and it was a relatively easy task to print that out. Besides, this action is very familiar to me. What could the booklet possibly contain that I didn't already know?
Dissassembly was simple enough. The mechanism was designed after that employed in the M1 Garand rifle which was itself carried over into the Mini's big brother, the M14 though changed to a short stroke and a metered volume of gas. That meant seperating the rifle into the three principle groups was a cinch. Further disassembly was a little trickier, although easier than in the M1. At least it was until I realized that I couldn't get the bolt out until after I removed the bolt stop assembly (See? The booklet was good for something), although I will admit that removing and replacing the operating rod spring without damaging it requires some dexterity.
Satisfied that I knew where everything went, I reassembled it and set out to buy a quantity of random boxes of ammunition to use during break in and testing. Since ammunition in almost any form save for hunting rounds can itself be hard to find, this task was going to take a while. That gave me plenty of time to sit down and consider the history of the Mini-14.
Development
There can be no question that Bill Ruger had a nack for sensing where he could enter a new market and usually when. As I'm given to understand, the Mini-14 spawned from an idea he had sometime in '67. He felt that a smaller version of the then standard issue M14 chambered for the lighter, easier to handle .223 Remington cartridge would make an excellent saddle gun or defensive arm for the camper, outdoorsman, or security personell. He assigned Jim Sullivan, who had actually participated in the design of the M14, to see if he couldn't make such a rifle, specifying certain design changes he felt would be beneficial. It is worth mentioning that after his departure from Ruger a few years later, Jim went on to assist in the development of several Armalite weapons, including the M16, and also designed the Ultimax 100. There is no doubt that Jim was an excellent choice for this project. Yet due credit must also be given to Harry Seifried and Roy Melcher for their contributions to the evolution of the Mini-14.
Well, Jim set to work. However, because of the new caliber and smaller size, certain things that were necessary to satisfy Ruger's requirements as well as keeping the weapon functional, it could not just simply be a scaled down M14 internally, it was going to take some work. After coming up with a design he was satisfied with, he sent inlet drawings to Lee Brownell to furnish a suitable stock. As is typical with any mechanical device, it took a bit of trial and error to get everything just right, including one amusing incident with Bill happening by while Jim was firing the prototype which he recounted to R. L. Wilson while Wilson was preparing his book Ruger & His Guns. If you happen to come across this text, it's a story worth looking at.
Part of the protyping process was development of the AC556 by Harry Sefried, a fully automatic version intended for military and police use which also contained a selector to change fire modes to the then novel three shot burst.
Even after the rifle at last entered the catalogue in 1975, having been sold to law enforcement and government agencies since 1972, the design still underwent slight revision but sales were good. Over the first few years, in addition to sales to the public, Wilson documents specially marked rifles for three specific Highway Patrol agencies, including the Arizona Highway Patrol, a sample of which I most definitely want to add to my collection, being an Arizona native, totaling 2,276. Further, the AC556 is listed as chalking up 3,500 units, mostly for the French National Police. Wilson indicates that these numbers are highlights only.
Bill Ruger stated to Wilson and others that if he had been able to bring the Mini-14 to market five years earlier, he believed it would have become the standard Army rifle. An interesting notion, but I'm not sure I agree. A problem with this statement, I think, is given later on in that same quote, referencing the M14: "The Army was looking for a full-power fully automatic handheld weapon. They really wanted it to do everthing, which it just couldn't do. They didn't see that." In that era, it is probable that they would have looked favorably on the Mini-14 as a weapon better suited to the average soldier than the M14 which, as indicated, was a weapon designed to replace several other arms commonly carried by a given unit, but I am doubtful of the perception that it would have been the standard Army rifle. The Brass just weren't that foresighted, in my oppinion. Remember, they were far more interested in replacing a vast array of different small arms with something that would be more universal. They had different priorities and consequently were probably not looking beyond that objective.
Distractions
During this period, Ruger found his company defending itself against an ever increasing number of product liability suits primarily over their single action revolvers. In the case of Sturm Ruger & Co. v. Day (Alaska) a court ordered the company to pay $2.9 million in punitive damages. In Ruger's annual report for 1975, the company reported revenues of $33.8 million. The awarded judgement, therefore, amounted to 8.5% of total revenue for the company. Bill Ruger was left dumbfounded at the amount of the judgement, not to mention the verdict itself.
In many cases, the introduction of the transfer bar safety mechanism was portrayed by plaintiff's lawyers not as a way to make a good gun that much better but instead, they argued that this innovation represented an admission by Sturm Ruger that the old model revolvers were considered defective.
The Day case was later remanded back to the lower courts by the Alaska State Supreme Court for a partial new trial with instructions that any award be limited to $250,000 but the damage had been done. The complaint and more particularly the verdict opened the flood gates for litigation. In 1980, the company found itself defending against somewhere near 60 liability suits. I cannot immagine Bill Ruger's frustration at this fact.
To understand just what a drain this sort of thing can be on a company, consider, if all these cases went to trial and you were required to be present in court just two days for each of these cases with one additional day taken for your deposition, you will spend litterally half the year sitting in a court room or a lawyer's office. If your principle design team is required to accompany you as witnesses, you won't be getting much work done that year. Now suppose this occured five years running and you begin to get a sense of how irritating this can become.
Wilson states that the number of suits began to decline shortly thereafter as the company, with a few exceptions, was found to be not at fault in case after case. I do not know what the trend has been for Ruger in recent years but judging from the political winds and the trend in other industries, it can't be a pretty topic.
This wave of lawsuits was not confined to Ruger or to just the firearms industry but was across industry as a whole and liability suits are a major point of discussion among companies to this day with repeated calls for tort reform and other corrective measures going ignored within the halls of Congress.
The Ranch Rifle
Yet somehow in the midst of all this, Ruger continued to innovate and introduce new products. The Mini-14 had been a tremendous success. (At one point, Ruger reportedly had an entire plant devoted to the production of this one weapon.) While the Ranch Rifle began as a project to satisfy a request by the French police, ultimately it resulted in a more sporterized Mini-14. This version included integrated scope bases but incorporated flip-up iron sights along with alterations necessary to reduce the impact of the operating rod on the receiver which had a nasty tendancy to trash scopes.
Like its sibling, the Ranch Rifle also became widely popular and continued to be sold pretty much unchanged for the next 20 years. One of the reasons for the popularity of this rifle was its considerable versatility. After market magazines, stocks, flash hiders, bullpup kits, and even .22LR conversion kits abounded. Indeed, to change the Mini-14 from a rough 'n ready saddle carbine to a tactical rifle required little more than seating a flash hider onto the end of the barrel with a set screw (which would unfortunately leave a dimple on the barrel), changing to a tactical stock, and changing out the compact and unobtrusive 5 round magazine to a 20, 30, or even 40 rounder.
The Mini was not perfect, however. The original rear sight was deemed somewhat flimsy by many and too readily suffered damage in less than ideal conditions. Due to politics, in many states, magazines with a capacity larger than 5 rounds were made illegal. This combined with the fallout from the liability suits kept Ruger from offering them directly except to law enforcement for years, opening the market up for the after market add-ons but many of these failed to function properly, either not seating easily or correctly every time and often exhibiting feeding problems.
Another common problem with the Mini-14 is shell ejection. In order to make the gas system reliable, more tolerant of variances in ammunition, and better resistant to fouling, the factory installed bushing on the gas port was made generously large. I have seen specs that have this averaging about 80 thousandths. This is all fine and well until you go to retrieve your spent cartridges and can't find them because they got sent off into the wild blue yonder. Not to mention irritating shooters around you as they get pelted with hot, high-velocity brass.
To reduce this problem many have chosen to fit a smaller bushing to decrease the gas port opening to as small as 40 thounsandths and thereby reducing the force with which the piston recoils and thus the force with which the brass is ejected. Installation of this component also has the side effect of reducing the powder residue that ends up around the piston. But there's a cost to making this alteration. Reducing the opening too small means the action may not cycle reliably, especially with lesser quality ammunition. It also means that powder fouling or lack of lubircation may result in jams, stovepipes, and other failures. Perusing the various forums suggests that most who have gone this route do not recommend this opening be reduced below 50 thousandths if at all.
At this point, I should take a moment to emphasize that this is not a kitchen table project since even removing the gas block assembly can be difficult (in fact, Ruger recommends strongly that it never be done) and proper alignment, applying the right torque to the screws, as well as locking them in by some method afterwards is critical to the safe and reliable operation of the rifle.
Perhaps the biggest complaint about the Mini-14 was about the accuracy. This rifle was never designed to be a super accurate competition rifle and as such often only held to 3, 4, or even 5 minutes of arc. Naturally, this caused some consternation when law officers could not qualify at 100 yards with their rifles because of the innacuracy inherent in the rifle itself. These problems never escaped the notice of the company but proved difficult to overcome.
So in 2005 the Mini got a rework. Manufacturing methods were updated, machines and fixtures improved, a more traditional ghost ring aperture rear sight was substituted and protective ears for the front blade which made the whole setup reminiscent of that found on the M14 and M1, a different system used to fix the front sight to the barrel, and an improved gas block and fitting system were added. New models also seem to have a more substantial barrel which ought to serve to better deal with long strings of fire. These changes have improved the accuracy of the Mini to perhaps 2 to 3 MOA out of the box. But if that's not good enough for you, they also have a target model with a heavier barrel, recessed crown, and adjustable harmonic damper (read, "weight") to further refine the spread. The Target Mini is about $150 more than the standard rifles but is perfectly capable of sub-MOA accuracy without a trip to the gunsmith.
Ruger's 2009 catalogue lists 14 different ordering options for the Mini, including the 6.8 SPC chambering and the Mini-30, 7.62 x 39mm rifle, with prices ranging from $855 for the basic Ranch Rifle up to $1,082 for the Target Rifle. One of these variants is even supplied with an ATI 6 position telescoping stock with a weaver rail over the hand guard. Shooters who love the Mini will no doubt greatly appreciate the improved accuracy but one of the features to get more note than some might think it deserves is the fact that these rifles are now factory supplied with 20 round magazines where legal to do so instead of the standard 5 rounds. Of course, that may change depending on what our Congress critters do but for now, I'm quite happy about it.
After carefully inspecting my Mini, I was pretty pleased with the design and the way everything fit together. There was one aspect of the construction which I found particularly interesting. Ruger casts as many parts as they can and this includes the operating rod. But even though this part is obviously a single casting, there are weldments on either side of the joint between the charging handle and the piston and, curiously, these TIG welds also appear to have been done by hand. I assume these welds are intended as reinforcement since this section of the rod endures the most stress during recoil. The question I can't answer is why they're necessary vs just casting additional material onto the rod. Presumably this was done either as a repair for a cracked casting (since castings with small areas are very hard to do) or the material they deposited during welding is metalurgically supperior to the rest of the casting. The welds look very good so I have no doubt at all that the part is sound, I just find it intriguing that this was done.
For myself, while the ghost ring and blade is traditional, I've never considered it to be a very good sight. I'd be much happier with a low profile peep sight, V-notch, or even a semi-buckhorn rear sight and may consider such an alteration later on. As indicated earlier, that's one of the beauties of this rifle, that there are so many after market add-ons that you can pretty well change the look and feel to whatever suits you.
One other thing I do lament about the new design is that the front sight is now placed all the way at the front of the barrel. This means that it is no longer possible to attach a flash hider or muzzle brake in the same manner as it was in the past. If you want a suppressor on your Mini now, you must remove the front sight entirely (which does not appear to be an easy job) and utilize a compenent intended to replace this sight or purchase the tactical version that Ruger includes in their catalogue. It is also my understanding that the suppressor on the tactical rifle is not a removable component if you decide you do not wish to have it mounted all the time. The other alternative is to have a gunsmith cut threads into the end of your rifle's muzzle.
Let's Do The Twist
An issue that seems more prevelant with .223 chambered rifles than any other is the barrel twist rate. Today, most ARs have a 1:7 or 1:9 twist, perhaps favoring the latter. This is up from the earlier 1:12 and even 1:14 from some of the earliest productions. The Mini-14 likewise changed over time, going from the original 1:10 twist to 1:7 in 1988 and finaly to the present 1:9 in 1994.
So what does that mean? Well, generally, it isn't going to mean a whole heck of a lot to someone using this rifle for recreational shooting or just plinking. To those who wish to use this for picking off varmits and coyotes or more regulated target shooting, it could mean quite a bit.
In fine, there is a correct rate of twist for a given length and weight of bullet and length of barrel with bullet length being the factor given the most attention. The longer (heavier) the bullet, the faster it needs to spin. Spin a bullet too slowly and you won't generate enough gyroscopic force to stabalize it. If you spin it too fast—what some folks incorrectly term as "over stabilized", a bullet is either stable or it isn't—and the nose may not cant downward to match the drop of the bullet on a far target resulting in increased wind resistance, a slightly off-angle impact, and poor penetration. You also trade forward velocity for rotational energy, reducing impact force. In the extreme, if you spin it faster still you can litterally tear the jacket off or disintegrate the bullet entirely before it ever gets near the target.
What all that says is that the accuracy of any rifle depends on matching the bullet to the barrel. In most hunting rifles, this is not a problem since there may well be only one or two twist rates out there for a given chambering and that may be, say, 1:12 and 1:14, and since these are close enough to each other, what will work in one will generally work in the other. The .223, on the other hand, has a very wide variance. Bullet weights also vary widely. Some rounds are as light as 40 grains and some as heavy as 80 grains or even heavier. That represents a 100% increase in bullet mass. It should be obvious that these weights will perform differently in different rifles. Putting a 40 grain round into a 1:7 barrel will probably not be a good idea. Equally, putting an 80 grain bullet into a 1:14 barrel will also be disappointing.
Even in the .223 chambered bolt action hunting rifles, twist rates vary. Ruger and Kimber seem to use 1:9 for all their rifles while Remington's 700 uses 1:12 and Savage uses both 1:9 and 1:7. So knowing what you have becomes pretty important. Most random boxes of ammunition you are likely to pull off the shelf will probably be 55 grain. This weight/length should be a reasonable compromise for most rifles.
Performance
When I made my decision to purchase my Mini, I was well aware of the reputation for innacuracy the older versions had. To try to eek as much out of this as I could, I opted for a nice, slow, methodical break in. Taking with me 40 rounds I had on hand and purchasing from the range another 20, I set to work. 3 shots followed by a snake and two passes through the barrel with a KleenBore® soaked patch with at least a 5 minute cool down after every 10-15 rounds until I reached 30 rounds. From then, 5 round groups until I hit 60 with barrel treatment every 10 rounds, the whole time being certain to keep the barrel from becoming too hot to hold.
Because of the multitude of twist rates available for .223 rifles, I had an interest in trying this rifle with as many different loads as I could get my hands on (and my remaining bank account would permit.) By the time I was finaly ready to head down to the range for my performance tests, I had procured twelve commercial loadings ranging in weight from 45 up to 77 grains. With the 1:9 twist used on this rifle, I did not excpect any of the bullets to simply disappear on me but I did expect substantial differences in the patterns and a notable spread in velocities.
A problem I was not prepared for was for my day at the range to end up being two days. It took about 10 minutes for me to figure out that I was not going to be able to get decent results out at 100 yards using the iron sights. Afterall, these are combat sights and not intended for precision work. To make things reasonable, I determined that I would have to borrow the Simons ProSport scope off my 77/22 in order to give me a reliable point of aim. Of course that made me miss the scope rings since the ones on the 77/22 aren't quite high enough for me to be willing to use them with this scope on this rifle. It did not appear that the objective lense actually touched the hand guard but the lense cover would deffinitely not fit over it and that's just too close for me. It frankly annoys me that scope rings are so costly considering what they consist of.
Winchester JHP
45
3311
33.3
974
2.5
Fiocchi V-Max FMJ
50
3258
43.1
1107
2.8
Federal XM193F
M193 Ball
55
3289
42.3
1321
3.8
Federal Premium V-Shock JHP
55
3017
39.4
1111
4.5
Corbon FMJ
55
3131
29.6
1197
3.8
Hornady V-MAX
55
2996
22.0
996
2.2
Black Hills SPT
60
2934
38.1
1147
3.3
Winchester PPT
64
2825
41.7
1134
3.4
Ultramax JHP
68
2682
23.7
1237
3.6
Remington Premier Match
77
2596
17.4
1152
3.1
Groups were best of two 5 shot patterns at 100 yards from a sandbag rest.
Velocity measurements were the average of 5 rounds at 15 feet from the rifle's muzzle and were taken separately.
As you can see, there most deffinitely was a notable spread in velocities, looking at the 55 grain bullets specifically, but it wasn't as broad as I expected. What interested me more was the overall spread in energy delivered to the target, ranging from the "measly" 974 ft-lbs for the 45 grain up to 1321 ft-lbs for the M193 Ball rounds. While this is perhaps the most dramatic difference in muzzle energy I've seen in one of my tests, I suppose it should not surprise me that the mil-spec rounds hit harder than even the heavy slugs did.
All in all, I was pleased with the results. The groups were pretty large but if we assume 25% of the size of the respective patterns was due to the shooter and not the rifle, that makes the range about 1.7 to 3.4 in. It was a bit surprising to me to find that the heavier rounds didn't fare nearly as well as the lighter rounds. Even the 45 grain rounds from Winchester did better than the match rounds.
So prominent in many performance charts, including mine, is a column displaying muzzle energy. Those of you who haven't spent much time shooting probably understand what it says but may not have a good idea of what it actually means on the firing line. Well, lets take a closer look at just what 1,100 ft-lbs of force can actually do.
During a recent desert trip with my cousin, I set a couple of one inch thick steel plates out at about 35 yards. (For the record, this is closer than I would have liked.) During the day, several weapons were fired at this plate, ranging from my little 77/22 on up to 7.62x54R from my Mosin-Nagant 91/30.
As you might expect, the 7.62x54R left a sizable crater in the surface of the plate. Likewise, several smears of lead can be seen from the .22 LR from the 77/22. There are a couple of larger smears from .45 ACP rounds but the most interesting are the .44 magnum and the .223. There are three craters in the center of the plate. In the center of these three craters is an impact from a .44 magnum round. This round was a semi-jacketed flat nosed soft point. Yet there was enough power behind that bullet to ever so slightly dent the steel by itself. (Not bad for a handgun.) The crater on the right is from the MN. The two on the left may appear to be from the MN but I assure you, they are actually from the Mini-14. Yes, the .223 had enough power to dig a quarter inch deep crater in solid steel. That's what 1,100 ft-lbs means down range and that's why the .223 Remington was adopted by the U.S. military as the standard rifle chambering.
It should be mentioned that my tests were not without their difficulties. On at least five occassions I had rounds that the rifle failed to properly extract from the chamber, there were at least 2 that did not orient correctly during feeding and ended up with the point of the round stuck off to the size of the chamber, and on not less than 3 occassions, rounds got caught in the magazine and did not elevate to the top of the mouth resulting in the bolt skipping over them and closing on an empty chamber. All this with the factory magazine, which was in use throughout the entirety of my tests. Some of these are pretty obviously magazine related and were probably the result of grit and grime. The failed extractions are the only issues that concern me.
Of somewhat more prevelance, I observed that the majority of the casings collected from my rifle showed damage to the case mouth. This damage was the result of the casings impacting the rifle when they were ejected. On inspection of my rifle during cleaning, it appears that they are being thrown against the charging handle since there is an area of speckled brass coloring. The part that I can't figure out is that this coloring is on the right side of the handle, on the area facing away from the chamber. It is difficult to see how a case flying from the chamber, way back over my right shoulder can impact on the right face of the arm it's being ejected from. All I can figure is that the bolt is rebounding fast enough that it is not so much the brass that's hitting the charging handle, rather, it is the charging handle impacting the brass. Fixing this will probably require an adjustment to the ejector but I'll have to puzzle over that one a while and consider what specific fixes would be necessary.
Extras
An item I was not pleased with was one of the extras I picked up. When I was at one of the first shops on my list, I noted that they had some after market magazines for this rifle. After asking the gentleman at the counter about two I was interested in, he recommended I take the Triple K 40 rounder so I bought a pair as an investment. While I was discussing this at the counter, he allowed me to try one of these in the rifle he had on display. At first, it appeared to give very positive lock, held the bolt open as it should, and gave the appearance of good function. But when I brought it home and tried it in the rifle I purchased, I got a different impression.
I noted that the magazine seated with some difficulty and that after being seated and removed two or three times that the lip above the hole for the latch was bent. After straightening this, my fix was to slightly ream the hole to raise it a bit higher and thereby avoid excessive pressure as it was pressed home. Next problem was that seating the magazine required a little more force than it should have. Comparing dimmensions with the factory mag, there was a sharp increase in width below the mouth (slight, but abrupt) which caused it to bind. Sanding this down fixed that but I also found that it was necessary to round out the corners on the mouth of the magazine. One final problem was the lug on the back was not flat and projected too far on one side as a result. This too required light sanding and smoothing to make the magazine line up and lock into place with ease.
As is typical with after market magazines, the most serious problem was feeding. Loading half a dozen rounds and running them forward with my fingers, I observed that the nose of the shells had a tendancy to catch on the front lip. Again, comparison with the factory mag showed the fix for this and I was able to use my Dremel followed by 1,000 grit sand paper to carefully make relief cuts to form more of a ramp for the nose to skip off of if it struck. After working with this magazine further, I actually question the follower itself as a contributor to these feeding problems.
While I believe I have resolved the major issues with this magazine and it now seems to function pretty reliably, I would not recommend these for purchase unless Triple K is willing to rework their manufacturing processes to correct these defects and hold tighter tolerances. But that is not to say all after market mags are bad. For myself, I'm pondering getting a pair of ProMag 30 round thermo formed magazines later on to see how they work out.
Final Thoughts
The Mini seems to be a rifle you either love or you hate, at least it used to be. With the 2005 update, this rifle seems notably improved and ready to take whatever is thrown at it. While the AR and M4 may have replaced it in the arsenals of law enforcement and security agencies, it remains a rugged, reliable rifle. The 20 round magazine is a great improvement over the previously standard 5 round mag. Albeit somewhat imprecise, I found the sights adequate enough to allow me to hold 6-8 inch groups at 100 yards and routinely hit the 18 inch gong at the 300 yard line at my local range. (Unfortunately, the sound of a strike from a .223 can be hard to discern when most of the guys around you are firing 7mm and larger.)
While many have been absorbed into large conglomerates, there are still a fair number of private ranches in my state. Out in the desert here around the Phoenix metropolitan area, it's no great feat to find signs of coyotes and other predators. Even during my recreational trip out to the desert, I ran across tracks not more than a few hours old. While many property owners recognize that these animals too have a place in the ecosystem, from time to time, they can become a nuisance and must be dealt with.
The favored method for moving around in rough territory may be the quad-bike these days but since some of the territory is quite difficult to access, a significant number of citizens still prefer saddling up a horse. In either case, when you're out on your own, it is wise to have some method of protection. Neither mode of travel allows room for a big, ungainly weapon. Besides, when you're gonna need it, you're probably gonna need it in a hurry which means a light carbine trumps a full sized rifle. Just as it was originally, the new Mini-14 is still a perfect candidate to fill that role.
My Mini-14 Ranch Rifle, for the most part, met all expectations and then some. Accuracy has deffinitely improved in the new model and while it is still not intended as a long range hunting rifle, it'll handle the close in work typical of varmints and small game just fine, not to mention anonymous soup cans, watermelon, grapefruit, soda bottles, and anything else that one finds just far too dangerous to leave sitting in the pantry. If it's small to medium sized and needs a hole in it, the Mini-14 will do nicely.