Ruger's Super Blackhawk

(.44 Magnum)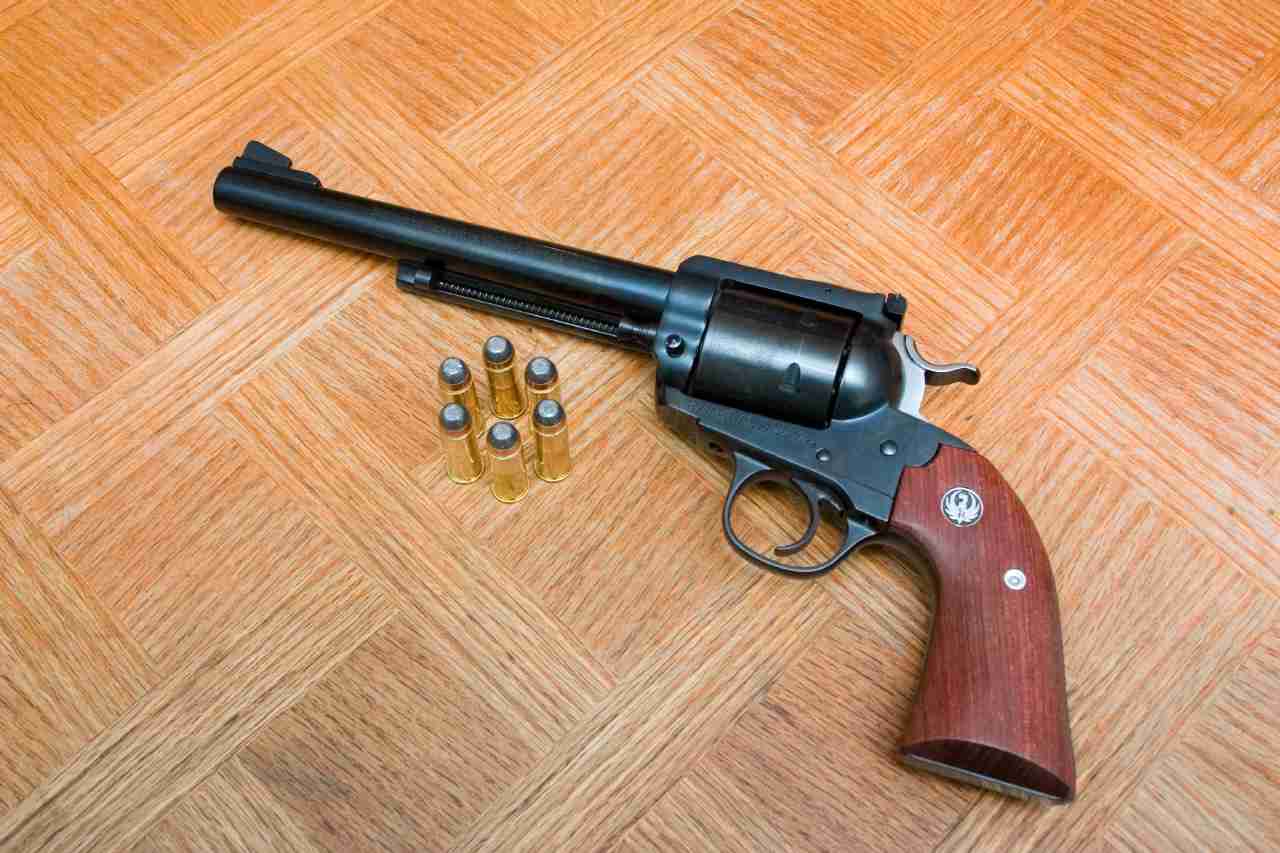 I've always liked revolvers. To me, when you talk of semi-autos, a pistol is a pistol is a pistol (well, largely), but a reolver is a gun with character. So when it came time to buy my first modern six-shooter, it seems natural that I should have been drawn to Ruger. I will admit that I was a little aprehensive about handling a .44 magnum considering that up to that point, the hardest kicking round I had any regular experience firing was .45 ACP and yes, my fingers still get smacked by the trigger guard once in a while but it also happens that my choice of weapon was a furtunate one which substantially helped provide a relatively gentle introduction to magnum cartridges.
Type:
Single-Action Revolver
Caliber:
.44 magnum
Capacity:
6
Barrel Length:
4 5/8 to 10 1/2 in.
Overall Length:
10 1/2 to 16 1/2 in.
Weight:
45 to 55 oz.
Sights:
Ramp Front, Adjustable Rear
Finish:
Blue, Satin Stainless Steel
MSRP:
$631-$759
In the 1950s, the .44 S&W special had been brought to what was basically the peak of performance by such men as Elmer Keith and had become the premier cartridge of its day, however Keith felt that he could do better but didn't have a suitable cartridge to use as a base for his high power experimentation. Repeated calls for a more powerful 44 caliber round had thus far been ignored. Finaly, in 1954, Smith & Wesson and Remington saw the light and began to produce a new round 1/8th of an inch longer that the .44 special and a suitable firearm for delivery. Thus the .44 magnum was born.
Ruger, through whatever means—and there is debate on just what these means consisted of—got wind of the .44 magnum project and sought to try to beat Smith & Wesson to the draw, as it were. Of course, it wasn't all smooth sailing. When it was developed, the .44 magnum was the most powerful cartridge in use. Unfortunately, Bill Ruger did not fully appreciate this. It must also be remembered that the factory .44 special loads were loaded to much lower velocities than Keith used. Therefore, being built on a revolver originally designed for the .357 magnum, it should be no surprise that during initial testing Ruger's prototype suffered catastrophic failure. (That means it blew up.)
After further testing, Ruger developed a reinforced cylinder and frame that would ultimately become known by collectors as the "Flat-top" model Blackhawk. Indeed, Ruger had pulled off one of the greatest coups in firearms history by getting the .44 magnum Blackhawk into gun stores in some areas of the country before even Smith & Wesson's magnum. By many, this is viewed as an excellent sixgun with only one major problem: recoil. It was clear to a lot of people that weight needed to be added to the frame. Thus came the development of the Super Blackhawk in 1959. Refinements to the original design of both arms were made in 1962 with what would become known as the Old Model, also refered to as the "three screw" models, refering to the three screws visible on the frame, above the trigger guard. Further changes were made in 1973 resulting in the current, or New Model Blackhawk and Super Blackhawk. It is this model which has made its way into my collection.
Purchased as a Christmas present to myself in December of 2007 (it was a very merry Christmas and a very well liked present) from my favorite local gun shop, Guns, Etc, it so happens that I was able to get it at a pretty good discount thanks to a sale they were having at the time. Ruger has always managed to keep the prices of their arms down to affordable levels while at the same time still maintaining quality. They may not be the finest revolvers out there but the reputation for performance and quality that Ruger has built over the years means that if you want to guarantee it works 100% correctly 100% of the time, you buy a Ruger.
Impressions
So home I went with my very own Super Blackhawk. I must admit that my selection of this particular revolver was also heavily influenced by John Taffin's book Single Action Sixguns which I had been reading during that period. I have a lot of respect for Taffin's writings but more than that, I was impressed by the feel and handling of this revolver. While my two favorite grip frames are the 1911 and the Old Army, the grip on which the present Super Blackhawk is built is actually a modified Dragoon grip (to better accomodate the recoil of these more powerful rounds) which is where the Old Army grip originally came from, and to me just feels good in the hands. In my case, though, this pistol actually utilizes a later grip frame designed specifically for the target shooter, the Bisley frame. With a longer grip, missing the traditional "plow handle" flare, it is designed to make the pistol more controlable under recoil.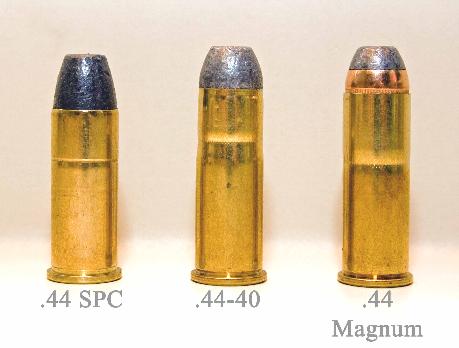 Ruger's Super Blackhawk revolvers are all equipped standard with a ramp front sight with a fully adjustable square notch rear sight. With the introduction of the New Model revolvers, all Ruger revolvers, whether single-action or double-action, are equipped with a transfer bar safety mechanism. This prevents the hammer from resting against the firing pin as with older models and, strictly speaking, makes them safe to carry fully loaded. However, there are many old timers who still prefer to carry the hammer on an empty chamber for the sake of safety. To them it is a habit well learned and eliminates the need to consider, "is this a new revolver that's safe or an old one that I have to be careful of?" and from that standpoint is a habit worth following. Another useful refinement is the interlock of the loading gate with the cylinder lock and hammer. This means that there is no need to bring the hammer to half-cock in order to release the cylinder. Simply opening the loading gate accomplishes this. In fact, while the loading gate is opened, the hammer is held firmly in place and cannot be drawn back.
The pistol I purchased is blued with a 7 1/2" barrel, weighs in at 48 ounces, and has a 3.75 lb trigger. There are still revolvers being produced using the old Dragoon style square backed trigger guard but thankfully this is not one of them. I'm pretty certain that I would be forced to tape my fingers or risk losing bits of flesh every time I shot this gun if it were. I think the square backed trigger guard is fine on an Old Army revolver but feel that such a design is out of place on a weapon designed for such a powerful round.
Equipped with the standard factory rosewood grips, this pistol fits well in the hands. I am, however, a little less than pleased by the fit of the grips to the frame and will more than likely replace them in the future with something more aesthetically pleasing such as carved ultra-ivory grips. On more than one of my weapons, I have given serious consideration to having them engraved but this one I don't consider a good candidate for that. The pistol just looks too good with a smooth finish for me to want to change it. One feature I will almost certainly add would be a free spin pawl. I have noticed that the timing on this revolver is not quite right. With the loading gate open, if you turn the cylinder until you hear the "click", you've gone too far and cannot extract the spent shell or load a new cartridge. This is not merely something to do with my particular pistol, it seems to be the case on all Super Blackhawk revolvers I have examined since. It truely seems odd to me that Ruger would allow this condition to exist since they take such great care with the rest of the mechanism but exist it does.
Things that go BOOM!
The first magnum cartridge I ever fired was a single shot pistol chambered in .500 S&W magnum which was owned by a friend of mine. Up to that point, I had been firing mainly 9mm and .45 ACP in full sized semi-autos and did not yet own any arms of my own. My friend neglected to provide proper warning to me about the kick so I spaghetti-armed it. Let this serve as a warning to all shooters that safety glasses are not optional and that eyeglasses are not safety rated. If one examines the left lense of the pair of glasses I was wearing that day, a large scratch will be noted near the bridge.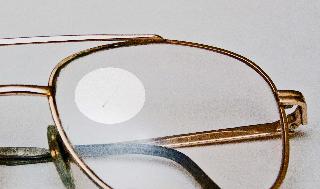 This scratch was made by the hammer of the pistol as it screamed back towards my face. The impact was so great that the lense was knocked clean out of the frame. That plastic lense is the only reason I still have two eyes today. So when your range master suggests you put on your safety glasses, LISTEN! Further, for those like myself who need perscription glasses to see clearly beyond 20 feet, remember that eyeglasses are not designed to take an impact, safety glasses are. Nor do eyeglasses protect from material entering from the side, safety glasses do. Invest in a pair that fit over your glasses. In the interests of honesty, I must say that I have not faithfully followed my own advice in all circumstances, though I should, not just because of the weapon I'm firing, but to guard against the guy next to me.
Once I had a chance to get this revolver down to the range, I did not make the same mistake I made earlier and opted for a box of .44 special in order to get used to the pistol before I went for the magnum rounds. Feeling satisfied that I had things under control, it was time for the .44 magnum. After loading 6 rounds, I got a firm grip on the pistol and held my arms steady. I fired, the pistol recoiled, my finger got squashed. Ow! It was apparent that I needed a more firm grip. Making the necessary adjustment, I fired again, the pistol recoiled again, and my finger got squashed again. Such was the pattern for all 6 rounds. This was clearly going to take some getting used to.
That first session was not a very productive one for me but it was a heck of a wakeup call stressing that big bore guns with heavy loads deserved more respect than I had given them prior to that time. With practice, I have since become accustomed to the recoil and only occassionally does my finger get smacked by the trigger guard, and usually only lightly at that. Having gotten in a decent amount of practice, I'm interested in purchasing a smaller Blackhawk with maybe a 4" barrel. Something that might qualify as "the perfect packin' pistol" as Mr. Taffin likes to say.