SIG Sauer P229r

(.40 S&W)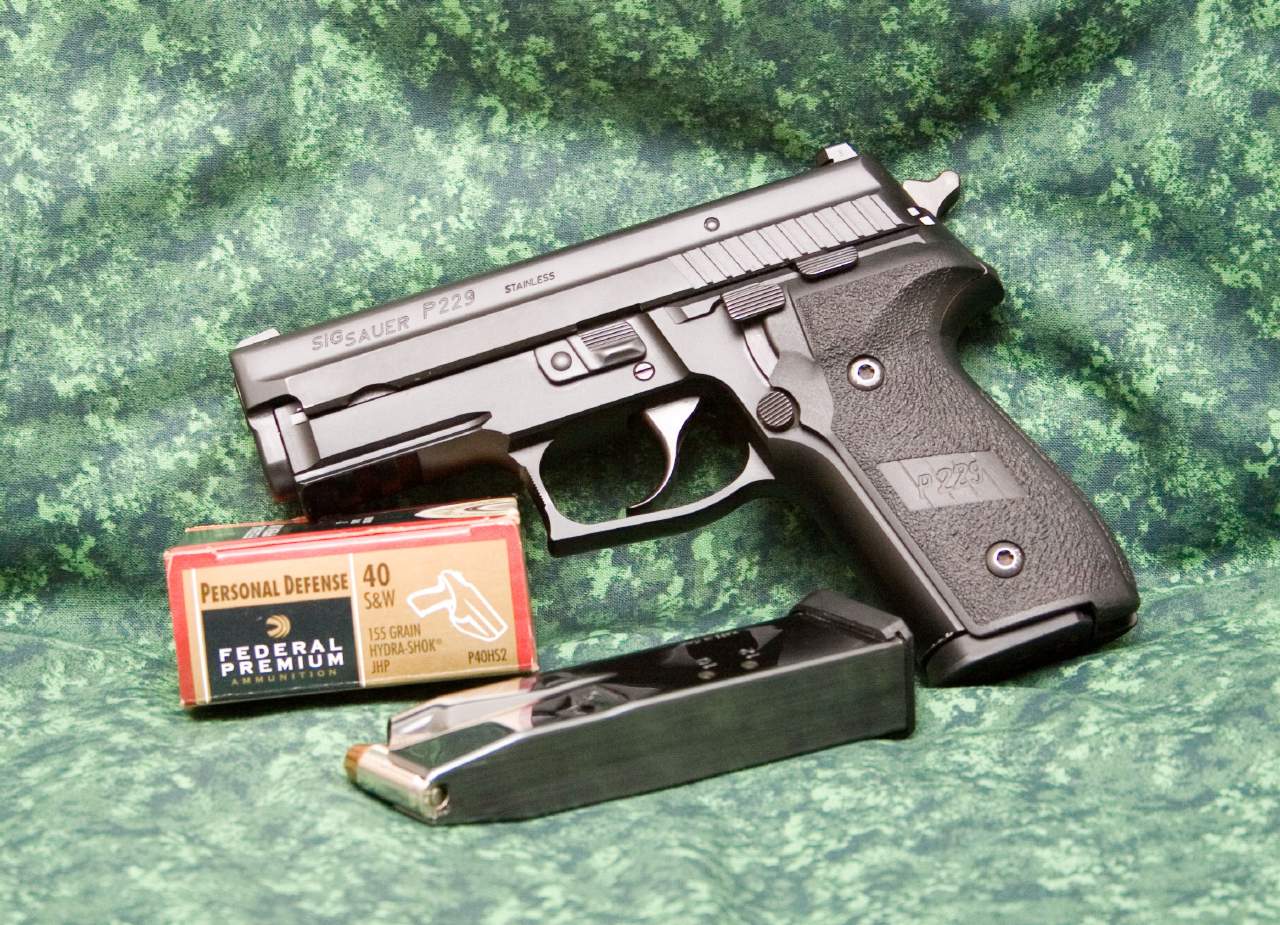 'Twas the summer of 2007 and all through the year I had been looking for a good carry pistol. There were a lot of good offerings out there and it was hard to make up my mind. Some of my friends kept trying to sell me on Glock. Well, I'm sorry, but my hand just doesn't fit well on a Glock. Deffinitely good guns, no doubt about that, but not for this guy. So I kept haunting gun shops and doing online browsing. That's one great thing about the internet, all the specs are there for the taking. No need to call someone to find out what models are offered or what the particulars are.
Well, I had done a good amount of research and thought hard not only about the pistol but about the caliber. After talking to a few folks, including a friend of mine employed by the Arizona Department of Public Safety (DPS)—and for those of who unfamilar with this area, that's the rough equivilant of the state police—I settled on the SIG Sauer P229r in .40 S&W. This and it's full sized brother, the 226 has been adopted by many agencies across the country including the DPS and ICE. The 226 was actually a competitor against the Berrata 92FS for the M9 trials and was very close to being adopted as the standard service pistol. That spoke well for the reputation of SIG and the confidence people had in the pistol and the round. Incidentally, the .40 S&W is also used by DPS and one of the reasons I chose it.
SIG Sauer is not exactly a newcomer to the arms market, having been around for over 150 years, beginning life as Schweizerische Industrie Gesellschaft and this is not exactly a new offering. The 229 was introduced some years ago and continues to be a popular seller. Just the other day, I saw someone at the counter of one my local gun shop pick up a special ordered a 229 two tone and seemed just rediculously happy to get it. Yes, this pistol is quite popular with a whole host of people and I do not doubt that it will remain so for many years.
The 229 features an all steel slide riding on an aluminum frame. This means that there should be no question of smooth function along with being readily tuned if desired by any competent gun smith, something that polymer frames and parts can make somewhat difficult. It incorporates a picatiny rail for mounting lights or lasers (earlier models, before rails became vogue, did not have this), decocking safety, a serrated face on the trigger guard for those who prefer that grip style, and in my case has been fitted with the short trigger. SIG also offers a short reset trigger and a DAK trigger system but the DAK system makes this into a double-action only pistol. The intent of the DAK is to guarentee a smooth, consistant trigger for DA operation and is, in my oppinion, a feature that is worth exploring by those interested in SIG pistols.
One advantage of a .40 caliber pistol is that the change to .357 SIG can usually be made with just a barrel swap. Since that was a reasonably cheap option for effectively getting another pistol, I eventually purchased this as well. The .357 SIG, developed in 1994 expressly for the SIG 229, uses somewhat lighter bullets than the .40 S&W but where weights overlap, the round is ballistically similar. My observation is that the recoil of the .357 feels somewhat stiffer and the muzzle flash is most deffinitely larger. It's actually a fairly decent round and has itself been adopted by various agencies including, if memory serves, the FBI.
Type:
DA/SA semi-automatic pistol
Caliber:
.40 S&W
Capacity:
12+1
Barrel Length:
3.9 in.
Overall Length:
7.1 in.
Weight:
32 oz. w/empty mag
Sights:
Tritium night sights
Finish:
Black hard anodized frame
Nitron® slide
MSRP:
$1050
At 32 ounces empty, this pistol is not exactly a feather weight. Slap in a loaded 12 round magazine and you start pushing three pounds. That helps with recoil but sure makes it a pain to carry around unless it's on a duty belt. This weight would normally be considered a help in steadying the pistol for accurate firing however it also means that if you don't have sufficiently strong arms, long strings of fire at the range can result in groups spreading out rapidly as your arms get tired. Recoil in a .40 S&W is not particularly punishing but it doesn't go unnoticed either.
One thing about this pistol is that it is designed for those with somewhat larger hands than mine. (I find that many are.) The palm swell in the grip makes it a little difficult for me to properly get my hand around the pistol, especially for that first double-action pull. It is for this reason that I had the short trigger installed. It has been my intent to get some good wooden grips for this pistol on which I could then sand the palm swell down to size however since this is a hammer fired pistol, that means there is a main spring behind the magazine well and that means that the grip can be trimmed only so much before there is not enough material left to support the pistol.
The DA trigger pull is also necessarily stiffer than the SA pull at 10 pounds compared to 4.4. Good trigger control is the order of the day if that first round is to end up on target. Handling of this pistol is something I have never mastered. I shoot very well indeed with my Kimber 1911 as well as my S&W M&P9 but because of the grip on this pistol not matching my hand as well as the fact that I seem to be fighting the trigger mean that groups even at 25 feet spread out to four or five inches on average with some being even larger.
Those of you who have explored these pages know that these days, I am most apt to carry my S&W M&P9. (Although I will be switching to a bigger bore as soon as budget allows.) Part of the reason for this is the weight but more critically is because in the time I have owned my SIG 229, after firing a mere 2600 rounds through it, I have suffered three failures: two broken extractors and the take-down lever, the first failure occuring after just over 600 rounds. SIG customer service was second to none on dealing with these repairs and they get the highest marks for that, however perusing the forums suggests that the extractor problem is one that has plagued SIG pretty well since they began providing pistols to the American market more than 20 years ago. My understanding is that it is partly because of the very precise heat treating recipie that must be employed to get that part to the right hardness and temper. Too soft and it wears too fast, too hard and it is left brittle and unable to withstand much use.
Whatever the reason for the failures, I'm not alone in my experiences although enough agencies use this pistol that its a pretty good statement that such failures are not a matter of routine either. Still, if I can't rely on it, I won't carry it. Therefore, after the second extractor snapped off, this pistol immediately got demoted from carry gun to range gun. Some have suggested that this is simply a "Friday" gun, suffering from "is it 5 o'clock yet?" type problems. That could well be but if that's the case one has to question the QA at SIG since such guns should not pass inspection.
As I stated, I've not quite managed to get the better of this pistol. Nonetheless, I can at least get an idea of how the gun wants to perform. Typically, I practice at 35 feet. With this pistol, I had to bring the targets in to 25 feet. Modifying my usual grip slightly and being very careful with the trigger, I was able to print several good groups. These groups show that the pistol is deffinitely able to do the job if you can get a good hand on it.
For my money, SIG has some work to do. My 229 shows potential but the weight issue and the reliability problems put it pretty far down on the list of pistols I would want to have with me if I get into a sticky situation. I'm happy enough to take it out to the range from time to time even if just for the challenge of figuring out how to make my hands cooperate with this gun but doubt I will ever do much beyond that. If nothing else, the fact that I have to work with this one demonstrates that some aspects of my gun handling still need improvement. That alone makes it unlikely to gather dust sitting in my safe.
As with everything, these are just my experiences. Your actual mileage may vary. SIG Sauer is a manufacturer with a good reputation. They did not earn that reputation by putting out sub-par merchandise. SIG continues to sell guns in respectable volumes and receives favorable reviews from many who purchase them. The conclusion must therefore be that SIG simply has random component issues, the odd batch of parts only just passing testing, and so on rather than a systemic or design problem.
That being said, I will not discourage anyone from buying a SIG. I will recommend, though, that if you do buy one for personal protection, give it a thorough workout before you start packing it around town, at least 500 rounds I should think. Any problems discovered should be addressed promptly with SIG's customer support group. This group is pretty eager to satisfy and will do their best to put things right.
SIG Sauer has a good product line and they continue to expand their offerings. They have been putting a great deal of money into improving and modernizing their operations in Exeter including facilities for advanced prototyping, much more extensive use of computer modeling, more thorough testing including destructive testing, all intended to reduce the design cycle (the time it takes a gun to go from idea to full scale production) and improve product fit, function, and reliability. I look forward to seeing what they will be able to bring forward in the future. SIG's already got some interesting offerings that I've been looking over. For the moment, though, my experiences with this pistol simply suggest that a good deal of caveat emptor applies.