Ruger's GP100

(.357 Magnum)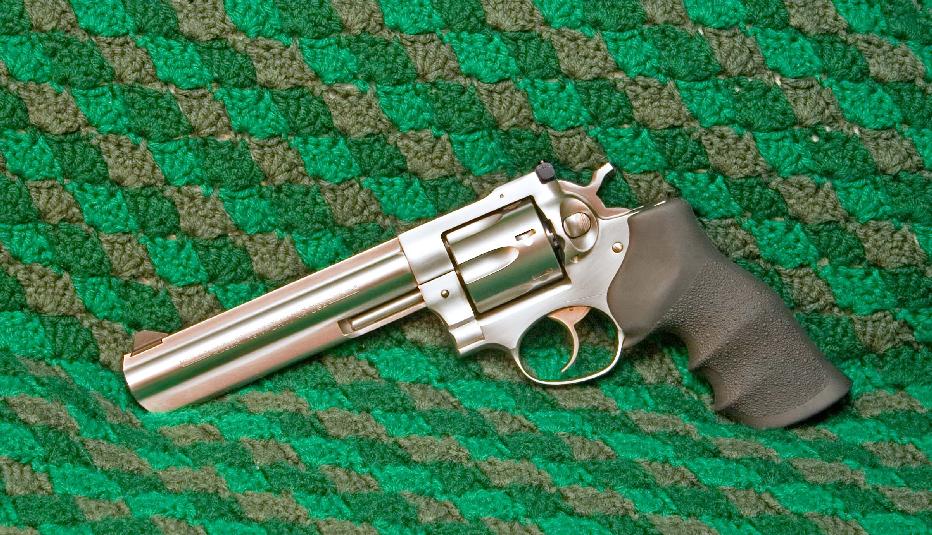 Ruger brought out the GP100 in 1985 as a successor to the popular Security Six. This streamlined mid-frame revolver was intended to bring to some of the advances that had been made in the Redhawk .44 magnums into the .357 magnum line. It retained many of the features that made the Security Six such a popular revolver as well as the proven reliabilty of Ruger arms. The GP100, while a smaller cousin of the Redhawk, is by no means a push over. With a hefty frame and extra weight below the barrel, it's a revolver that is designed to thrive on full power loads. Available in 3", 4", and 6" barrel lengths, with either a blued and stainless steel finish, the GP100 has enough flexibility to more than meet any need.
Type:
Double-Action Revolver
Caliber:
.357 magnum
Capacity:
6
Barrel Length:
3, 4, 6 in.
Overall Length:
8 1/2, 9 5/8, 11 1/2 in.
Weight:
35, 38, 41 oz.
Sights:
Ramp Front, Fixed or Adjustable Rear
Finish:
Blue, Stainless Steel
MSRP:
$640-$660
I purchased my GP100 in late 2008 from one of my favorite local dealers, Guns, Etc. As with other shops, they have a wide variety of arms for sale. However, unlike other shops, they have far more revolvers on display than anywhere else I have seen, both new and used. Fully one third of their display cases hold "wheelguns". Being a guy who has a special fondness for revolvers, and especially single action revolvers, I feel particularly fortunate to be able to browse their wares at will without having to make a special long-distance-out-of-the-way-drive just for that purpose. (Not that gun shop pilgrimages are a bad thing, mind you, just not very convenient unless you intend to buy something right then and there.)
This particular pistol is the first .357 magnum revolver and the first double action revolver that I purchased. It was obtained out of a desire to get something of contemporary design to place along side the older single action pistols I have as a compliment to the set. I also had a desire to obtain something in between .44 magnum and .22LR but still with plenty of power. That meant a .357 magnum which could also, of course, fire .38 special if I were feeling like I wanted something a little less powerful.
My pistol is a stainless steel model with a 6" barrel, fully adjustable rear sight, and mono grips. I chose the long barrel since this, for me, is mainly a target pistol, getting most of it's use at one of the two organized shooting ranges I frequent. Weighing in at 45 ounces, it's not exactly a light weight and deffinitely not a packin' pistol but that's not the point. This pistol is designed to take whatever you can throw at it and do so without making you regret ever picking it up. With the 6" barrel, the center of gravity is deffinitely forward of where it would typically be on a smaller revolver but this serves to reduce muzzle flip and felt recoil. Naturally, as with all Ruger revolvers, this came with a durable hard case, a barrel lock, detailed drawings and operational and maintenance notes, and lastly a cartridge specimen.
After cleaning all the shop grease off and reviewing the documentation (you do read your documentation, right?), the revolver went through its paces in my living room in preperation for a trip down to the range. After taking about 45 minutes to thoroughly examine the fit and finish of the revolver, check the cylinder lockup, look for unnecesasry play, and finaly to get used to the sights and the trigger stroke, it was time to fetch my cousin (who had also been pondering purchasing the 4" blued model) and head down to the range to give it some exercise.
Performance
The mechanics of this pistol function quite well although I do feel that it could use some tuning. After we had fired 100 rounds (fifty of .38 and fifty of .357), I could also see indications of a ring forming around the cylinder. It is the oppinion of some fine gun smiths such as the late Bill Grover, that a properly timed revolver, as long as it is handled carefully during loading and cleaning, should not devlope this ring. I don't know enough about revolvers to be anything even approaching an expert in this but it does seem to me that the cylinder lock can be held in while the cylinder turns the required distance. Ideally, the lock would be released in the wedge cut just before the lock and not have to ride the surface of the cylinder as it turns. But before you take that comment as a measure of the weapon, let me note that careful trigger control made it quite managable. In fact, the trigger stroke was very smooth and felt better than other DA pistols I have handled/fired. The purpose of tuning is to make a good pistol into a near perfect pistol, not as a fix for sloppy shooting technique.
Measuring the DA trigger pull on my RCBS trigger pull gauge showed exactly 10 pounds while the SA trigger came in at 3 and 1/4 pounds. For SA, that's just great but for DA, my personal preferance would be to see it drop down to about 6.5 or 7 pounds. In a similar vein, in single action position, my oppinion is that the trigger sits a hair too far forward of the rear of the trigger guard and could stand a little more curve to better match that shape.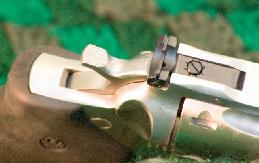 The hammer spur is good and wide with bold checkering to provide for a good, solid grip. While properly positioned for easy access, for myself, I tend to prefer the spur to slope down slightly, after the Bisley style, as it makes it a tad easier to grab but in this case there isn't room for that since the hammer comes back darned near to the frame. Note that this means there is a good deal of force when it hits the firing pin so this is actually a good thing. Besides, this is a DA pistol and when you're firing DA, who cares about the hammer? All in all, when I did choose to take SA shots, I don't recall having any problems actually getting my thumb on the spur and most deffinitely did not have any problems drawing it back.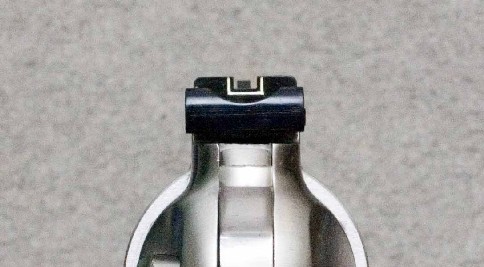 It took some time to get used to the sights (I have to go through a certain breakin period with virtually every new weapon I pick up, not having expert eyes or hands) but even with that, I didn't have any trouble getting on the paper at 25 feet out. When Mike Cumpston reviewed this same pistol at the end of 2000 in his article for American Handgunner titled "Revisiting Ruger's Revolvers", he reported being able to obtain groups at 25 yards of less than 2.5". I don't shoot quite that well but still managed acceptable performance. In time, as my technique improves and I get used to the weapon, I expect that performance to improve markedly.
Final Thoughts
Ruger has a long history of putting out rugged, reliable revolvers and the GP100 is no exception. Both myself and my cousin found this to be a very pleasant shooting, easy to control revolver that would likely be suitable to anything we set out to do with it, whether that be making confetti at the range, punching large holes in watermelons and other insidious edibles out in the desert, getting the drop on a pair of javalinas or even taking a mature white tail or mule deer. Whatever the task, if the .357 magnum can handle it, this gun is an excellent platform for delivering that round.