Mosin-Nagant 91/30

(7.62 x 54R)

Developed in the 1880s by Russian army Captain Sergei Ivanovich Mosin with contributions by Belgian arms designer Leon Nagant, this rifle was initially adopoted in 1891 as a general issue service rifle for the Russian military and served for four decades before being updated in 1930 and reissued as the "Rifle Model 1891/30". During it's estimated 60 years of service with the Russian military and perhaps an additional 25 years in various capacities with Eastern Bloc countries as well as China and others in Southeast Asia, the Mosin-Nagant has seen service from World War I, the Russian Revolution, World War II, Korea, Vietnam, and has even been seen by U.S. troops in use by locals in Afghanistan.
It was only the obvious need for a semi-automatic weapon combined with the increased frequency of close quarters combat such as the street battles of Stalingrad necessitating a shorter rifle that sounded the death nell for this great military arm, ushering in the short-lived era of the SKS rifle which, ironically, was already obselete at the time of its introduction thanks to Mikhail Kalashnikov's AK-47.
By the time the last Mosin-Nagant rifle left the factory, an estimated 17 million had been produced world wide. By contrast, one the most widely produced U.S. arms of WWII, the M1 Garand, only saw a bit shy of 6 million units. It is quite likely that the Mosin-Nagant's production figures have only been exceeded by the AK-47.
During it's unusually long service life, this rifle was manufactured by a host of arsenels from a multitude of countries under license from Russia and the Soviet Union, and issued as part of defense agreements to still others. Even Remington got into the act during WWI. The American production Mosin-Nagants are a somewhat interesting story in themselves. Remington and New England Westinghouse combined to manufacture around 1.5 million of these rifles. However, due to the Bolshevek revolution, only about 350,000 of these were delivered to and accepted by the Russian government. The balance of these rifles were purchased by the U.S. government. These rifles were issued to U.S. troops as training rifles and state militias. After WWI ended, many of these weapons were sold to other countries or to the public as surplus. A number were sold via the Director of Civilian Marksmanship Program (DCMP) and still others were converted to the American .30-06 round (although modern safety standards hold that these conversions are risky at best.) [Editor's Note]
For those interested in a deeper history of this weapon and details about identifying the various models, 7.62x54r.net has an excellent collection of information suited to Mosin-Nagant collectors. This site lists over 100 major and minor variants on this design. More than enough to keep any dedicated collector busy for some considerable period of time.
My Mosin-Nagant
I am not sure what spawned my interest in this rifle but I don't think I could have picked a better subject to add to my collection. The Mosin-Nagant has been an important part of military history and well worth a place in my display. Anyone who is interested in martial arms should consider adding at least one of these to their inventory. With the production numbers on that scale, finding a good rifle isn't difficult. J&G Sales of Prescott, Arizona, where I picked up mine, will happily pick one out that's got a better than average bore and seems in the best overall condition (for a small additional fee, of course.)
After getting my rifle home, the first order of business was to clean off the litterally mounds of grease from the rifle and out of the bore. While great for protecting the rifle during long term storage, that's about all it's good for. Once the cleaning was done, it was time for a thorough examination and inspection. The first thing I noticed was the importer's mark on the side of the barrel. Required by U.S. law on all imported arms, this marking has a "dot matrix" appearance and consists of two lines designating the model and caliber as well as the serial number assigned during import. Some makers simply use an electric engraving pencil to scratch this on and some do so quite lazily, even to the point of obliterating proof marks and other important features. My compliments go to Century Arms for going to the trouble to do this quite tastefully and in a way that does not detract from the piece as a whole.
It didn't take long to determine that my rifle seemed to be in as-issued condition minus a couple of obvious repairs done at the arsenel such as the floor plate and barrel bands on the front hand guard. All the serial numbers I could find matched up (except for the one on the bayonet but that's pretty minor to me.) The barrel is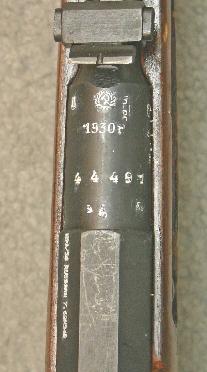 stamped 1930 with markings from the Izhevsk arsenel and has a hex receiver, indicating that this is among the more common rifle variants out there. Since my immediate interest is in the specimin, not a super-rare, ultra-hard-to-find version, this will suit me just fine. I'm accustomed to older arms having undergone at least one refit or even being nothing more than a collection of spare parts so to find one mostly intact is actually something of a treat for me.
When I was in the shop and got my hands on this rifle for the first time, it was immediately obvious that this thing was a monster. It was so long that there was a real question of whether my safe was actually tall enough for this critter. By itself this rifle is a full 48 and 1/2 inches long. That's just over four feet! Shouldering this rifle with the bayonet attached threatened to poke a hole in my ceiling. Truely, not an indoor rifle.
Type:
Bolt Action Rifle
Caliber:
7.62 x 54R
Capacity:
5
Barrel Length:
30 in.
Overall Length:
48 1/2 in.
(66 in. w / bayonet)
Weight:
apx 8.5 lbs.
Sights:
Tangent Rear, Post-And-Globe Front
Finish:
Blue
Market Price:
$70-$150
One of the first things you're likely to notice about this rifle is the grooves cut in either side of the stock. These are positioned to allow a place for the fingers and thumb of the left hand in order to give more purchase on the stock when firing. Personally, I don't like them. My hand is much more comfortable going forward to the dimples positioned at the first barrel band. Note that these are part of a later stock design change. My stock is a pre-WWII stock but has been altered and patched into a post-WWII pattern. This was probably done in the '60s or '70s prior to long term storage.
Examination of the bolt reveals a pretty interesting safety design. Unlike other rifles which use a catch to lock or disengage the trigger, this rifle goes in a different direction. To engage the safety, pull back on the cocking knob at the back of the bolt and give it a counter-clockwise twist. This brings a hook forged into the bolt into line with the receiver. Releasing the knob at that point brings the hook to rest on the receiver. In this position, it doesn't matter what happens to the trigger because the firing pin cannot be released. One potential problem here is that if the knob is released carelessly, it is conceivable that the mechanism could give, releasing the bolt, and discharging the rifle so one must be careful.
Another odd item to us Westerners is the sling. Notice the through holes in the stock. The sling is attached to the rifle by use of leather straps through the sling and the rifle stock. This "dog collar" sling attachment is not unique to the Mosin-Nagant but it is certainly unusual to those used to seeing sling swivels instead, and is the first time that I have personally seen this design.
Yet another interesting choice is the design of the bayonet itself and the Mosin-Nagant was issued with multiple designs. Bayonets are a field unto themselves for collectors and much has been written about them and the various designs and productions through history. A quick search of the web for "bayonet identification" shows 176 thousand results in one engine and 496 thousand in another. The topic is most deffinitely not a small one.
Many countries producing bayonets have typically opted for bladed designs and in some cases even using double edged blades. The U.S. M1905 bayonet was a 16 inch bladed affair that could almost double as a sabre if it had to. Perhaps the most common of the other common design was the straight spike which is little more than a pointed length of steel. Designed with a flat tip sharpened to about the shape of a flat bladed screw driver and only slightly sharper, the main body of my bayonet is a cruciform design, intended more to pierce, dislocate, tear, and compress tissues rather than cutting through them.
On the surface, this is logical enough and superior to the straight spike. The point of the bayonet will pierce anything in its path, leaving the main body of the bayonet to basicaly push and tear the tissue apart. However, it could be quite a debate as to whether this would ultimately inflict more or less damage than a blade. Add to this the fact that with a blade, you have a weapon that can be used quite effectively separated from the rifle (and in more recent years, the bayonets have become shorter and doubled as fighting knives, eliminating the need to issue another piece of equipment to each soldier while subsequently lending even more utility to their design) and I think that the blade probably wins out but the Russian design is effective, nonetheless.
Mosin-Nagant accessories
Naturally, no martial arm is complete without various accessories. Thanks to the importer, a collection was gathered and placed with the rifle as it was boxed for sale. These included a screw driver that doubles as a bolt tool, a magazine pouch (this one of later Soviet manufacture), an oil and cleaner combination bottle, the bayonet, and of particular interest are the parts necessary for the cleaning rod. The sling shown in the pictures was part of this kit and is again of Soviet manufacture.
If you look beneath the front of the barrel, you will see a rod protruding from the stock. This is actually the cleaning rod. Unscrew it, attach the muzzle guard, jag, and handle pieces and there you go. While I'm not sure how well this worked in practice, it certainly is a novel design. There is certainly something to be said for making it easier for the soldier to keep track of such an important tool but I personally have to think that

a collapsible rod probably would have been cheaper to make since you had to carry the rest of the parts in a pouch anyway. It also would have slightly simplified the construction of the rifle. I can see that rod getting caught on all sorts of brush and ending up bent all to heck. However, given that this one survived quite intact, it is quite possible that this scheme worked better than I suspect it did.
The combination bottle for lubricant and cleaner is an interesting design in itself. Over time, this was produced in many different forms, the one shown being one of the earlier designs, and was included in the parts made under license from Russia and the Soviet Union by those who also produced the Mosin-Nagant rifle. I'm not sure how well such a design would fare now that plastics have taken over, especially as such items tend to be presently designed to be disposable but it is not without merit even in today's world.
"Right Shoulder, Arms!"
After all that cleaning and examination, the real question is, "Just how well does it shoot?" The tangent sight is graduated to an optomistic 2,000 meters and is actually quite difficult to see when set anywhere near this point. My initial perception of this weapon was that, in practice, given the relatively loose tolerances of most Russian and Soviet designs, for the raw recruit fresh from boot camp, I would think it would not be expected that they would be effective beyond about 150 to 200 yards. For the average soldier with good training and shooting experience, that distance is naturally much further, but I would still not expect this rifle were effective beyond about 400. Of course, in the hands of an expert marksman, who knows? 1,000 would not surprise me. Still, for your day to day target shooting, I think 300 yards is optimistic. Experience is such a great teacher, isn't it? All it took was a hands on lesson to realize just how wrong that impression was.
Let us not forget that the Mosin-Nagant is perhaps best known as a sniper rifle and, when suitably modified for a scope mount, can be quite effective in that role. Nothing illustrates this more than the events surrounding famed Russian sniper Vassili Zaitsev during the battle for Stalingrad. In about 3 months, Zaitsev recorded over 500 confirmed kills using this rifle. Zaitsev also recorded kills using other weapons during this period and was not the only Russian sniper active during this campaign. When the Germans met up with soldiers well trained in how to handle their Russian Mosin-Nagant rifles, it cost them dearly.
With that kind of history, when I was examining this rifle and conducting my research into the production history and so forth, it made me really wonder just what I could get out of it. Although it can be had, 7.62x54R is not the most common cartridge out there and one has to look in order to find it. In my town, the major suppliers don't carry it except for Cabella's which is a 45 minute drive for me and, in my oppinion, has too high a markup on these boxes. My local shop does happen to carry these but they are of the corrosive variety and must be used sparingly unless one is miticulous about cleanup. My weapons always get a good scrub straight away but cycling such rounds through pieces with intrinsic value beyond their purchase price is not something I want to do regularly. Consequently, if I intended to shoot this a lot, my best bet would be to order in quantity from an online dealer.
In evaluating the performance of this rifle, my first priority was to determine just how precisely this rifle was made, not to mention making sure it was safe to fire in the first place. Slugging the bore revealed a groove diameter of exactly .313 inches and a diameter of .298 on the lands. This is almost exactly what should be expected for a 7.62x54R chambered rifle. (The Finnish versions of this rifle actually use a slightly smaller groove diameter, closer to .308) The bolt operated cleanly and the firing pin impacted with substantial force just where it is supposed to.
With these reassurances, I packed up my rifle, a jacket that should have been thicker for the sort of cold day it was, grabbed a couple of boxes of factory ammo and headed out to the range to give it a try. Not wanting to trust my eyes against the Mosin-Nagant's iron sights, I set up a somewhat larger than necessary target out at 50 yards in order to allow myself to get used to the rifle and find my zero. The first impression I had on firing my Mosin-Nagant was, "Ow!" This rifle, for all it's length, is a bit of a lightweight built before the days of recoil pads and the 7.62x54R is a powerful cartridge. The particular ammunition I was firing was Sellier & Bellot 180 grain JS (jacketed soft point.) Being accustomed to my heavier .30-06, the kick on this thing surprised me. The manufacturer reports this round clocking in at 2624 fps and building muzzle energy up to 2761 ft-lbs. That is on par with the .30-06 and meant my shoulder was in for a good day's pounding. Oh well, such is the price to be paid by those who enjoy collecting and shooting rifles.
One item of particular concern to me before arriving at the range was that I do not have a set of headspace gauges or a bore scope. On any older or well-used rifle, especially military rifles, detailed examination of tolerenaces and condition should be the order of the day wherever possible. If you're going to find a problem with a rifle, this class is where it will most likely be seen. Without these tools, that left one real safety question which could only really be answered by carefully observing the loading of several cartridges and, after being reasonably sure that things are as they should be, carefully inspecting the first couple of fired casings was well as the receiver for any hints of problems. Of course while I lacked the specific gauges, being an engineer, I do have a very accurate caliper and was able to take some before and after measurements which showed not only did the bolt lock up quite firmy without crushing the cartridge but that there was very little case expansion in either axis, meaning that virtually all of the power was used to propel the bullet, not expand the brass case; the very deffinition of a good rifle.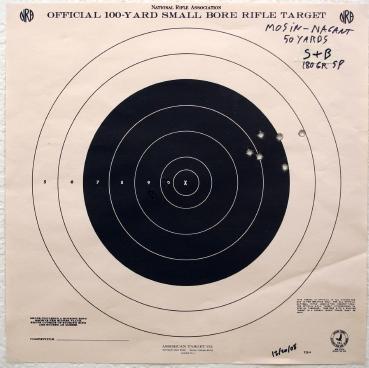 I was actually considerably impressed with the Mosin-Nagant's performance. After gingerly nursing my shoulder through the first few rounds and getting used to the straight bolt, I was able to fire a six round pattern to a target out at 50 yards and place a group measuing just about 2.25". Remember, this is with iron sights on a basically as-issued rifle. That grouping impressed the heck out of me. It is no wonder that the Mosin-Nagant was made in such large numbers. If they were all that effective, any reasonably well trained solider would have a good chance of taking out targets at 300 yards with only a little work and a good, steady hand. For a trained sniper with even a basic scope, I can easily picture them hitting targets at 1,000 yards and over.
My grouping, although quite good, was high and to the right. The elevation can be explained by the fact that the sight increments start at 100 meters and go up from there and I have a tendancy to shoot a little high anyway. Rather than try to correct for this, I was more interested in trying to hold the same point of aim and print a pattern. It was only after I was done that I realized that the front sight was not properly lined up in the dovetail and was actually sitting slightly out to the left. (In actuality, the front sight is not designed to be drift adjustable since the dovetail it sits in is only exactly as wide as it needs to be and no wider. There is even a witness mark stamped into the front of the sight to show military leaders if a soldier had attempted to make unauthorized adjustments to his weapon. Mine has just simply been knocked out of position at some point.) I'm confident that once I get this nudged back where it belongs that it will be dead on for windage.
A Legend Still...
The Mosin-Nagant 91/30 was built to be a fighting rifle in a time when bolt actions ruled the battlefields. It saw service in many conflicts and for decades afterward even as the light machine gun and semi-automatic assault rifles had taken over as the solider's best friends. There are two reasons only that a rifle can have that kind of service life: deal brokering between military and government officials and the arms manufacturers, or a simply supurb design well executed. The Mosin-Nagant is very much the latter.
I have fired many weapons in my time but this has to be one of the most accurate military arms I have run across to date. At a cost of just over $100 which included fees to hand pick a rifle that seemed to be in better condition than the rest and had a better than average bore, I think I got one heck of a good bargain and look forward to getting to know this rifle better.