Smith & Wesson's M&P

(9mm)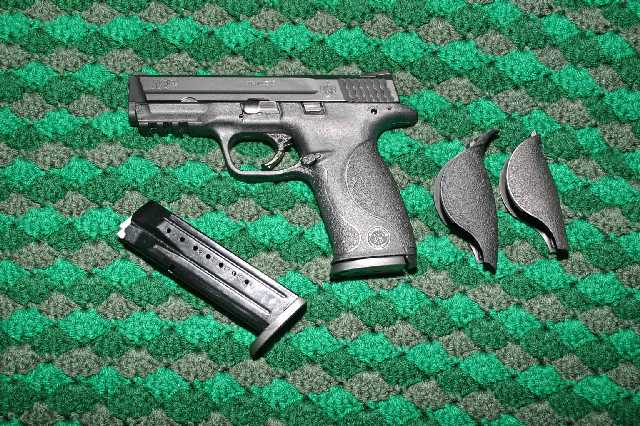 At the end of 2007 and early into 2008, the price of ammunition was on a decided uptick. This was no mere minor adjustment for inflation, this was a result of a whole scale run on the market for the raw materials required to produce, package, and distribute ammunition. Such price increases made it very difficult for me as an active shooter to spend the desired amount of time on the range, prefering to shoot larger caliburs such as .45 ACP, .40 S&W, .44 magnum, and the cowboy bullets. The only logical answer was to change to a less expensive round. That, to me, meant searching for a suitable 9mm semi-auto pistol.
The quest for the perfect pistol
A quick tour of the various gun shops I frequent led to the creation of a short list. This included the Beretta 92 model, a SigSauer P250, the Springfield XD, H&K's P30, Ruger's SR9, and Smith & Wesson's M&P 9 or 9c. Over the course of perhaps two to three months, much soul searching was done, frequent observation of the bank account balance was made, handling of these arms was done often, substantial research on specifications and reviews was performed, and even test firing of two pistols from the cabinet at my local range was done on more than one occassion.
After four to five weeks, the short list was made even shorter. The Beretta was rejected because that frame and that slide, while an excellent shooter (my cousin has one and I do quite well with it), just didn't speak to me. Sig's P250 intrigued me and is still on my list of probable future purchases but it just didn't seem to be the time to go for that and since I already had one Sig, I decided that one could wait. Ruger had introduced the SR9 early in 2008 and from the various reviews, it certainly seems to be a pistol that can take it but I look at Ruger more for rifles and revolvers than I do for pistols, so while I have the utmost respect for Ruger, that option too was laid aside. This left the H&K, the Springfield XD, and the S&W.
The remaining choices were all relatively new offerings, with the H&K also hitting the market at the end of '07 or early '08. Two sessions test firing the Springfield was enough to tell me that this was not the pistol for me. The weapon is well respected by gun dealers and shooters alike and Springfield Armoury has worked very hard to build and maintain a strong reputation in the arms industry. All that is good and well, but when you get right down to it, in my honest oppinion, the trigger stinks. It has a very long stroke and a very long reset and frankly feels like mush. This, to me, is not suitable so off the list it went.
The H&K felt darned good in my hands. I have had a chance to fire one of their older .45 ACP pistols and was quite satisfied with the performance. The company may not have the best reputation for customer service, but reports of problems are also few and far between. However, the price of the P30 was about $900 and while I'm sure it would have been worth every penny, the budget just would not allow it.
In the end, there can be only one...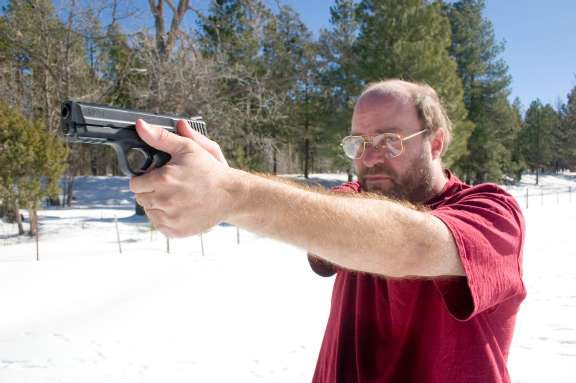 So the Smith & Wesson won the prize. When I was finaly able to make the purchase, I actually had to go to the second shop on my list because these pistols tend to be hard to keep on the shelves. After breaking it in, I can understand why. This pistol is made to perform. Introduced in 2005 at the IACP's Miami conference, the M&P was designed specifically for law enforcement and military use (hence the "Military & Police" designation) but with S&W's usual savvy eye towards the private consumer and has become popular among law enforcement agencies and citizens both. When S&W set out to design this pistol, they started by asking a lot of questions of everyone, gaterhing all the likes, dislikes, wanted features, hated features, and weird idiosynchrosies of various arms that just bugged the daylights out of them. It was only after they had that information that they set to work on designing this new generation of pistol. For years, Smith & Wesson ruled police armouries with their classic revolvers. But when the Glock revolution occured in the late '70s, and the decision was made in the 1980s by most departments and most officers to move to semi-automatic pistols, Smith & Wesson just couldn't manage to design a pistol that law enforcement wanted to use. That opened the door for many other makers to get a toe hold on that market with Smith & Wesson playing catchup ever since. No longer.
Type:
Semi-Auto, DAO, Striker fired
Caliber:
9mm / .357 Sig / .40 S&W / .45 ACP
Capacity:
17+1 (9mm)
Barrel Length:
3.5, 4.25, 5.0 in.
Overall Length:
6.7, 7.5, 8.5 in.
Weight:
22, 24, 26 oz.
Sights:
3 dot, dovetail front, fixed rear
Finish:
Black Melonite®
MSRP:
$656-$758
With the M&P series pistols, Smith & Wesson is now back on a level playing field. The M&P (also refered to as the "model 10") is not a feather light, but it is still light weight by comparison. Weighing in at only about 32 ounces, fully loaded (24 oz without the magazine), it is lighter than my SigSauer P229 is empty. They have accomplished this by utilizing polymer for the frame while retaining the stainless steel slide. Interestingly, the rails on the frame are not inserts nor are they molded into the frame itself but, rather, are formed by projections from the loading block and sear housing. When taken in combination, the reduced weight serves to make it pretty easy to carry around and seems especially suited to a duty holster. Having an all-steel slide provides necessary mass to help control recoil and muzzle flip. In combintation, it seems to me that this pistol is at its peak when chambered in 9mm but still imminently controllable with larger calibers.
The full sized M&P is configured with a 4.25" barrel (or 5" barrel in the "Pro" series), striker fired, with an overall length of 7.5" and stands 5.5" high. This somewhat taller than normal height along with the relatively sharp rear corner on the grip can be a problem for concealment but for those looking for a carry pistol, this series is also provided in a compact model. One dimmension which perhaps doesn't get quite as much discussion as it might deserve is the width. Measuring at just 1.2" it is somewhat narrower than other pistols but still provides that high capacity magazine (and comes with one spare.) In terms of concealment, the width of a pistol makes a big difference. Most I looked at seemed to be about 1.4" or even larger. If you think the corner of the butt prints on this pistol, just look at some of the others. You might be surprised at just how obvious some of these can be. Shave a little distance off on the side and it can make all the difference in the world.
Standard equipment is dot sights with the front sight set in a dovetail groove for windage adjustment, a Novak® Lo-Mount Carry rear sight with the expected option of tritum sights, and in a nod to all the left-handed shooters out there, the M&P is equipped with reversable magazine release and ambidextrious slide lock, and of course, this pistol provides a Picatinny rail. Two magazines are provided each holding 17 rounds. On top of the receiver is also a loaded chamber view port. Personally, I prefer a tactile loaded chamber indicator to better allow reference in low light but this serves well enough. For those wishing it, this pistol can also be equipped with a locking mechanism to allow a small key to be inserted, disengaging the magazine disconnect and preventing the pistol from being fired until that key is reinserted and turned the other way.
One feature that has become all the rage of late is a reversable or changable backstrap. This feature is found on all three of the pistols that made my shorter list. Smith & Wesson provides 3 different sized backstraps with the middle of the two being factory mounted.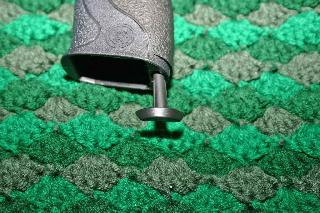 Changing the grip strap is a simple matter of removing the magazine, twisting the grip change tool 90 degrees in either direction and then pulling it free. The grip can then be pivoted rear-ward, removed, and replaced. All this takes mere seconds to accomplish.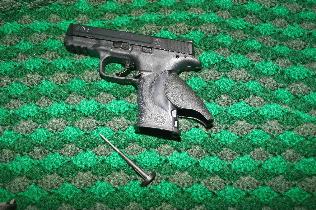 So if your buddy wants to try out your pistol but it doesn't quite fit his hands, it is easy enough to fix that. I find that the middle grip fits my hands quite well but there are guys out there with smaller hands than mine and, yes, there are those out there with hands that could make a grizzly feel out classed. Some of the ladies out there will doubtlessly also appreciate the smaller grip since it seems that few pistols are made with lady shooters in mind. With this innovation, I expect that may change since it now becomes relatively cost effective to offer a smaller grip. One thing about this method compared to others, the extra grips must be kept track of. Rather than being on a reversable panel, they are separate from the pistol. Generally this is not a problem since once you settle on one, you're not likely to change it. It also seems to me that this mechanism allows for some pretty easy customizations, provided you match up the finish.
Smith & Wesson advertises this pistol with a 6.5 lb trigger pull. A quick check with my gauge confirmed that. In my limted experience, I have come to expect long strokes and stiff triggers from DAO pistols. When I pulled this model from the rental cabinet, I was pleasantly surprised. This pistol just didn't feel like any DAO pistol I have previously fired. It felt far more like a single action gun. The trigger preloads at perhaps 80% of its stroke and then breaks quickly and cleanly. This allows you to take up perhaps two to three pounds of tension while you sight. At that point, the remaining force effectively is what you find on most SA pistols. After firing, the trigger only has to travel back to a little before that 80% mark (0.14" according to S&W's litterature) before you're ready to fire again. The clean trigger and the short reset weighed heavily on my decision to ultimately purchase this pistol.
My initial impressions of this pistol were quite good however there are still two items about which I am disappointed. The first is the lack of a lever safety. Yes, I hear all of you out there that will cry, "If you handle your gun correctly, you don't have a need for a safety. Besides, it'll just get in the way in a life and death situation." To you, I ask how often you have made mistakes in handling your own arms or how often have you been trying to teach a novice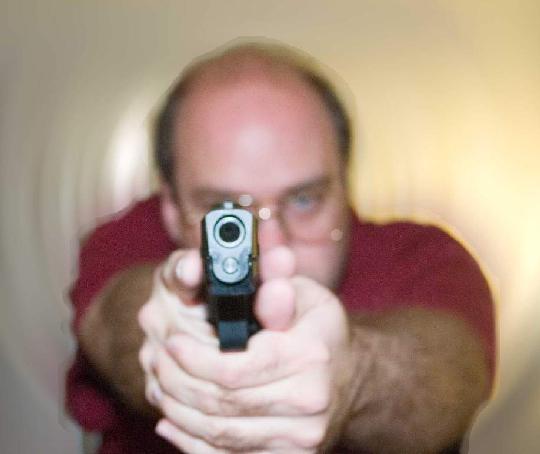 to shoot and seen them make mistakes in handling the weapon. It's just insurance. I'll grant you the second point but I'll also state that those who carry guns for personal defense ought to be practicing with them or at least taking courses in self defense. When properly trained, such fumbling is far less likely to happen. True, this pistol does have the trigger safety which you can clearly see in the photo as well as a magazine interlock so it won't fire with the magazine removed to guard against that round you forgot you left in the chamber and that will prevent a great many accidents, but I don't think it's really a substitute.
The other item I take issue with is the take down. In order to disassemble the weapon for cleaning, it is necessary to drop the magazine, lock the slide open, turn the takedown lever, and finaly reach into the slide and pivot a small metal lever to deactivate the sear so that when you release the slide and bring it forward that it will actually come off the pistol. I don't know about any of you, but the prospect of reaching into this with my fingers to release that lever doesn't excite me. I've found the best solution to be either the cleaning rod or the letter opener I keep near by. I'm just paranoid enough to figure that I'll manage to hit the slide lock by accident or I won't have secured it properly and the slide will slam forward and take a bite out of my finger. So my fingers stay clear of the chamber.
Shooting Impressions
One thing I will say right off about this pistol is that shooting it is deffinitely no chore. In fact, I find it quite pleasant. I have no problems whatever sighting this pistol in and can sit there all day poping rounds off without feeling like I've been takled by a 400 lb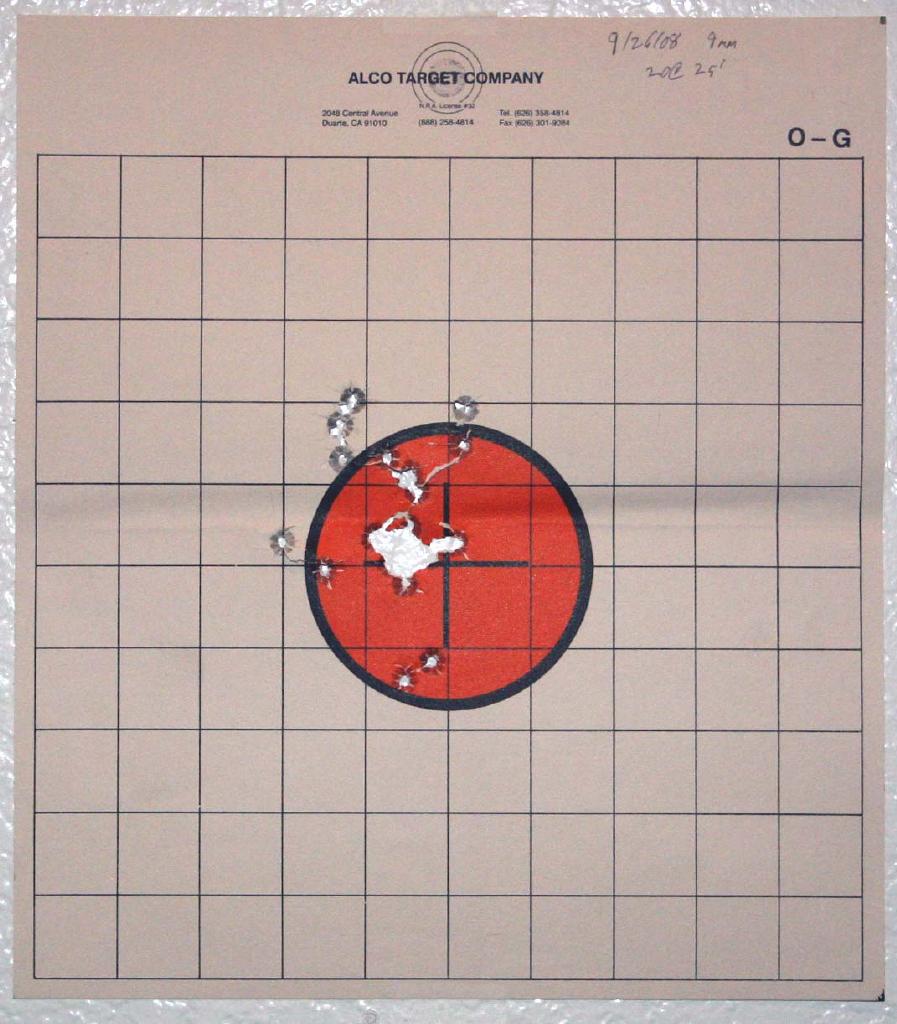 linebacker and the more I shoot this pistol, the more I like this pistol. The grip and feel are among the best of all the semi-autos I've had a chance to handle. Since I purchased this weapon, I've put over 1500 rounds through it without a single jam or misfire. Generally, when target shooting, I shoot either what the range has for sale or I buy Winchester's 115gr FMJ bulk packs. Not premium ammunition by any stretch but, in my oppinion, the true measure of the performance of an arm is not in how it does with extensive tuning and the best ammo on the market, it's how it performs for the average Joe when they pick it up and shoot it.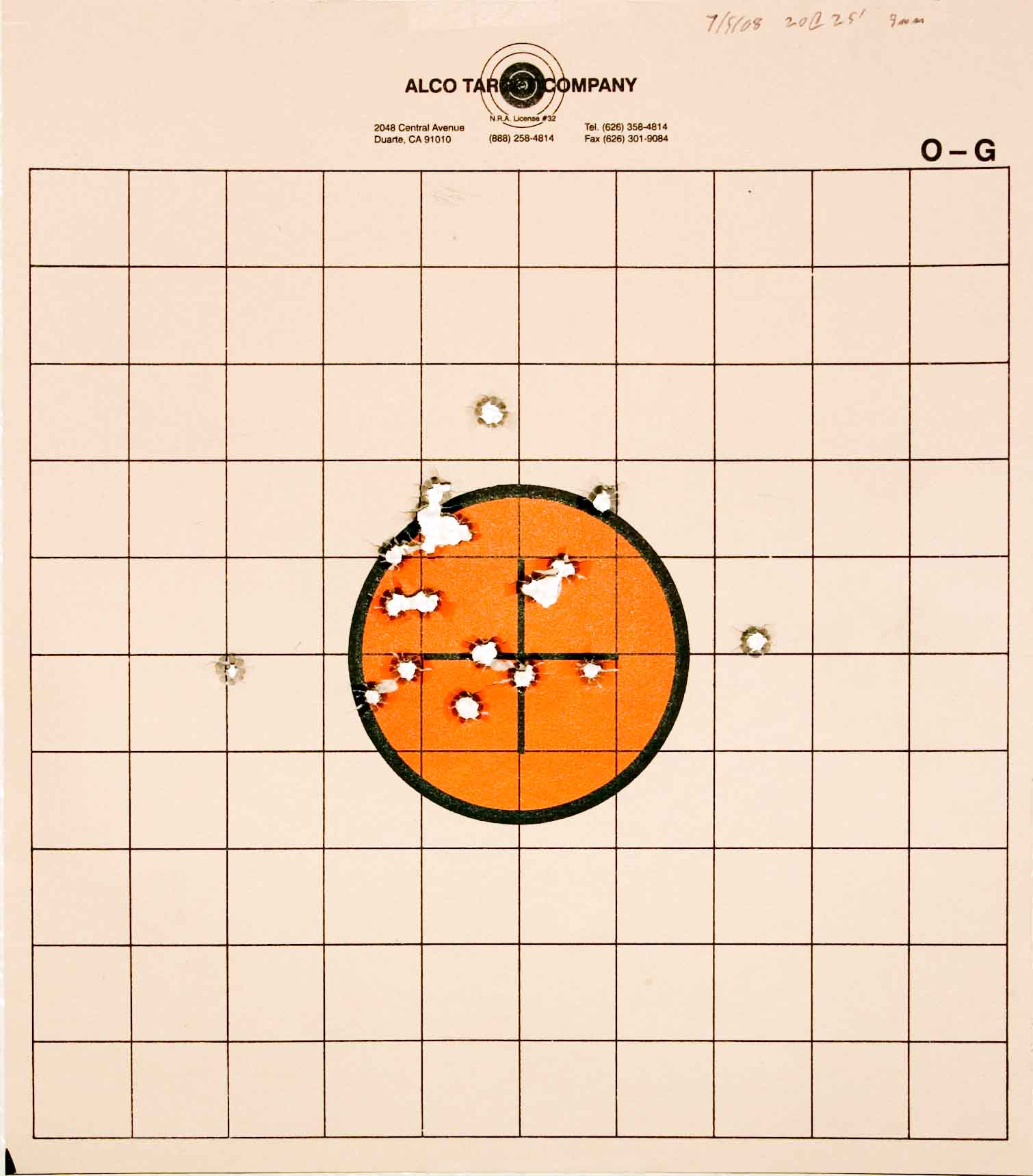 So, this sort of ammunition being typical of that used by budget shooters, it is appropriate to select it for this evaluation. Setting up my chronograph showed that these rounds left my pistol at an average velocity of 1154.5 fps with a standard deviation of only 83.1 fps over my sample.
As I've noted in other articles, I'm not the world's greatest shooter and do not presently shoot competition, yet I have had a great deal of personal practice. With some of my pistols and revolvers, I have discovered a wide range of controlability and accuracy. This pistol ranks tops among then, second only to my Kimber. About the only thing I would change would be to install a wider front sight to eliminate more of the parallax error since, with my arms, the front sight doesn't really fill the notch in the rear sight and my eyes need all the help they can get. Still, from a free stance, I do well enough with this pistol as evidenced by the targets shown. Such patterns are the routine for me when taking this critter out to the range for some exercise.
Often, when I go out to the range or into the desert, there are multiple of my friends along for the ride. Mostly just out for a good time but also to work on their own skills and techniques. When they've had the chance to get their hands on this pistol, they have largely echoed the oppinions I have formed regarding comfort and overall shootability.
We have a winner!
It took a few years, but Smith & Wesson deffinitely hit a home run with the new Military & Police series of pistols and rifles. These weapons have made a strong impression on the all sectors of the shooting community, whether it be law enforcement, personal defense, or competition. For me, this pistol has made such a strong impression that, since I've been interested in getting a .45 semi-auto that's not a 1911 (I love 1911s but also like variety), I'm seriously considering getting a .45 compact as another option for personal carry.
Kudos to the Smith & Wesson engineers for producing what is perhaps the most comfortable and easy shooting semi-auto to come out in the last 15 years!