Ruger's 77/22 VBZ

(.22LR)

Bolt action rifles are certainly not new. For decades militaries fought with them, sportsmen hunted with them, and kids grew up learning to shoot using them. So it should not have surprised anyone when Ruger introduced his first bolt action rifle in 1968, following up on their auto-loaders of the previous 4 years, and single shot rifles of 1967. Ruger's usual goal of producing affordable weapons manufactured to the high standards consumers have come to expect of the more expensive models was prevelant in all parts of this process.
Like many shooters, when it came time for my first firearms purchase, I chose to go with a simple .22 long rifle. I had fired a rifle before as a youngster at scout camp but wasn't much good at it. However, the bug had stuck and I had an itch to learn how to shoot accurately at long distance. With a .22LR, there was a limited amount of damage I could do and I wasn't under risk of dislocating my shoulder from the recoil. So on my way home from work one night, I took a bit of a detour and headed over to Sportsman's Warehouse which had recently set up shop in my area of the country. Not knowing anything about rifles at the time, I simply accepted the sales reps recommendation for this purchase and I couldn't be more satisfied.
Type:
Bolt Action Rifle
Caliber:
.22LR
Capacity:
10 round magazine
Barrel Length:
24 in. BBL
Rifling:
1:16 RH, 6 groove
Overall Length:
43 1/4 in.
Weight:
7 1/2 lbs
Sights:
None.
Scope rings provided
Finish:
Target Grey
MSRP:
$812
Originally intended as a modernized Mauser 98, meaning the rifle uses a two lug bolt system with a claw extractor, the M77 also incorporated many changes. Ruger formed the receiver from an investment casting rather than forming it through machining or stamping. This resulted in a strong body with a minimum of production time. Barrels were all hammer forged of high quality steel. No longer was it necessary to have a gunsmith tap the receiver for scope rings as Ruger integratred a scop base into this casting. To give added strength to one of the key components, the bolt handle was cast as an integral part of the bolt, eliminating the silver soldered joint that so often failed under repeated strain. The safety was also redesigned to guarentee positive function and increase strength. Stocks were of the basic straight variety made from American walnut.
Ruger's M77 received an update in 1989 most notably incororporating a 3 position safety which allowed the bolt to be cycled while the trigger was still locked out. This meant it was now possible to load and unload the rifle without the danger of an active trigger. Another unique feature of Ruger's was the rotary magazine. Bolt action rifles have constantly been plagued by feeding problems from rounds not quite lining up correctly as they rise from the magazine. When fed off the follower, the bullets would line up correctly every time. But there was no practical way to place a follower below every bullet... or was there?
To solve the feeding problem, Ruger took a cue from a Mannlicher carbine and came at the problem from a completely different direction. Rather than using a traditional stacking magazine, engineers looked back at the drum style magazines feed used by this carbine for a solution.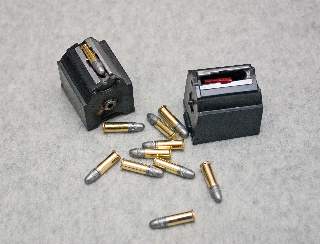 Using this inspiration, a rotary feeding system was designed using a plastic rotor and a good spring and a magazine throat with an angled face, forcing the rounds to be inserted at somewhat of an angle. As each round is loaded, the pressure forces the rotor to pull the last round down and to the side. This brings up a new section of the rotor for the round to rest in. On chambering, the reverse process occurs. From the perspective of the rifle's mechanism, the rotor feeds each round to the bolt from its own follower from precisely the right alignment with the bolt, virtually assuring proper feeding. A side effect of this sytem is that these 10 rounds to not require a magazine to protrude through the bottom of the receiver to get caught or bent.
Since this rifle is not equipped with iron sights, it was necessary to purchase a scope to go with it. Looking over the display cases and seeing scopes prices as high as $700, my wallet wandered over to something a bit more reasonable for a 100 yard rifle and I selected a Simmons Pro-Sport 3-9X x 40 for about $78. A pretty basic scope with few frills and a basic cross hair reticle, it's just about right for this rifle since all I really need is a firm point of aim. The magnification, and variable at that, is merely a bonus.
One very annoying problem with this purchase was that after getting the rifle home, it was a full month before I had a Saturday free so I could go out the range and give it a test drive. Once I finaly did get out, it was clear that I would need practice. At 50 yards, I managed to miss a 12 inch target several times. On the other hand, I had a great time while I was there. Over the next few weeks, I went back frequently, burning litterally hundreds of rounds on each visit. In time, I started experimenting with different ammunition after noticing some of the defects in some of the cheap stuff such as loose bullet crimps, doubtlessly leading to poor bullet placement within the chamber and at the start of the rifling. I also determined that this rifle seemed to function much better feeding lead rather than jacketd bullets.
Ultimately, I settled on Federal's Champion lead solid rounds for all my .22 shooting chores. These are both very reasonably priced and seemingly very consistant. Running these rounds through a chronograph, the average came to exactly 1184.4fps which is precisely where a .22LR should be. The standard deviation of my relatively small sample was 18.4fps. For kicks and giggles, I fired a few of CCI's .22 short rounds from this rifle. These averaged at 714.9 fps. Such rounds require single feeding and can leave a ring on the inside of the chamber. Therefore, I have only used these for testing.
Since I purchased this rifle, I have run about 4,500 rounds through it. Thus far, it hasn't complained one bit. This rifle has gone out into the desert, over the river, and through the woods. While Grandmother's house was not on the map, it would have gotten me there just fine.
In time, I got much better with this rifle.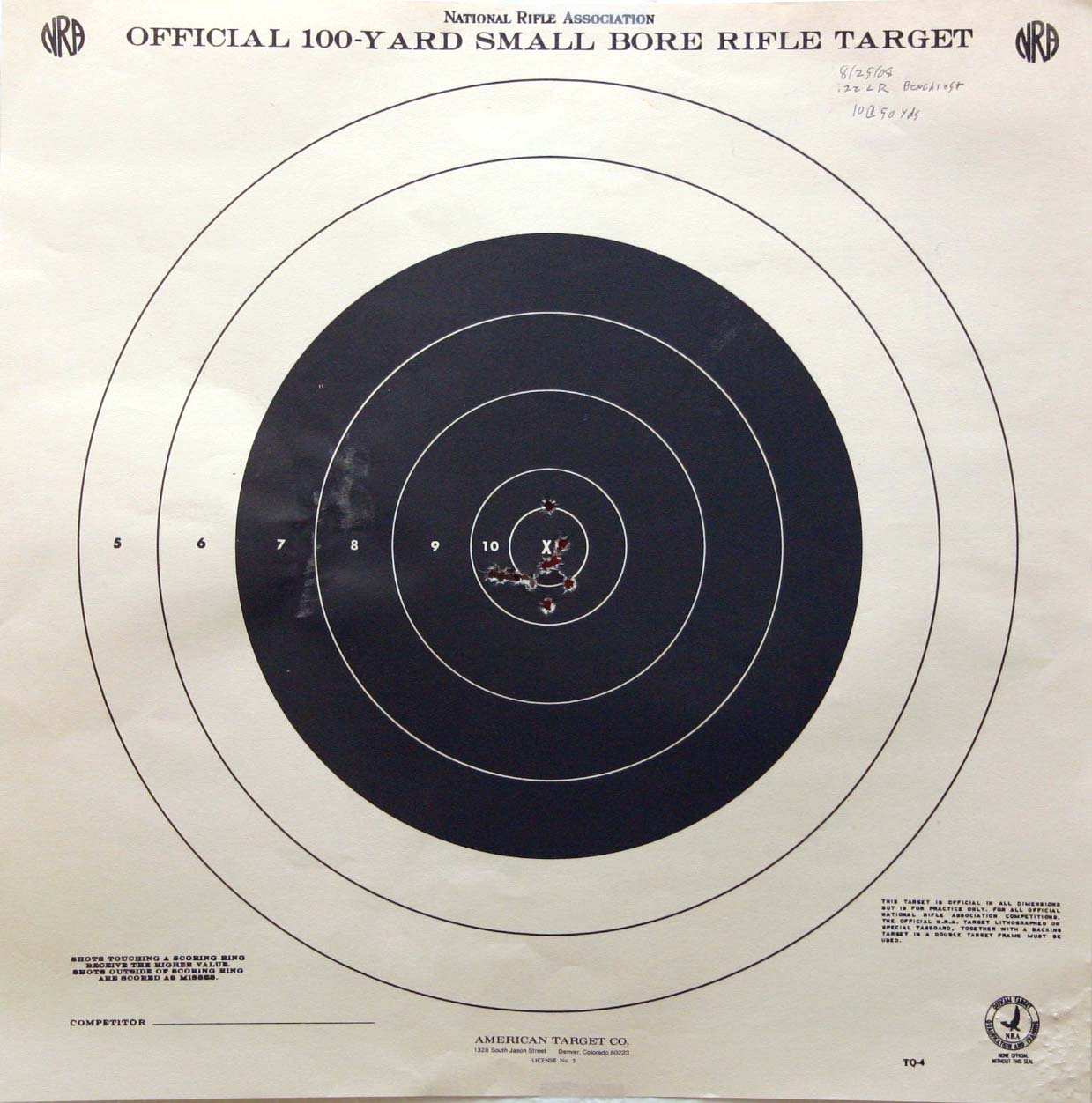 Although these bullets quickly drop below supersonic and tend to go off their trajectory when they do, I still have a good chance of hitting a target at 200 yards. My favored range usually has a somewhat gusty cross wind in the afternoons making it a challenge to keep a good group at 100 yards. My typical grouping for 10 shots is about 2.5 inches. At 50 yards, however, it gets pretty easy to see the real potential of this rifle. From this distance, using nothing more than my hands on the rifle and my elbows on the bench, I was able to get that group size down to less than 1.5" and I think I still have room for improvement. Just to show that this was not a fluke, on a later trip, I did 15 rounds into the same size group with a dirty bore and all.
The model 77/22 VBZ was my first introduction to Ruger's arms and the very first firearm I ever owned. I've gotten much enjoyment from this rifle and didn't have to spend a great deal of money doing it. With proper maintenance, I have no reason to believe that this rifle won't last for 100,000 rounds or better with nary a squeak or a whimper. Oh, I'm sure that when it gets to that point that I might have to replace the bolt face or firing pin due to simple wear but I expect the barrel to be in excellent shape and nothing more than springs wearing otherwise. Afterall, Ruger builds these things to last. A rifle that has a limited life is a rifle you can't trust when you really need it. I trust my rifle, and while I have purchased others that are bigger and more powerful, I still bring my little .22 along more often than any of the others and always enjoy shooting it. It's just that good. Here's hoping it's still around to serve me 20 years from now.