Rantings and Ravings

(Political and Social Commentary)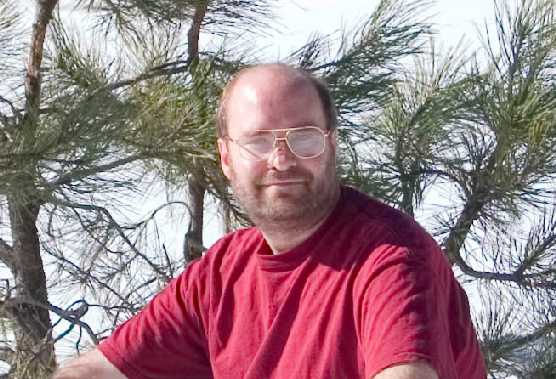 Your friendly neighborhood raving lunatic-in-chief.
Please, eat the fruit, don't throw it.
It's the healthier alternative.
Latest rant: "Hi, I'm Newt Gingrich, Conservative."
Wha??

Why I wrote these...
Okay, so every once in a while, I get it in me to respond to some news article I've read or some event going on somewhere. Like most Americans, when I get irked about something, I tend to speak up about it. But jabbering at your friends and coworkers about issues they may not share your concern about (wether they agree with your position or not) only goes so far. So it makes more sense for me to put that energy into creating something more permenant and better formed. At the end of 2008 and early into 2009 I was in the process of redesigning my website. Since that meant writing lots of articles in a very short period of time, I decided that I might as well make a place where I could gripe at y'all as well. It is not my intention to try to put out a regularly scheduled article but rather to provide a place where I can compose and publish an article on the topic of the moment whenever the urge hits me.
Now, I do go on about stuff I like too and this is just as good a spot for that as any. So not all of what you see here will be the ravings of a crazed lunatic, unhappy with everyone and everything, trying to change the world with nothing more than a poorly assembled argument. (Hey, I'm not a good debator, but I know what I like and I know what annoys me.)
As you all know, I'm also a gun collector and pretty enthusiastic about it but you should not assume that this will be the only topic here. For now, this section falls under that area of my site. As it grows, it may deserve a home of its own. But wherever it lives, I won't confine myself to a single area of discussion. No, I'll post whatever tickles my fancy. (Now there's a phrase you don't here every day...)
Yes, this set of pages is full of oppinions and my oppinions are my own. (Aren't yours?) I don't represent anyone or anything. Some people consider me quite intelligent and very insightful. Others barely allow me the title of "sentient being." Largely, I stopped caring what other people thought about me a long time ago. It was simply too much effort. I just gotta be me and that means being oppinionated as all get out when its something that matters to me.
Am I right all the time? Hardly. If I knew everything and did everything right all the time, my life would be pretty boring, wouldn't it? No, I get just as much wrong as you do, maybe more. My oppinions change over time, just like everyone else. That's part of learning. (Note that this means that I may now, in fact, disagree with what I wrote two or three years ago because I have learned a few things since then.) When you gain experience, you gain knowledge. When you gain knowledge, you gain wisdom. Am I a wise person? Some think so. I think I still have a long ways to go before I would feel comfortable applying that adjective to myself. The fun part of learning is figuring out when you've made a mistake before it's too late to change directions! And yes, I've had my share of run-ins with brick walls. (And when I'm not paying enough attention, sometimes even quite litterally.)
So enjoy these posts or don't. Agree with them or don't. "Live free or don't" (to borrow a quote from Futurama — please, please start putting out new episodes.) As long as these comments get you thinking about your own viewpoints, that's good enough for me.