Political Parties

(The Folly of a Two-Party System Exposed)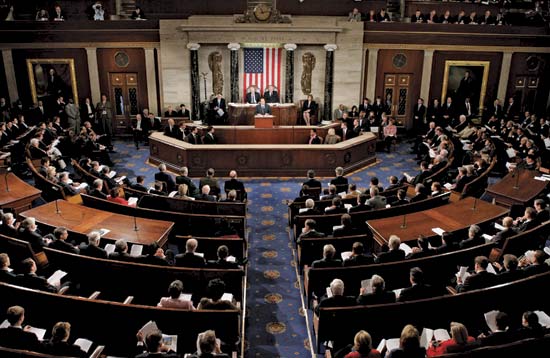 In the 2008 national elections, the Democrats were the unquestioned winners. Gaining a seemingly overwhelming majority in Congress along with the presidency, they are now in a position to institute major changes to this nation with little to no opposition. They got this power because throughout the Bush years, the Republican leadership drifted farther and farther to the extreme right (or was it the left? It was very hard to tell from day to day) and Congress became less and less effective. After 2001, President Bush instituted far reaching policies purportedly to keep America secure but which many took serious objection to. Add to this that some of the policies of Bush were as far to the right as the Republican leadership, deteriorating international relations from Bush trying to dictate to the international community rather than exist as equals, tensions from Iraq and Afghanistan, and politics in Washington became exceedingly devisive.
But it didn't start there. For years prior to Bush or even Clinton, Americans had been suffering from perpetual campaigning. New members of Congress are told during orientation that if they have not already lauched their re-election bids, they are behind. This last Presidential election began literally the day after the 2006 elections. Primaries are being held earlier and earlier as a result of a broken primary process and are claiming many voter casualties as people get sick and tired of being continually harrassed by political adds, mail, and phone calls and simply refuse to vote at all, wanting nothing more to do with it.
A Nation of Extremes
During the years of the George W. Bush Presidency, Congress had taken a surplus handed to them by Bill Clinton and turned it into one of the largest deficits we have ever seen, this after Bush campaigned as a fiscal conservative. Towards the end of his term, we were left with a "do nothing" Congress and the American people fed up. They responded to this by putting Democrats in control of Congress in 2006 who then selected Nancy Pelosi and Harry Reid as their dubious leadership. Well, Pelosi immediately (and I mean immediately; within mere days after being elected Speaker of the House) put her foot in her mouth–where it has remained ever since–and Reid didn't do much better. In March of this year, Pelosi had a disapproval rating of 60% with 42% strongly disapproving of her performance. Harry Reid, last month, was said to have approval ratings of just 34%. Under their leadership, Congress proceeded to do... virtually nothing, despite the President rarely vetoing any bill that came to his desk.
After hitting a high in October of 77% and dropping to a low of 54% in March, the disapproval rating of Congress as polled by Gallup continues to march back up. Last month, it was at 61% and climbing. But this is not a new thing. In fact, Gallup shows that the last time (prior to 2001) that Congress had an approval rating higher than 50% was twice in 2000, once in 1999, and three times in 1998. Gallups's numbers go all the way back to 1974. Prior to 1998, there was not one period where it showed an approval raiting above 50% and disapproval ratings were rarely below 50%. It is possible that only the Republican party as a whole has lower approval numbers.
But I digress. After the crash in October, the government approved huge spending packages designed to stabilize the banking system after the Federal Reserve's efforts which included working with companies to allow several massive purchases at fire-sale prices as investment bank after investment bank went bankrupt, proved to be ineffective. AIG, Freddy-Mac, Fannie-Mae, GM, and Chrysler were soon taken over by the federal government under the auspices that they were too big to be allowed to fail.
This spending began under the previous Congress but when they returned to session in 2009 and President Obama was sworn into office, it continued, even accelerated. Massive spending bills were approved, an incomprehensible amount of money was spent for "fiscal stimulus", there is a ludicrously expensive and poorly structured climate change bill in the Senate right now, and talk about a trillion dollar health care bill along with rumors of a second stimulus bill. No one had fully read any of these earlier bills, each of which is hundreds of pages long, and at the last minute, hundreds more pages of ammendments are being tacked on. Litterally, this is being done at 3am or 4am in a closed door committee session with a 10am vote scheduled for the full House or Senate. No one knows what is in these bills and yet they are being written into law, law that you and I must obey and, frankly, pay for. The climate change bill is a good example. There are provisions in there that should scare the heck out of most Americans and yet when it was proposed that one of these bills be read out on the Senate floor, none other than Barney Franks took the podium and ridiculed this request.
Similarly, when the President doesn't get his way, rather than saying that he was willing to negotiate to try to get the best bill on the table, he simply resorts to trying to shame all of America into feeling sorry for him for being picked on by the mean old kids in Congress. Not too long after that, the chairman of the house Judiciary Committee, Rep. John Conyers (D, Michigan 14th) stood up and said, "I love these members that get up and say, 'read the bill!' What good is reading the bill if it's 1,000 pages and you don't have two days and two lawyers to find out what it means after you read the bill?"
What's the point of reading it?? How can you write a bill you can't understand? How can you vote on a bill you don't understand? If you can't understand it, what chance does the public have? What about the folks who have to follow those laws? What about the courts who have to enforce it? If it cannot be understood, how can it be good law? This man does not deserve to be in office and I hope the good people of Michigan throw Mr. Conyers out on his ear for having such disregard for the responsibilities as a member of the U.S. House of Representatives and treating the high office he occupies so lightly. The problem is that these attidudes are just a hint of the larger problem of corruption in Washington at every level.
So both parties are universally hated. The spending that has been done since January which can only be described as a concerted attempt to bankrupt this country is continuing unchecked. (It can also be fairly said that the only possible objective of such a deliberate initiave is anarchy.) Add to that the rapid push to get bulky, complicated, very far reaching legislation pushed through with little to no debate, and this nation is in serious jeapordy. With Al Franken finaly being allowed to declare victory in his race for the Senate seat in michigan (yes, many months after the election, they were still arguing the results, giving Florida a run for the title of "best able to screw up an election") the Democrats now have 60 seats. Why is that important? Because one of the most powerful tools of the minority to kill a bad bill is the filibuster. It can only be forcably stopped by a vote of 60 members. If the Democrats can now all get on the same bandwagon, there is pretty well no way that the minority voice can be heard. Heaven help us if that happens. Continued infighting among Democrats is the only salvation this nation can hope for right now.
Let's face it folks, does anyone think we'd be better off if it were Republicans in control instead of Democrats? I sure don't. There is one thing we do know for sure: the President's party should never be in control of both houses of Congress. I'm a registered Republican but fall pretty well dead center on the political spectrum. Over the past six years, I began to feel strongly that neither party represented my views but that they were both drifting further from center. In fact, in the 2004 election, I voted for President Bush for the single reason that I was quite seriously afraid of the direction that Kerry would have taken this country. I despised both these men. My vote was not in support of one candidate, it was in opposition to the other. Many others felt similarly. In point of fact, in most elections, that is exactly how many vote: to oppose the worst of the two choices. For this among other reaons, the 2004 election was perhaps the most divisive election in U.S. history. Since then, these divisions have only deepend.
Take the gun debate. Although it was not a focus of the candidates themselves in 2008, there were major efforts made on both sides to scare the heck out of their supporters so they would vote for their group's chosen icon. The day after the election, with Obama claiming the prize, and who after being in office for six months is turning out to be perhaps the most liberal President we have ever had, there was a run on the gun stores. Sales increased 300% over normal. Guns and ammunition of any sort that the federal government might take an interest in disappeared almost overnight. Even now, while the guns are largely back, the bullets still cannot be found. Predictions are that it will be as long as two more years before the ammunition makers can catch up.
Congress, including several prominent Democrats, is not willing to institute the controls that Democratic leaders and the White House wants, believing that these aims are misguided and would not represent any benefit to public safety and quite possibly accomplish just the opposite. But as long as Democrats control all three groups, the buying continues because conditions can change overnight. The rift that exists between gun control and gun rights advocates is no longer a rift, it is now akin to the Marianas Trench. So strong are the divisions that both groups sit in fear of any major power shift in this nation, even at the local levels. This mirrors the division between Democrat and Republican leaders.
Fixing the Problem
Well then, what is to be done? If neither party is the right party then what do we do? First order of business is to throw them all out, every last one of them and keep doing this until the current attitudes and current leadership is gone. But this is not good enough. Second, we need to establish Congressional term limits. I propose 8 years for the House and 12 years for the Senate. As it stands now, an entrenched Congressional leader can absolutely crush any member who does not toe the party line. They can demand and dictate terms in any legislation and get their way. These members are not beholden to their electorate, they are subservient only to the party leadership which themselves are getting money dumped on them by lobbyists. With term limits in place, if the leadership, who presumably had to spend at least half their allowed time working their way into that position, gets a bug up their shorts about some junior member trying to do the right thing, all that junior member has to do is wait until the next term for that leader to go away but they do not have to be quiet and they do not have to be alone. They will owe them nothing and can freely speak their mind.
Further, I have advocated for some time the benefits of a strong third party and I think its time that it happened. To pass a bill in either house requires a better than 50% majority. If a third party had twenty seats in the Senate, taking ten from each party, the Democrats would have to have at least one member of the other party vote with them to pass any bill.
Considering that there would be a number of Democrats who would dissent in almost any vote anyway, it would be very hard to get any legislation passed without negotiating with other members. In these negotiations, the more radical provisions of the bill would normally have to be dropped. This would cause the loss of extremist votes and would mean yet more negotiation would be required to gain more votes from the other two parties. The end result of this would be legislation that was more appealing to a greater percentage of Americans. Such legislation would be better overall and there would be far less chance of what has occured over the past 6 months and the past 8 years. Heck, after a while, people might actually have faith in government again. (I know, thats a long shot, but one can hope.)
But as it stands now, neither party represents the views of what seems to be the bulk of Americans. Therefore a new party is needed. I truely think that this is the only way to end the see-saw of idealogical extremisim in our several legislatures. This has been attempted before (most notably, perhaps, with Ross Perot) but the groups that formed were either fringe groups themselves or could not speak with a unified voice, they failed to create a real identity for themselves and thus failed to garner wide spread appeal. Part of this is because of the divisiveness of other topics such as homosexuality, religion as a fundamental structure of American society, illegal immigration, and abortion.
All of these are very polar issues. Given that, how do you find a middle ground? Well, so far, the answer for Republicans and Democrats seems to be a unanimous, "we'll get back to you on that." Any third party would have to take firm positions on these issues but that doesn't say it has to be all the way to one extreme or the other. It is not an indiciation of serious character flaws or deep seated psychological problems if one chooses to take a position in the middle on these issues.
Alright then, what sort of positions might be considered moderate on these issues? Let me lay out a few of my views and see if you agree with these as an example. Remember, these are mine, not what I think someone else should necessarily adopt. They're just food for thought.
I do not like the tide of illegal immigration but at the same time, I feel that the legal path is too hard. Immigration reform is absolutely necessary but cannot be simple amnesty. Those that have entered this country illegally have broken the law and a penalty must be exacted. If they have committed no other crime and have been in this country, say, in excess of ten years, a way should be made for them to be citizens but only after strict border enforcement is enacted so that this does not become a free pass. Immigration reform must start with securing the border and enfocring immigration laws. (I do not support guest worker programs either.) It is greatly lamentable to me to see my native language, my own heritage, and the culture I grew up in all being destroyed because of illegal immigration. It is a major problem and must be stopped.
On abortion, I do not feel that it should be used as a method of birth control, there are other items that can be used for that and should be. Abstinence is the surest method of avoiding unwanted pregnancies but if you are not willing to abstain, then if you don't want to have a child, use birth control. Abortion is a medical procedure akin to amputation. There are times when it is medically necessary and appropriate to apply in those instances. There are other cases in which I would agree with its use but these are not many.
We cannot keep official government records in multiple languages. The traditional language of this nation has been English. All the records of this country's current government have been in English. Yet we do not have an official language. Americans speak all languages and this is a good thing but for the sake of sanity, I strongly support requiring all government documents to be kept in English. Let me be clear on this, I speak English. If I try to go get something from the public record relavant to me, say a court document or a property deed, and its in Spanish or Korean or some such, I'm not going to be able to read it and will not be able to claim my rights with respect to that issue. The same situation applies for non-english speakers. The courts rule on specific language contained in such documents. The specific terms in these documents cannot carry accurately into another language. Ideas are lost, specific phrasing altered, and meaning obscured when any document is translated. To allow these critical documents to have to go through translation will only serve to deprive American citizens of their individual rights, regardless of ethnic background.
So it makes sense to have everything in a single language and it makes sense that this language should be that which has been used to date. This is not a racist statement, it is a statement founded in simple logic. If you are a shop owner and the majority of your customers are native spanish speakers, by all means, accomodate your customers and make sure your business succeeds, but when it comes to filing your documents with the city, state, or federal offices they should be in English.
On gay rights, I cannot support the concept of gay marriage—I'm sorry, but regardless of what is said, these groups are trying to change the deffnition that I, a moderately religeous person, must teach my children and that is something I cannot do—but recognize that there is an intertwining of dependance so support civil unions. Just because I don't agree with the lifestyle choice—and it is a choice—does not say I don't feel that some support is not deserved.
I agree that a certain amount of taxes are necessary and that the government has certain obligations to provide for the people but taxes are too high and the bulk of the money is being wasted because most congressional members don't have a spine and seek only to get as much money for themselves as they can.
I'm not a union man and since I live in a right-to-work state (thank heaven's for that) will likely never join one by choice. If you want to join one, fine, good for you, but don't ever try to convince me to do likewise. While I feel that unions have their place in our society and should not go away, I also feel that without exception they have all abused their position. They are responsible for as much of the current crisis with regards to the auto industry and parts makers as management is. I sometimes wonder what portion of inflation over past years has been because of greedy labor contracts. Many of the labor disputes I hear of are not, "I want to be treated fairly," but are much more along the lines of, "I want a free ride." Unions have destroyed more than one company with unreasonable demands and are a significant factor responsible for making it too expensive to do business in America with the result that many companies have taken their operations elsewhere.
In addition to these views, I support the military and have no problems with anyone who chooses to join. I support the first ammendment but don't feel that this gives you a right to be deliberately deceptive or incite people to violence. If you make a statement you portray as fact, you damned sure better back it up. My support for the second ammendment has been well documented but I also do not object to certain controls, as stated elsewhere on this site. Like many others, I feel that the environment must be protected but it requires others in the world (China and India) to also act, lest we simply regulate ourselves into oblivion. (Making it even more expensive to do business here will not help encourage people to do business here. Changes must be an international concensus across many, many nations.) The current climate change bill is a total crock and will only serve to destroy what domestic industry we have left.
Lastly, in my oppinion, Congress needs to pass not merely a balanced budget, but net positive budgets, with the objective of paying down the federal debt, every year except in times in which Congress (not the President) declares war or in times of extreme economic crisis such as existed between October and February and at that, Congress must not respond to the stock market but to the hard economic data. Action cannot be the free-for-all that we are now seeing. (I argue that we are already at or very near bottom and any further action will only deepen the recession, not counter it.) The national debt is not a good thing when it goes beyond 20% of GDP.
None of the views I outline above are extremist positions. My viewpoints are generally close enough to center that I'm disliked and often belittled by those on both sides of many of these debates. The views I hold mean I could never have a home in the Democratic party. They also are not extreme enough for the conservative right of the Republican party who have held the party hostage for the past 12 years at least, which means that candidates chosen for high office will have no chance of sharing my views. Do I register as a Libertarian? (Padron me, got something in my throat.) That party is as far from me as either of the others and never makes a significant showing in any election. While not exactly a fringe party–here today, gone tommorrow–they're not representative of a large enough portion of Americans to count on the national scene and I'm not convinced they ever will be. (A seat here or there, no more.) Even if they were, my point of view would still be unheard. They merely represent another extreme.
Does a member of a party have to agree with all the positions of that pary? Heck, no! What fun would that be? The party represents a set of ideas. If your views fall mainly in line with that party, maybe thats the party for you but you should not be made to feel that your voice doesn't matter just because you disagree with the position they take on, say, abortion. Unfortunately, if you're a candidate of either the Republican or Democratic party and you have any hope to gain any meaningful position in the legislature (whether national or local), it seems that you must follow the party line to the letter. Under the current culture, if you disagree with your party leadership, woe unto you. No single element within a party can be allowed to define it as has happened so notably within the Republican party. So I say its time for a new player to come to the forefront.
Final Thoughts
The oppinion of many, myself included, is that government no longer represents the people. If you are not speaking on behalf of a special interest group or have a bulging pocket book, you cannot get your congress critter's attention. Perhaps they have forgotten the central point of The Decleration of Independence, that all men are created equal and that governments derrive their just powers from the consent of the governed. They forget that We, The People matter.
Well, there's another point in that same paragraph, that when a government becomes destructive to these ends, that it is the right of the people to throw off that government. I say that the Democrats and Republicans both, the culture that has set in inside Washington, the special interest groups, the quid pro quo life style, that these are destructive to the people and need to be set right. It is up to us, The People, to throw off that culture and restore balance.
Neither party is popular right now. Do you think they would sit up and take notice if the numbers of Americans who were affiliated with those two parties took a sharp drop? You bet they would. Right now, the largest segment of Americans consider themselves to be independent. But neither of the two principle parties will stand up and take notice of this. The problem is that independent also means individual and uncommitted. Because of this, the principle parties don't care that they only represent a minority of Americans since that has no impact on their positions in Congress. They know that those independents ultimately really have no choice but to vote for a Republican or a Democrat so they couldn't care less about them once the election is over. What we need is a central organization to rally around. We need another option at the ballot box. Without this, no one in Washington will ever sit up and take notice. Unfortunately, I have not yet found a satisfactory organization to be extant. (And please don't suggest the Constitution Party. Half their platform just makes me cringe.)
So this is my call, first, I don't care who you vote for or what your position on a given issue is, but I do care that you vote. Vote moderates into office and toss out the current party leadership at all levels of government. It matters that your voice is heard at the ballot box if nowhere else. Second, I call for someone who has sufficient time and political interest to take up the cause of forming a party to represent the rest of us. Such a task is not easy, nor is it fast. That task, though, is most deffinitely necessary. Unfortunately, that is not a task I am capable of executing on my own. I am happy to be an active participant in a group that I feel would actually speak for me but also recognize that I do not have the skills or the time necessary to lead it. If a large enough group can form, those in Washington will have to stand up and take notice. When they start to lose seats in Congress, not one or two, but when it begins to become many, and when those members begin speaking with a unified voice, not siding with either Republicans or democrats, but standing on separate ground of their own choosing, they'll start running scared and we, The People, will finally have a chance to take back our country.