Newt Gingrich

(This man is a conservative?)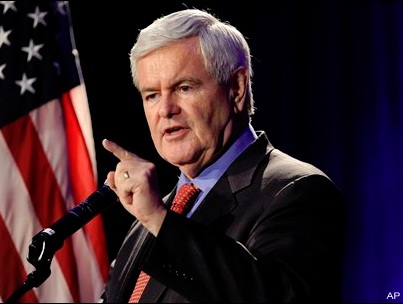 So like most everyone else, I've been watching the political theater that is the Republican primary race with some interest. I've seen candidates rise to the top of the heap only to fall down very quickly when people started to look more closely at them and figure out who they are. Yet New Gingrich seems to be immune to that and has even drawn TEA party support. This, I do not understand.
I am continually perplexed by the support this man is getting. Let's look at it for just a moment. He has stated that the previous presidents he admires are Andrew Jackson, Theodore Roosevelt, Woodrow Wilson, and Franklin Delano Roosevelt. Alright, so what legacy does each of these presidents leave to us?
Newt's Icons
Andrew Jackson
Andrew Jackson is more or less considered the father of the modern Democratic party. He helped create the idea of putting off the slavery question by trying to ensure that there would always be in office a "Northern man of Southern principles." It took Lincoln and a civil war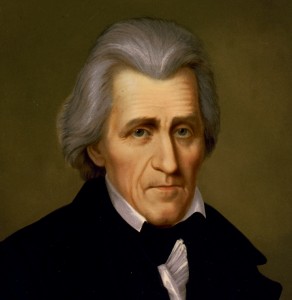 before the slaves were finally freed.
In another matter, consider the Indian Removal Act, passed in 1830 by Congress and supported by Jackson. This act authorized the removal of native American tribes from their lands and relocation to other areas West of the Mississippi river which, at that time, was the boundary of the United States territories. The Cherokee tribe in Georgia filed suit in federal court and the Supreme Court under chief justice Marshall ruled in the tribe's favor. Well, that didn't stop Jackson. Through other means, in time, he removed them anyway in defiance of the courts. It is alleged (and although to my knowledge this cannot be proven, it certainly sums up his attitude) that he stated, "They [the SCOTUS] have their ruling, now let them enforce it."
Theodore "Teddy" Roosevelt
Theodore Roosevelt is another interesting president. Among other things, he gave us the national parks system. While his idea of how it should be used differs considerably from modern notions emanating from Washington, it none the less was effectively a usurpation of lands from the states by the federal government. Since that time, these federally controlled lands have grown almost without bounds such that the state of Utah has a full 60% of its lands controlled by the federal government and off limits for the state to use for its own benefit.
While he held office as a Republican, old "Teddy" is also the founder of the Bull Moose party—the original progressive party—which he labeled himself with on his reelection bid. Notable were his "whistle stop" train tours that he took throughout the country, giving speeches from the back of a train to audiences all over. One of these stops was at a little town called Osawatomie, Kansas where he delivered what has been called the "New Nationalism" speech. Let me quote a small snippet of that speech:
"We grudge no man a fortune in civil life if it is honorably obtained and well used. It is not even enough that it should have been gained without doing damage to the community. We should permit it to be gained only so long as the gaining represents benefit to the community. This, I know, implies a policy of a far more active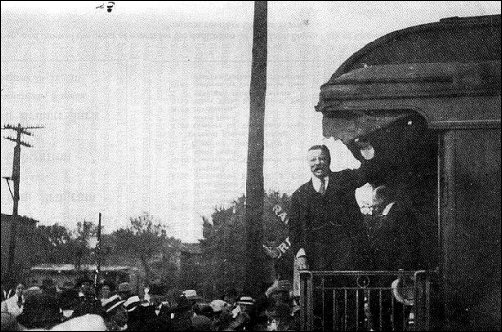 governmental interference with social and economic conditions in this country than we have yet had, but I think we have got to face the fact that such an increase in governmental control is now necessary."
Does that sound like a conservative position or a Democratic position? That, my friends, is class warfare and redistribution of wealth.
Now, you may remember that Osawatomie was in the news back in early December. It is where President Barack Obama gave a speech that might well be titled his communist manifesto. But look carefully at the original speech. There are many similarities. They are both Marxism straight up.
It is also Roosevelt who during his term in office is alleged to have said, "To hell with the Constitution when the people want coal!" The man had no use for the constitution when it got in his way.
One other thing you may not have know about him. All of our currency bears the motto, "In God We Trust." Americans object in strong terms to attempts to remove this and rightly so (if you believe the Declaration of Independence and God given Rights.) In 1907, Roosevelt requested this be removed from what is now termed the St. Gaudens "Double Eagle" coins (these are termed "no motto" coins) because he supposedly thought it was disrespectful to put God's name on coins. The public reaction was so negative that the motto returned in the first half of 1908. Even today, these coins are valued less than those bearing the famed motto because this country is still a Judeo-Christian nation, despite unceasing attempts to evict God from the public square.
Woodrow Wilson
Then there's Woodrow Wilson. This man was really a piece of work. He was one of the first to call the Declaration of Independence an outdated document and held that the constitution needed to be viewed through "modern eyes."
It was he who called for, "expansive regulation of industry" and government planning. Wilson also campaigned on peace while hiding the truth about German saboteurs in this country (see Black Tom), then launched the Committee on Public Information to propagandize the U.S. public in support of the war effort. It was also under Wilson that the FBI aligned itself with the American Protective League which was that era's version of, "if you see something, say something," and in relatively short order became responsible for a not insignificant number of anti-German hate crimes including murders in this country. His administration was also responsible for the Sedition Act of 1918 (which many have held is wholly unconstitutional) which led to arbitrary arrests and imprisonment of anyone speaking out against the war. (Eugene Debs spend 10 years in prison from that.)
If that wasn't enough, he also gave us the 16th, 17th, and 18th amendments to the constitution. The 16th amendment, as you all should know by now, is the income tax. The 18th amendment was prohibition; big government at work telling you what you can and cannot do with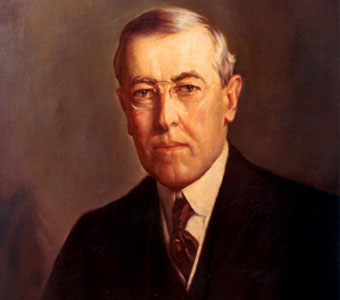 your life. How's that working's out?
The 17 amendment changed the selection of Senators from appointment by the state legislatures to a direct popular (majority) vote. This single amendment fundamentally transformed the United States by denying the state governments a voice in national affairs and began the slow transfer of power from the state governments to the federal government. The Senate became little more than a Super House of Representatives after that and subject to cut-throat political campaigning, donations, and lobbying. Debates on policy became not "my state" but "my party" to a degree that never had been seen before. All of this is decried and yet none of it would be possible without Wilson.
In history, you read about the "return to normalcy" which most portray as an end to war operations and a return to peace. That is only part of it. This statement is also about undoing as much as could be done of the progressive policies that the Wilsonian politique had foisted upon us.
The modern progressive movement traces most of its policies and methods back to the Wilson era and Wilson's administration itself.
Franklin Delano Roosevelt
Now let us consider FDR. This is the president who the Left holds up as the greatest president in American history, even over Washington and Lincoln. FDR was surrounded by communists, a number of which it is thought that he most likely fully well knew held such affiliations. This man embarked quickly on a policy of full on socialism. This is what the New Deal and his Second Bill of Rights was all about. One of his campaign slogans was, in fact, "a chicken in every pot and a car in every garage." In school, we are taught that this is a slogan for prosperity for all without being told that that "prosperity" was to be implemented through redistribution of wealth and socialist policies. In order to accomplish these objectives, it was FDR who called on Congress to grant him "broad executive power" (to cede power to the president through legislative action.)
Remember the presidency was not what we know today prior to FDR. The power was not in the presidency, it was with the legislature and with the states. After FDR, that was no longer the case and the power started to leave both and go to the executive. Today, it cannot be said that either has much influence left and both routinely get stepped on by the executive. The founders never envisioned the presidency as really much more than administering customs offices, negotiating trade agreements, and prosecuting wars. Outside those responsibilities, it was to be a check on the other two branches. They never envisioned a president having the power to litterally affect every aspect of your life through executive order.
FDR is famous for his public works projects such as the WPA, TVA, CCC, FCC, FDIC, FHA, SSA, and many others. So many that they got the nickname, "the alphabet agencuies". All told, somewhere over 100 offices were created under FDR. New agencies began appearing as soon as FDR took office in 1933. Through these, he used federal funds to effectively buy himself another term in office by ensuring that the bulk of aid went to states and areas that would vote for him rather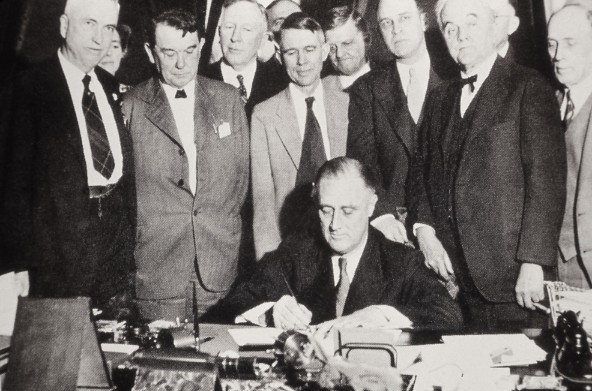 than his opponent.
Through his policies, we got the NRA (the National Recovery Administration) by executive order. This agency attempted to enact price controls throughout the economy. The whole agency was ruled unconstitutional by the Supreme Court (which FDR attempted to pack by calling for it to be expanded to 15 judges) because it attempted to regulate commerce that was not inter-state and thus outside the jurisdiction of the federal government. This is notable because policies that came out of the FDR era gave us the 1942 ruling of Wickard V Filburn that gave the government the power to tell a farmer that he could not grow wheat on his own land for his own consumption because the fact that he could buy the grain instead might have an impact on inter-state commerce and thus fell under the jurisdiction of the federal government. That case is what gave us the endless citations of "the commerce clause" by Democrats (and liberal Republicans) attempting to regulate everything under the sun.
It was FDR who gave us the Japanses intern camps of WWII using the call of "no more Black Toms" as his justification. How much property was unjustly taken from these people and never returned? What crime had they committed other than being of Japanese descent?
In the years following FDR's death, the bulk of his programs were eventually repealed by Congress as "a bad idea" or declared unconstitutional by the courts. Yet through the years, through progressive policies, his Second Bill of Rights (things the government must provide for you) was largely enacted and is essentially complete under Barack Obama. (What do you think 99 weeks of unemployment is about? It's government guaranteeing you a job or compensation if it cannot find a job or you're too lazy to take one. That's one of the last tenants of FDR's philosophy.)
FDR was also the first president to break the two term tradition established by George Washington. (Serve briefly, then walk away from power and public life.) The public was so freaked out by the massive expansion of government that they handed control of congress to conservatives who passed the 22nd amendment to the constitution just two years after his death (March 21, 1947) during the presidency of Harry S. Truman, the man FDR's selected as vice-president for his fourth term, restricting the president to two terms in office which was ratified in 1951.
Summary
So let us now consider them in summary... What do these all have in common? None! Not one of them had any use for the constitution. With the possible exception of Jackson, they're also all socialists! These are the people that the allegedly conservative Newt Gingrich admires?? Are you kidding me?
In 2002, Newt has described himself as a progressive and stated that he thought that the progressive movement was the greatest thing to happen to this country in the past 100 years. Um, the progressive movement is why we are in the predicament we are in now! It radically transformed the nature of the federal government into something that the founders of this nation would recognize as closer to what they rebelled against than what they intended to put in place. In another interview, he stated that he greatly admired FDR's ability to get things done even with political opposition. Um, most of what FDR did was either unconstitutional or geared towards transferring power from the people to the federal government.
If this is our candidate, that puts him further left than Romney or McCain and closer to George McGovern than George Washington. In the debates, Newt has come out strong and yet much of what he says in the debates is contradicted by what he has said outside of the debates. That is not a man you should (or even can) trust!
But let's give him the benefit of the doubt. Maybe he just doesn't fully understand the implications of what he's saying. In that case, then you have a man who doesn't really know what it is he believes and will thus be manipulated by everyone around him. Why would you ever put a guy like that in high office?
Nonetheless, Newt Gingrich continues to get TEA party support. This guy is, in all seriousness, little more than the Barack Obama of the Republican party. He's a nightmare and should not get the support of anyone who claims to be a conservative. To want him in office as a counter to Obama is insane!
[Note: For the record, I am not a Romney supporter, nor do I support Ron Paul. I'm undecided on Rick Santorum. I'm still waiting to see what skeletons are hanging out in his closet.]