Wayne's Homepage
Communism is totalitarianism in which government control has been extended to practically every phase of human life, subjugating man's conscience and sacraficing to the State his faith in all that is right and humane. It is fervent atheism that derides the human soul.
Totalitarianism means the politicization of life without exception. The State encompasses society in all it spheres. There is no corner where man can hide from the State, no place without regimentation.

                                                 -Ezra Taft Benson
  
---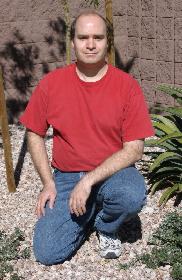 The bum himself, busily posing for the camera. (With the sun in his eyes.)
Personal Interests Hiking, Camping, Blacksmithing, Metal Working, Gun Collecting, Westerns, Music
Occupation
Wayne is a network engineer. Currently employed by Limelight Networks.
He lives and breathes IP routing protocols (BGP, OSPF, etc). In addition to the other hats he wears, he serves as a facilities manager for Limelight's datacenter space and 3rd party facilities.
Since he has no life, he can usually be found logged into one or perhaps several machines often doing nothing in particular but if you watch long enough, you just might actually see him doing something somewhat useful but chances are it won't be updating this web page. (One of these days, I'll get around to it...)
Among other interests, Wayne plays the trombone (and is familiar with several other instruments, including trumpet, baritone, clarinet, recorder, and some members of the percussion family) and frequently appears with the Mesa Community College Community Band or at times, the Orchestra. (He also sings pretty well.) Although at this time, he is taking time off from music to attend courses at GCC as noted below.
He also will occasionally be found spending his Saturdays down at MCC in the blacksmith's shop working out a little frustration. Wayne spent time learning to weld and does a fair job at TIG with aluminum and MIG on steel. (Never quite mastered stick welding.)
A more recent interest is in refrigeration. Completed the commercial HVAC associates program at Gateway Community College, Wayne is studying this in relation to managing larger datacenters such as he does for Limelight Networks. (Plus it's just darned fascinating.)
Though not as fit as he used to be, Wayne likes camping and will try to spent at least two weekends each year shivering in a tent at one of his currently favored locations. (Mt Graham, Flagstaff, the Mogollon (pronounced "mog-ee-on") rim country, or the White Mountains.) Occassionally, he will also pretend he can fish and drown a few flies while immagining that people actually believe he's going to catch something.
Another of his obsessions are firearms. Largely interested in historical arms and replicas, he has managed to obtain a collection large enough to make a few people nervous. (But Wayne's totally harmless and just paranoid enough about safety to stay that way.) Check out his gun collection here.
History
Before taking his current position, with about a 2 year interlude during the tech decline during which he was forced to take other work, he spent 5 years working for GlobalCrossing as a senior network engineer. Before that, was a member of the University of Arizona Hardware and Computing Knowledge Society (HACKS) for the prior 3 years (1991-1994) and a member of HACKS management for the last year and a half of that time.
Quotes from previous months
As you may have noted at the top of this page, each month there is a different quote. Some have gotten some interesting comments, so I have decided to begin saving them on another page.
Articles from the science pages
Every once in a while while browsing the newspaper, I'll find an article I find to be unusually interesting. Usually from the science section since science has always interested me, although I was never a very good student.
Wayne's online resume
Why you should beg him to work for you. (Well, hopefully)
Technical tidbits
Bits of technical knowledge collected over the years.
Other items of interest
---
GC GCS/MU/E d-- -p+ c++(+++) l- u+++(u-) e+(*) m* s+ n--- h(*) f+ !g w+ t+ r x?