An Impartial and Unbiased Judiciary...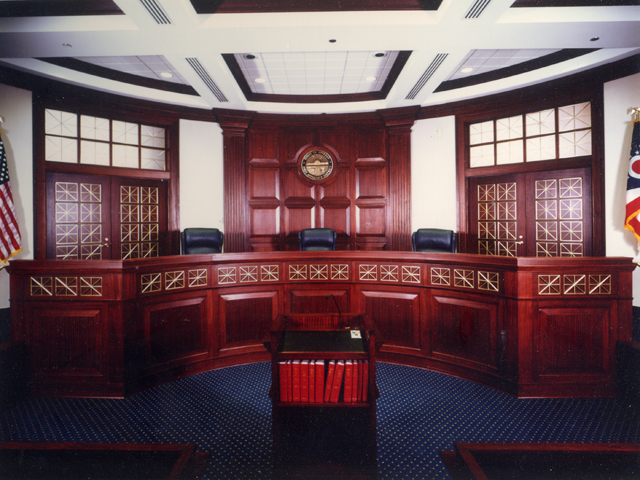 So, with all the political controversies of late and all the deals being struck on Capitol Hill, and the uproar over the left-wing agenda being pursued by the White House and the Congressional leadership, one thing that people are not really paying attention to is the court system. I've been thinking about this for many, many months now but I will admit that it was Beck's presentation last night (The Revolutionary Holocaust: Live Free... Or Die, produced for Fox News by Glenn Beck, originally aired Jan 22, 2010) that made me decide to write this up today.
In 1961, Hollywood released a film entitled Judgment at Nuremberg starring the great Spencer Tracey, based on one of the famous trials that occurred following WWII after the defeat of Nazi Germany. The defendants on trial in this court room were four of Hitler's judges. These were high ranking men in the Minsitry of Justice who remained in their respective positions after the rise of the Nazis, when the courts lost their impartial and independent standing and instead became a tool of the state to carry out the wishes of the party, dispensing "justice" according to the decrees of Hitler and his accomplices, watching more and more of politics and bigotry enter the court room with each passing day. One of these in particular, Ernst Janning, is presented as a man of high standing in judicial and academic circles prior to the rise of National Socialism. At the height of the film's drama, Tracy's character, the Chief Justice, being the tie-breaking vote since the other two justices were divided in their opinion, had to weigh what he had heard and ultimately decide the case for himself. Finally, these were declared guilty of crimes against humanity steming from, among others charges, that they were willing accomplices to political executions, arbitrary detainment of citizens, forced sterilization of undesirables, and what we would now term ethnic cleansing. For these crimes, these men were sentenced to life in prison, Janning included.
People forget that Hitler consolidated and maintained his control in many respects by usurping the judiciary and corrupting the law. Look back at the recent Supreme Court judgment on the FEC laws instituted under the McCain-Feingold act. Former Congressman J. D. Hayworth, on one of his last radio broadcasts, had as a guest the man who launched the case against the prohibition of corporate advocacy adds immediately prior to an election. The issue at question was a video production. One of the justices asked in earlier arguments whether if this were a book instead of a film if it would still be prohibited, even if it did little more than state the candidate's name. Speaking to Mr. Hayworth and his listeners, this gentleman from Citizens United stated that as he sat in the court room in a following session, he listened to the solicitor general for the government (Elena Kagan) propose to the court that she believed the government already had the power to censor books and essentially said that the court didn't have to worry about it because they've never exercised it. When Justice Roberts (I believe it was him) heard this, the guest stated how he saw Roberts lean forward, looking as though his head was about to explode, and stated to this attorney most firmly, "We do not place our first amendment rights in the hands of Federal Election Commission bureaucrats!" That prospect alone should have made this a unanimous verdict. But it was only a 5-4 ruling. Ask yourself, "Why?" Is it relevant that this pretty well represents those members who view the law conservatively vs. those who view it liberally?
Recall Justice Sotomayor's confirmation hearings and the controversy surrounding several statements she made about how judges had the power to effectively make law through their rulings (legislating from the bench.) The very thing former President George W. Bush stated was going on routinely. He was ridiculed relentlessly for this position yet here we saw a federal judge stating that this was a real occurance.
Consider your own local elections. How many people research the judges on the ballot? Do you know if the rulings they have made during their time on the bench have been good or bad? Do you even have the legal knowledge necessary to make that determination?
Now consider federal courts. These are not elected positions. They are all appointments by the executive branch or by the courts themselves. What does it take to have these judges removed if they misbehave? In the case of the Supreme Court, it quite literally takes an act of congress to remove a judge. (This is not a bad thing but it is a high hurdle to cross when it has to be done.) From what I have read, even if that judge is in prison, the law still considers that they are a member of the court until congress acts to remove them.
I live in the jurisdiction of the 9th Federal Circuit Court (which is located in San Francisco.) This court has been overturned more times than any other circuit court. Does this fact suggest that maybe the judges appointed to this court are not reading the law accurately? Is this an effect of the region they are in? Is it a factor of their particular schooling? Appointees are presumably all well experienced in matters of law and members of their respective state bar associations in good standing. So with that experience, how is it that they continue to render decisions with which the higher court disagrees?
An impartial and honest judicial system is the cornerstone of our society. If you can't trust the courts, you have no hope for justice. Many people today feel that high paid attorneys are often thwarting justice and causing the little guy who can't afford these sorts of fees to lose out and be wronged by the courts. Whether or not that is the case is not really at issue, here we are focusing on the judges themselves.
Each judge reads and applies the law according to their own learning and experience. In some respects, their view will be affected by their personal beliefs. While a good judge will state most clearly that their personal opinion doesn't enter the court room—justice is supposed to be blind, after all—it is very hard to completely remove one's own personal bias. Some judges are unwilling to even try to remove their own biases and have no problem allowing personal opinion to influence how they rule. Recall though that the responsibility of a judge is not only applying the law but also interpreting the law and many consider that their own views should be taken into consideration during that process. Judges must hold to ethical standards outlined in the Code of Conduct for United States Judges but is this interpretation of how to view their responsibilities to the law at odds with that or simply a different perspective? To most, it seems to be held as just another point of view, not harmful to the overall system of jurisprudence. I'm not sure I agree.
If an administration willingly appoints judges who hold this point of view regarding personal opinion, and appellate and district courts are willing to do the same for Magistrates and bankruptcy judges, what are the dangers? Can law be changed and transformed into something it was never intended to be by a judge who simply believes it should be so? Remember, through the courts and judicial councils, the judicial branch largely polices itself. They overcome bias and potential for corruption through requirements for consensus or at least majority opinion, as with the Supreme Court. But if enough members of such councils hold to this view of the use of personal opinion, is bias allowed to prevail? Remember also that the structure of the federal judiciary is largely defined by congress, not the constitution.
So I ask you, what damage can be done to the constitution through the justice system? Why are cases involving the Bill of Rights even being reviewed by the Supreme Court? Should not such things already be very clear and the lower courts able to properly rule on these matters? I hold that the judiciary is as much under attack as any other aspect of the constitution. If the judiciary is willing to thwart the constitution, then the constitution no longer matters and we are no longer a free people. We as a nation have never really questioned the integrity of federal judiciary because we have rarely been given a reason to distrust it. Should that now change?
Returning now to the film, when the Nazis came to power, Janning believed at first, for his part, that he could do more good by remaining at his post and showing mercy where he was allowed to and otherwise help those who might otherwise have no hope. He thought himself basically an honest man who had tried to be loyal to his country and also loyal to his office. It was his feeling that he simply got caught up in the storm and merely made some poor choices in how to react to that situation.
After Janning was sentenced, he asked to meet with the Chief Justice in his cell. At the end of the conversation, Janning, who was basically viewing Tracy's character almost as a Father Confessor and while from the start of the trial was accepting of his role in the matter and resigned to his fate was also looking for forgiveness, in a way seeming to consider himself to be undeserving of his sentence. Janning stated in what is really in my opinion the true climax of the film, "Those people, those millions of people [referring to the holocaust], I never knew it would to come to that. You must believe it."
To this statement, Tracey, understanding that this man truly did not grasp the nature of his error, replied softly but with determination, calling him by name and declaring, "It came to that the first time you sentenced a man to death you knew to be innocent." What a powerful proclamation that was!
When you consider the progressive agenda, does this statement scare the hell out of you? It does me...