Uberti's Winchester '73

(.44-40 aka .44 WCF)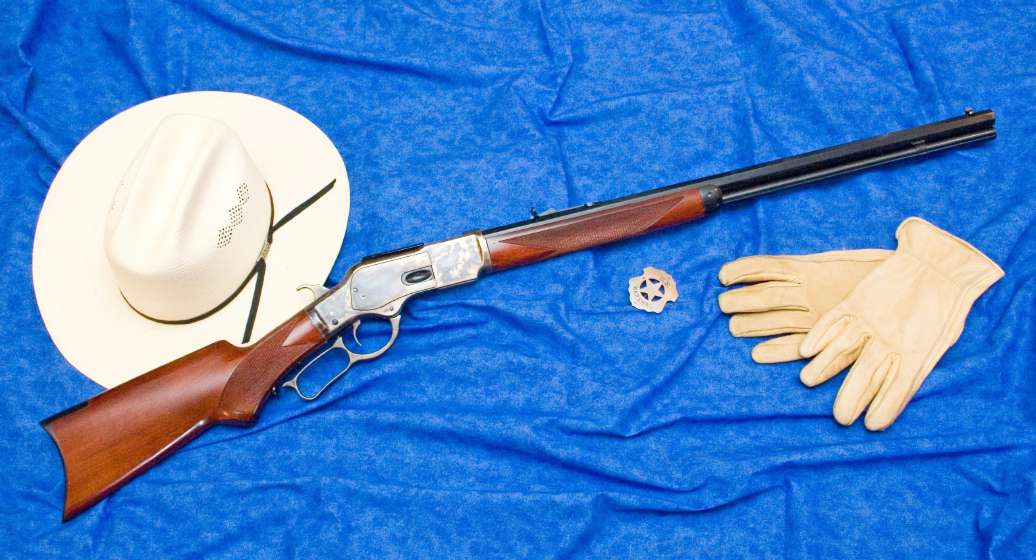 It may have been the shotgun that tamed the West, it may have been the Colt 1873 SAA that Hollywood would have us believe was wielded by every lawman or outlaw West of the Mississippi, but there is arguably no firearm more iconic of the Old West than the Winchester lever action rifle. Who can forget John Wayne swing-cocking his Winchester in Stagecoach, or Chuck Conners spitting lead as fast as his hands could move in the title sequence for The Rifleman, then there was Clint Eastwood in The Good, The Bad, and The Ugly and that classic rope-cutting shot in the closing scene made from 100+ yards away. Can any great western film be complete without the hero or villain carrying a Winchester slung over their horse's saddle in a leather scabbard, ready to take that long distance shot?
By far, the most iconic was the Winchester 1873 pattern. As a successor to the Henry repeater and the later 1866 "Yellow Boy", the rifles that started it all, the action was not all that different. The key point, mechanically, was the change from rimfire to centerfire ammunition, resulting in a somewhat more powerful and deffinitely more reliable weapon. The Henry was loaded by compressing the magazine spring and accessing the front portion of the tube. This was changed on the 1866 Winchester with the addition of a side loading gate to facilitate easier reloading. Indeed, the Henry simply could not even be reloaded by a rider in the saddle. The 1866 also added a handguard, absent in the Henry, allowing for a more stable grip without the risk of putting a hand on a hot barrel. A problem there was that the mechanism could not be easily accessed for cleaning. The distinctive feature of the 1873 pattern is the detachable side plate and case hardened frame..
Such was its status that it was chosen as the central figure of what is probably Jimmy Stewart's most well known western film, Winchester '73. From a shooting contest, to an indian trader, through an indian attack on a cavalry unit, and finaly to a mortal duel between two brothers, this rifle saw most of what any good dime novel portrayed as the Great American Frontier.
It is only natural, therefore, that this rifle is also among the most popular in use by Cowboy Action Shooters. Many a gun slinger has ended with first prize through placing their trust in this American classic. Most shooters could probably not afford the genuine article, nor would they be willing to shoot it in competition if they could because of the age of the steel and the fact that it was originally designed for black powder and should not be fired with modern loads. Not to worry though, since today, multiple makers have turned out some quite authentic and surprisingly well made replicas. In fact, it is ultimately due the popularity of CAS that we have reproductions of this rifle at all.
Uberti's Sporting Rifle
One of the more popular makers is Uberti. Their catalogue currently has four models of this rifle with fifteen different configurations listed. Chamberings include .44-40, .45 Colt, and .357 magnum with barrels ranging from 19 inches up to 24 and a quarter. Stocked with the traditional straight-grained American Walnut with a deep red hue, the appearance of this rifle is about as grand as it gets and the color case hardened frame blends oh so well with that absolutely beautiful stock. To pick up this rifle is to truely connect with a distinctively American piece of history.
The Special Sporting rifle, which is the one I elected to purchase, also comes with bold checkering on the grip and forestock.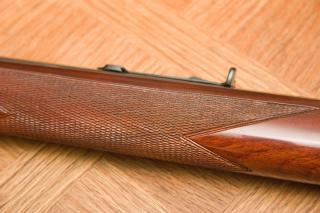 This checkering is not just an after thought but is very well defined and absolutely precise. Having this accoutrement adds not insignificantly to the purchase price but after seeing it, there is no doubt in my mind that it was worth every penny.
Built as a functional rifle and not merely a decorative piece, the Uberti Winchester is intended to be fully capable of anything the original could do and more. With advances in metellurgy and manufacturing processes, this rifle is actually stronger and more precise than the original production and designed to handle full house loads without any problems. (Bearing in mind the limits of the toggle link action, of course.)
Type:
Lever-Action Rifle
Caliber:
.44-40
Capacity:
13
Barrel Length:
24 1/4 in.
Overall Length:
43.3 in.
Weight:
8.2 lbs.
Sights:
Blade front, Adjustable semi-buckhorn rear
Stock:
A-grade Walnut
Finish:
Blue with color case hardening
MSRP:
$1379
As a collector, my leanings are much more towards historical arms than the latest advances. To me, seeing how we got here is just as important as seeing where we're going. Therefore, when I was granted a bit of a windfall in mid 2007, a suitable amount of cash was set aside and a trip across town to Legendary Guns of Phoenix was planned to inspect their wares. For those of you in Arizona, and especially the Phoenix metropolitan area, if you haven't paid a visit to this shop, I highly recommend it.
After drooling over the display cases, containing many authentic weapons from the latter half of the 19th century, it was time to ask about the rifle I was after. While they did not have one in stock, my timing was such that their Cimarron representative was on site paying them a visit. Talk about service! A few minutes of conversation and an order was placed for what was then termed a "Deluxe Sporting Rifle" chambered in the original .44 WCF, being true to history.
When I received this rifle and took it out of the box, I was quite awe struck. Even today, I still consider it to be one of the most beautiful arms I've ever been privileged to handle. The first time I levered that action was a most memorable experience. What a way to connect with the history of the Old West. Briefly caught up in the moment, in my minds eye, I half expected to see Pat Garret, Bill Cody, or Annie Oakly step around the corner. Halucinations aside, it was a very moving experience for me.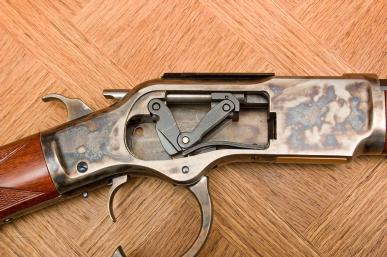 One thing I was somewhat disappointed about was that, not knowing much at the time about the assembly and mechanical operation, I had to do a bit or research to find complete documentation on disassembly and maintenance of the toggle link action. I think Uberti could do with including something more detailed than the one page brief they sent with the rifle of which half was the standard safety information.
Kapow! Zwing!
It seems that every western rag has someone shooting a rifle with that signature sound followed immediately by the ever present sound of a ricochette. Cornie as all get out but it helped sell tickets. Fortunately, we're a touch smarter when it comes to the real thing. We all know that if we hear a ricochette that we should be looking for a better backstop and hoping that we're not too close. And yes, on various trips out into the Arizona desert, I have heard that sound from this rifle.
Shooting this rifle for the first time was just as memorable as holding it for the first time with one exception: CAS loads are generally so light as to almost be a waste of bullets. While the rounds are powerful enough, it doesn't give one a true sense of what the rifle can do and, since there are few commercial loads of .44-40 intended for any other purpose, almost all are loaded to these same specifications. To find out what the rifle can really do pretty much requires handloading cartridges. But since I do not presently have reloading gear, that bit will have to wait. Consequently, anything beyond 50 yards isn't going to truely show what this rifle can do.
There is one other problem that I need to have corrected and that is the trigger. For reasons I cannot comprehend, this rifle has a massive 12.5 pound pull. Rifle triggers need to be stiff, but not that stiff. A trip to the gunsmith is due here at some point to have that adjusted to somewhere in the neighborhood of 7 to 7.5 pounds. Nevertheless, it was still nice to see groups consistantly at about five inches at 50 yards. Once I get that trigger adjusted, I can probably get that in under three. There are those who will do much better than this but it's still not bad for iron sights and a hard trigger.
Final Thoughts
Uberti has created a faithful replica of the original 1873 pattern Winchester repeating rifle. The quality and performance of their arms has given them a widely favorable reputation among afficionados of western arms. With Baretta's parent company also taking a stake in Uberti, it further demonstrates both company's commitment to creating quality reproductions from the past with a clear eye to the future.
With the increasing cost and scarcity of authentic arms from this period of history, it is good to know that the replica makers are alive and well and do not appear to be going anywhere for the foreseable future.