Smith & Wesson
M&P15T

(.223 Remington)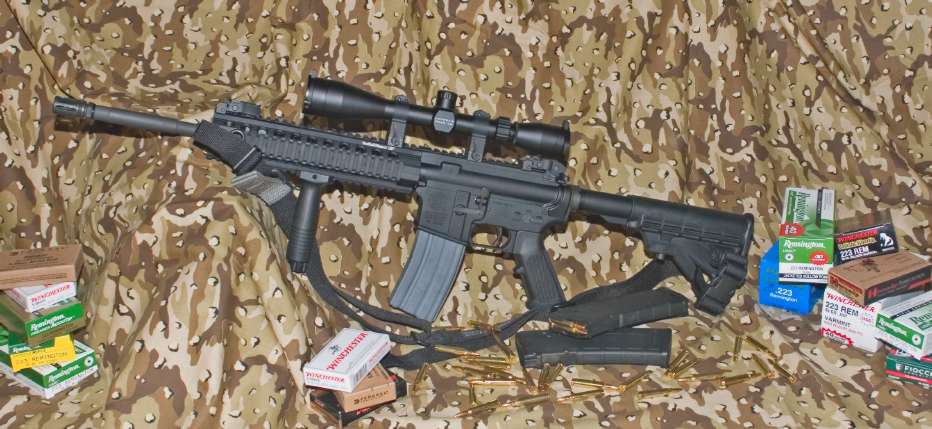 Ever since "the black rifle" made it's apperance in Vietnam, it has intrigued the American public. Not only was it effective, with its small but extremely high velocity round, it had a very unique and modern look to it. The fact that both it and the ammunition it used were lighter than the M14 did not go unnoticed either.
But like every major advancement in military technologies, it was not without problems or controversy. Touted by some as a weapon that never needed cleaning, along with a few design inadequacies in both the rifle and the choice of loading for the ammunition, once made a general issue service weapon, it pretty quickly lost its mystique and instead gained a reputation for being terribly unreliable, especially under pressure. Chrome plating certain parts, improvements to some of the aspects of operation such as the addition of the forward assist, better education of the soldiers it was issued to, experience, and time all helped to improve the reputation of the rifle until it finaly rose to the position of being billed as perhaps one of the best small arms to come out of the 20th century.
The .223 Remington Cartridge
One of the problems that the M16 had to contend with was a lack of stopping power (both real and perceived.) The way the problem is typically laid out to me in conversations is that it stems from at least two different issues.
The first of these issues was with the rifle itself. Initially, rifles issued to U.S. troops were given a 1:12 twist. At this rate of rotation, a 55 grain bullet will stabilize at standard temperature and pressure but as the temperature drops towards freezing and the air density increases, the bullet does not have enough rotational force to remain stable. This also applies if someone's firing through brush or in heavy rain and the round has to deal with that impact. Consequently, the bullet may well be tumbling by the time it hits the target and simply will not do as much damage as it should. For various reasons, including this stability problem, the twist was changed over time. Currently, these rifles operate with a 1:7 twist and fire either a 55 grain (M193 ball) or 61.7 grain bullet with a steel penetrator (M855 ball). These changes significantly improved the effectiveness of the M16. Most commercial manufacturers recognize that the majority of civilian use will center around the 55 grain bullet but that both lighter and heavier rounds will be used, depending on application, and thus often split the difference, using a 1:9 twist. (Long-range target shooters often choose to outfit their rifles with barrels with a twist even faster than 1:7.)
With the changes in the rifle along with improvements in the assembly of the cartridge itself, the stability problem is a thing of the past but from that rose the oppinion that the .223 just isn't a powerful enough round and this is the second problem that is typically illustrated; that the round doesn't cause enough shock and trauma to the enemy, to put them down under all conditions. There is concern that it just doesn't have enough knock down power.
You could rightly ask, "Well, what the heck does that mean?" I've seen people try to explain this in various ways, some of which didn't make a whole lot of sense, and often left people more confused than they were to begin with. Here's the way I look at it. "Knockdown force" to me is basically impulse force, or the rate at which energy is delivered into the target. For "knockdown" power, the faster the better. If done over a longer period of time, the target is less likely to be physically pushed over. This is one of the things, for example, a hollow point bullet is intended to accomplish, increasing the surface area that initially contacts the target and making energy transfer more efficient. Nevermind expansion, not all hollow points are intended to expand. A larger round traveling slower may have more knock down power than a smaller round traveling faster because just like a hollow point, the greater surface area may result in a more efficient energy transfer. This is pretty well the same argument of the .45 ACP and the 9mm round.
The next question is penetration. I ran across an old article by John Schaefer in an issue of Rifle magazine from January of 1988 on the topic of 5.56 ammunition where he stated that NATO requirements were that the M855 61.7 gr round was required to reliably penetrate 10 gauge 1010 steel out at distances of no less than 570 meters. M193 will not do this, M855 will. The ideal is to have good penetration with substantial initial force. Most of the time this is accomplished with a larger, heavier bullet but that means a larger, heavier rifle, heavier ammunition, and significantly more felt recoil. Being able to get away from this is one of the merits of the .223 over the previously standard .308 Winchester (aka 7.62 x 51 NATO) used in the M14.
In a short to medium range hit, say 50-200 yards, either of the M193 or M855 rounds is most likely to go straight on through the person it hits. Remember, though, that in combat this is not a bad thing and here is where "knockdown power" is at odds with other forces. This carries the wound channel completely through the target and makes it more likely to cause damage to a major organ resulting in a lethal hit. In normal combat conditions, against lightly armored troops, typical rounds would do just fine. The problem comes in when there is armor present or when the enemy you are facing may be wearing thick clothing and likely also be amped up on stimulants, pain killers, or adrenaline, if not all three. (Such as in Somalia and Iraq or Afghanistan.)
When dealing with a person who has all kinds of chemicals in their system, the damage may simply not be severe enough to cause the target to immediately drop. Instead, even after being hit two or three times, they may have just enough left in them to kill one or even several soldiers before they finaly expire. But in the case of a long range hit (greater than 400 yards, a range which soldiers in Iraq and particuarly Afghanistan have actually been forced to engage at many times) there is also the perception that, especially in winter, against someone wearing thick clothing, the round may not penetrate sufficiently to cause serious damage. This is exacerbated when the round fired was from a carbine and therefore is not propelled to quite the same speed, significantly impacting it's long range effectiveness. A heavier round would do better here but then you get into problems with over penetration at close distances which places at risk whoever or whatever might happen to be behind the person you just hit. Too often these days, that person is likely to be a civilian, perhaps hunkered down with their family in the building across the street and these days, it is politically unacceptable for civilians to get caught in the cross fire. The 5.56mm round is less likely to do serious damage after exiting so that is one argument most deffinitely in its favor.
So the case against the .223 Remington is put forth and continues day by day. In response to this, in 2004 Remington introduced the 6.8 SPC. Many have forwarded that they would like this round to be adopted in place of the .223. I take no position on this issue except to say that in the interests of ensuring that our troops have the best equipment with which to do their jobs, it is worth exploring alternatives. It must be remembered though that one obstacle to the adoption of any different cartridge is NATO acceptance of the round, which would be necessary in order to allow our troops to use it regardless of where they are or who they're fighting with. But if you feel like experimenting, a number of manufacturers are producing AR15 and M4 type rifles chambered for this round. Heck, even Ruger's Mini-14 has a chambering for it.
Gun Details
Since the M16 is a fully automatic rifle, the machine gun ban enacted in 1986 prevents sale to the public. That did nothing to reduce the public interest, though. Instead, what is manufactured today is a semi-automatic version of this rifle that had already been quite popular among civilians, the rifle originally designated the AR15. Since the first rifles were sold to the public, there has been a veritable explosion of manufaturers producing their own variants. All of these are termed "AR" rifles and from there the term "AR15" has become as much an identification of a category of rifles as it is a specific rifle, much as with the 1911 pistols. Oh, and no, the "AR" does not stand for "Assault Rifle" and is not a military designation. It actually stands for ArmaLite, the developer of the rifle and is the model number they assigned to this product.
In recent years, the recognition that much of modern combat operations are occuring within urban areas has led to the desire for shorter weapons. This has led to the adoption of the shorter barreled M4 carbine, often seen with a telescoping stock to boot, and increased interest in the more unique "bull pup" rifles that are becomong ever more popular.
With it's 16 inch barrel, the Smith & Wesson M&P15T is in the M4 category but since it is a semi-auto is generally termed simply as a short barreled AR15. I do not find this classification incorrect, especially given the modular design of the platform. The rifle operates with a direct impingment gas system, utilizes a chrome lined barrel, gas key and receiver, has folding front and rear Troy battle sights, adjustable for windage and elevation, and is equipped with a bird cage style flash supresser and a free floating Troy four-sized modular forend. It is designed principly for law enforcement but makes an excellent competition or sporting arm for appropriate sized game. With the ever increasing number of chamberings available, the AR15 can handle pretty well anything in North America and is becoming an ever more popular hunting rifle, where semi-automatic rifles are legal for use in hunting.
Like every AR styled rifle, this one is easily accessed for cleaning through the unseating of a single pin at the back of the receiver. Similarly, through unseating of a forward pin, the lower and upper receivers can be separated and paired up with other compatible units. It is the modular aspect of the AR that has really been its defining feature, in my oppinion. This is demonstrated most directly by the relatively recent adoption of the picatiny rail system. Albeit not exactly a new development, the adoption of a set of standard rail dimensions and the preference for rails to be used as mounting platforms instead of traditional bases has allowed manufactures to pretty well bury us in do-dads—some of pretty dubious utility—with which to equip our rifles. Add to that the fact that the modularity of the weapon itself allows it to be relatively quickly altered with a different stock, new trigger, longer or shorter barrel, and even a change of caliber, and you have a pretty versatile weapon, suited for a great deal of applications.
Add-ons
One thing that was lacking with my rifle were the curved rail covers that are present in the illustration on the manufacturer's website. Instead, what was with my rifle was a set of three rubber covers that get pressed over the rails. These do not provide any shape to grip but merely provide a barrier between the shooter's hand and the heat of the rail. Personally, I'm a bit disappointed by this and would rather have seen the expected rail covers.
Another item I am displeased with is the factory magazine. Oh, it does the job well enough, inserting with ease and locking up reliably. Through all my tests, it seemed to feed without noticable difficulty. What I find objectionable is that it has all the looks of a $5 after-market magazine made of stamped and folded sheet metal as quickly and cheaply as possible with no real eye to quality. Concensus is that if you want your AR to work reliably, pay attention to your magazines. Watch what brands you get and take care of them. Since I wanted extra magazines anyway, I jumped over to Magpul's website and ordered up a pair of their P Mags. These came to me complete with a removable cover and look much more appropriate to this rifle and are lighter to boot. Insertion was easy and lockup positive. Feeding was reliable through all my tests. All this with a very competitive price. In my oppinion, this is really what should be shipped standard with the rifle (in fact, Ruger did exactly that with their new SR-556.) If this product is geared towards law enforcment, can anyone justify not providing the best equipment there is?
Other accessories I ordered for this rifle include a verticle foregrip, two slings, a detachable forward swivel, and the obligatory scope. To me, the vertical grip allows a somewhat more positive grip and more control over the rifle, not to mention keeping my hands off that hot rail.
Finaly, this rifle screams for a good scope. Wanting to add to my stores anyway, I decided to go ahead and splurge somewhat on this one and procured a Leupold Mark AR 3-9x40mm with mil dot reticle and equipped it with with a pair of Warne quick release rings and Leupold's Alumina flip-back lense covers. This scope provides a very bright picture and while it has a fixed focus (set out to 150 yards), the mil dot under maximum magnification provides an excellent means of ranging. Being built with the .223 Remington in mind, the elevation adjustment has two reference scales on it. The lower of the two which has the larger numbers, is minutes of arc above zero. The upper scale is pre-calibrated for a 55 gr round and is in hundreds of yards (100 yards being zero minutes.) That means that for a .223, range adjustment can be made quickly and easily but this also allows you to utilize this scope with other rifles as well without any head scratching. Of course, zero elevation depends on how far forward the scope is mounted and how tall your mounts are so you'll have to send some rounds downrange to figure out how much adjustment you'll need to make. But don't worry about the dial indicating the wrong range. Once you dial it in, loosen three small set screws and you can rotate the dial without changing the adjustment and put the zero mark back where it belongs.
This is the first Leupold scope I have purchased. Previously, I wanted to avoid spending a great deal on accessories and instead concentrate on checking items off from my wish list. However, in this case, that just wouldn't do. This is a good rifle that called for a scope capable of matching it. After a bit of research followed by some price comparison and bargain hunting, I had my scope. On close examination, much to my horror, I had received a scope which should never have passed inspection. At the edge of the field of view was a piece of lint or something similar. But not to fear, one very brief call to Leupold's customer service line and the scope was back in their hands for evaluation, no questions asked. Two weeks later, it was back in my hands, defect free. I give Leupold high marks for their service in this instance even though the return shipment was UPS ground instead of overnight. (When you pay that much for the scope plus accessories, you would think that customer service would be able to use faster shipping. At least they paid the bill for both directions.) Fortunately, this did not impact my schedule and really is minor in the grand scheme of things.
One thing about scopes, though, is that with close quarters operations a slightly different setup is indicated. In my oppinion, while the battle sights are adequate for most open field scenarios, in building clearing or similar operations you need something faster and which will be visible under very low light. Not having the budget remaining to shell out for a holographic sight, and considering that to be too much anyway, I'll probably opt for something a bit more practical and pick up a basic low or non-magnifying 5 or 7 MOA red dot sight. For those of you who have not used a dot sight, it's as simple as simple gets: your shot goes wherever you put the illuminated dot. Dots come in different sizes and many scopes allow you to select from different sizes or even to change from a dot to other types of reticles. You should remember though that because the dot has to be big enough to see clearly and easily, accuracy degrades ever faster as you go beyond 25 yards. Once you approach 100 yards, you probably want to reach for something else, especially if your first shot absolutely has to count.
Type:
Semi-Automatic Rifle
Caliber:
5.56mm
Capacity:
30 round detachable magazine
Barrel Length:
16 in.
Twist:
1:9
Overall Length:
32 in. (stock collapsed)
Weight:
6.85 lb. w/o magazine
Sights:
Folding Adjustable Aperture
Finish:
Black Annodized
MSRP:
$1,888
Slings
The two slings I chose two examine were Blue Force's Vickers and the Spec-Ops Mamba slings. Both of these have received pretty good reviews in magazine articles and on various forums. Like everything though, there are naysayers. Just goes to show that you can't satisfy everyone no matter how hard you try. When it comes to features, rapid adjustment, quick position change, and control over the sling's tail seemed to be the biggest points of contention, next to the number of points of contact. There is much debate over whether a single, two, or three point sling is best. Ultimately, it pretty well boils down to personal preference and what your application is.
The Vickers sling is the classic two point rifle sling. It is designed to carry the rifle, act as a shooting aid, and still allow full range of motion. This sling is not quite as quick as some of the others, nor is it quite as long but then it doesn't have a tail hanging loose or a keeper wandering all over the place either. Lets also not forget that a longer sling is usually a heavier sling, adding to the overall weight of the rifle. Yeah, it's only a couple of ounces but it all adds up if you're carrying it for hours at a time. All in all, I'm very happy with this sling and consider that it alone will do pretty well everything I'm likely to need with this rifle.
The Mamba is a bit different. Spec-Ops formaly names this "T.H.E. Mamba" which stands for Tactical Holds Everything and they mean it. The Mamba is intended to be essentially a sling system. By using the pieces independantly or together, it can function as a either a one, two, or three point sling. Versitility is the word of the day here. Included with the sling were diagrams showing how it can be applied on anything from a rifle, to a tactical shotgun, to an AR15, or an M4. There really isn't a long gun that it can't fit on as long as there is a means of attachment. For some applications, what they term as an adaptor kit may be necessary though. This is basically just a couple of extra pieces to help in odd attachments. Flexibility comes at a price, though. The additional pieces, loops, and attachment points make it a bulkier and more complicated sling than the Vickers.
Now I'll be honest, I've never used a three point sling before. I bought the Mamba after doing a good bit of searching and seeing it appear several times in reviews and getting good feedback in the various forums. For me, this sling falls into the category of, "It seemed like a good idea at the time..." After working with it for a while, I found it wanting. First, I'm not a guy who often has to read instructions in order to figure something out. (I do, but that's mainly to make sure I see all the options.) With this sling, there was considerable head scratching going on just to figure out how they intended it to connect to the rifle—and that was after examining the instructions. The next chore was adjustment. It can be made shorter pretty easily but adjusting it longer requires two hands in order to take tension off the slide. There is also the question of length. The traversing strap is supposed to be held fairly tightly against the rifle but the strap is so long in this case that it's hard to do that and have the loop for the shoulder sling in any reasonable position. While it accomplishes the job of retention well enough, I just feel that it can be a bit more flexible.
Performance
With the rifle fully outfitted, it was finaly time to take it down to the range and give it a workout over the course of a few sessions. Here's a tip: when you take a new gun or rifle out for a break-in, go to the range unaccompanied. It was my intention to start out slow and carefully until the barrel was thoroughly run in. That lasted about 20 rounds. After that point, we started having too much fun and let me tell you, one thing I can say with certainty is that just as with most other ARs, that barrel gets hot pretty darned fast. Instead of the systematic work out I had intended, the primary chore for the day became trying to keep the rifle from smoking. Gonna have to remember that when next it comes time to gather some friends and head out to the desert to punish some soup cans and overripe fruit.
As I did with my Ruger Mini-14, I decided I really wanted to see what this rifle could do. To that end, I grabbed several different factory loads, trying to get a variety of different bullet designs and weights within what the budget would allow. With some loadings running three times the cost of generic target rounds, it doesn't take many of them to break the bank. One thing I noticed right off was that this rifle was not going to be one to throw cartridges far and wide. The ejection seemed to be consistant, almost straight out to the side, and, standing, only tossed the cartridges about four feet. Only every once in a while did a cartridge hit the brass deflector. Makes it a lot easier to collect your brass for reloading when you're done.
One of the advantages of the .223 is that there is minimal recoil when compared to the .308 that it replaced. That makes handling of almost any AR much easier than the earlier M14 rifle. The Smith & Wesson is no exception. Even with the Troy folding sights, it was pretty easy to get good groups out at 50 yards. Slap a scope on it and at 100 yards overall, groups averaged 1.9 inches with two loads coming in at just over an inch. More than one load had four rounds in a nice tight group with the fifth off to one side, clearly indicating that this rifle is capable of some pretty impressive groups in better hands.
I'm somewhat of an impatient person at times so there was more than likely a few rushed shots. This rifle could also probably benefit from a competition trigger. Nonetheless, the M&P acquitted itself well. If the stats listed here are any indication, more control on my part would likely bring the average group size to under 1.5 inches with more than one load coming in under an inch. Not bad at all for an off-the-shelf rifle.
Fiocchi V-Max HVB
40
3372
21.8
1010
1.6
Remington UMC JHP
45
3287
19.1
1079
1.8
Winchester JHP
45
3187
45.4
1014
2.5
Black Hills V-MAX
50
3019
41.0
1102
1.9
Remington JHP
50
3187
45.4
1014
2.3
Winchester Ballistic Silvertip
50
3070
39.1
1046
1.7
American Eagle XM193
55
3107
27.7
1179
2.4
Federal XM193F
55
3117
24.4
1186
1.1
Remington Acutip-V
55
3000
34.6
1099
1.1
Remington PSP
55
2938
23.1
1054
1.9
Winchester FMJ
55
3035
33.0
1125
2.4
Groups were best of two 5 shot patterns at 100 yards from a sandbag rest.
Velocity measurements were the average of 5 rounds at 15 feet from the rifle's muzzle and were taken separately.
I do not know how heavier weight rounds perform in this rifle since a pending schedule change forced me to conduct my testing before I was able to obtain these. (Not to mention the scarcity arising from the ammo drought.) Eventually, I intend to get this rifle back out to the range and see if I can't shave some of the distance off the spreads listed. From what I saw during my evaluation, this rifle is telling me that it wants to do better. I can't want to be able to have the chance to let it.
On a side note, there are those I know who's friends say they practically live at the range. Well, that may not exactly be true but when I sat down at my bench for the break-in session, I did find that there really are those who live at the range. Craddled in the supports for the shelter above the benches, just behind where I was sitting, I observed an active, occupied bird's nest and a mother carefully tending to her young. I'm not sure if this is exactly the best place to build a nest but one thing is sure, with all that firepower around, no one is gonna threaten her kids!
Last Words
The M16 has now been in service for over 40 years. Few weapons survive that long as general service arms. But with the advancements that have been made over the history of the M16 and the success of the overall design, it's been a hard rifle to out class. In this age, though, battlefield requirements have changed. So is the M16 still the ideal weapon for today? While any good military is always looking for better weapons with which to equip its soldiers, I think the best statement on that score was was made by 1st Sargeant Raymond Poore, a US Army drill instructor, during an interview as part of a recent television documentary on the M16 and potential successors who stated, "To me, if we can use the M16 for a while longer until they get a much better model, I'll be just as happy." That sounds like a satisfied customer to me.
As the civilian AR series of rifles, this design has become a mainstay in competition, target shooting, plinking, and varminting. The natural development of the civilian sporting arms industry seems to invariably be an outgrowth of military technology. With the versatility that the AR platform affords us, it's future seems bright indeed.