Kimber Gold Match II

(.45 ACP)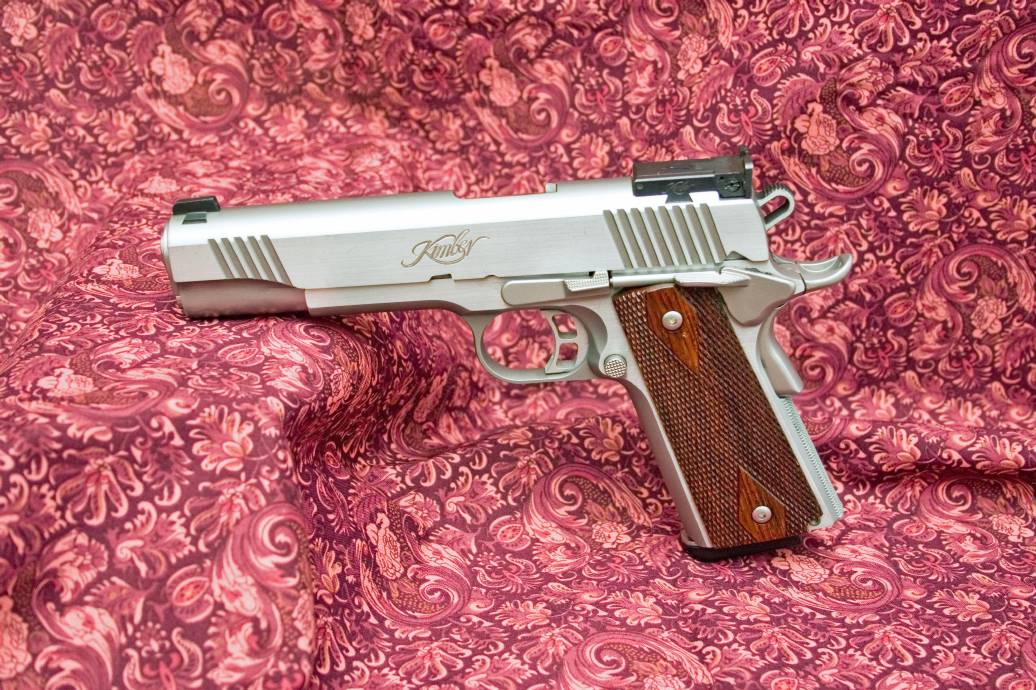 I've stated a few times that my two favorite weapons have got to be single-action revolvers and 1911 pistols. If you're not a single-action kind of person, I'm not sure you can comprehend what it is that draws folks to these guns and hangs on so tightly. You might assume that it's some fascination with the whole Cowboy thing but that's only a piece of the puzzle. No, trying to explain the single-action addiction is about like trying to explain the taste of chocolate to someone born without taste buds. No matter how hard you might try, it just ain't happenin'.
Perhaps more easily understood is the bite of the 1911 bug. What can I say other than the gun just looks and feels like a gun should. That a design about to reach its 100th anniversary is still a favorite for competition, defense, law enforcement, and spent over 70 years as the standard U.S. military side arm says more than I can about the utility, elegance, and grace of this pistol. I think John Browning would be pleased as all get out that his basic design is still in use after all this time.
When I started collecting guns, the first modern pistol I bought pretty well had to be a 1911. After having a bit of a windfall, a hunk of that cash was tossed into an account for general use and I was off to the gun shops. I must have had my hands on a dozen different pistols, including the $2,500 pistol they had (just because it was there) and since budget was not my principle concern this trip, I picked the pistol that most felt like it belonged in my hands. That pistol was Kimber's Gold Match II.
This is a full sized gun built much like you'd expect a traditionally styled 1911-A1 to be built, complete with barrel bushing and plastic wrench, grip safety, full length guide rod, and single coil 16 pound spring. Features which came along later and give it a more modern look are the skeletonized trigger and hammer, slanted cocking serrations with additional front serrations, ambidextrous safety, bevelled magazine well, and adjustable target sights.
The grip features gentle square checkering at the rear and a smooth front face. I find that I prefer a smooth front grip in most cases. Some vendors disagree and some so overdo it and cut the checkering so deep (such as on one pistol I picked up during this past weekend's N.R.A.'s convention in Phoenix) that gripping the pistol feels like you're holding a cheese grater in your hands and you wonder how much of your flesh will be ripped away when you fire it. Others utilize vertical grooves on both the front and rear of the grip which, to me, seems to actually help the gun to slide around in my hands rather than secure it. I deffinitely think Kimber found the right balance here.
Type:
Single-Action Semi-Auto Pistol
Caliber:
.45 ACP
Capacity:
8+1
Barrel Length:
5 in.
Overall Length:
8.7 in.
Weight:
38 oz. (w / empty magazine)
Sights:
Square Notch, Adjustable
Finish:
Stainless
MSRP:
$1519
As has been recounted in many other articles by many other people, customizing and tuning 1911s for competition was a staple of the gun smithing trade for many years. Kimber took a look at this and decided that there was a market for pistols that would have many of the most common of these custom shop alterations in the standard package. Well, they were right. Since Kimber introduced their first 1911 at the 1995 SHOT show, they have been able to maintain a strong reputation for quality and performance. The Gold Match pistols most deffinitely live up to that reputation.
At 38 ounces, this pistol is not exactly a feather light and the stainless steel construction doesn't help that issue. But then again, this is a full sized pistol built for accuracy, not to be a convenient personal carry arm. (Although it would be most reassuring if I were forced to point this at someone to be standing on the correct side of it.) For those who like shooting .45 ACP, the added weight is more of a benefit than a problem. While it's not the hardest kicking handgun cartridge out there and nothing on the order of the .50 AE Desert Eagle for recoil, it can deffinitely give you a work out if you put enough rounds downrange.
Practice, Practice, Practice!
Most of the time when I pick up a new handgun, it takes me several trips out to the range to get used to it. Each gun seems to have a different sight setup, slightly different grip, different shape to the trigger, and varying degrees of smoothness or roughness to the action. All of that takes time to adjust to even though the action almost always smooths out after a few hundred rounds have gone through it.
This pistol, on the other hand, didn't take much adaptation at all. In fact, on the first trip to the range, I was getting groups at 35 feet in under three inches. Every time I took it out to the range, the story was the same, good groups and not a lot of work necessary to hold them that tight. Of course, lets not forget that this is a match pistol. Such groups should probably be considered an embarrassment for the GM II. So I worked hard at getting them tighter and let me tell you, of all the practice time I have spent with my various arms, this one stands out among them as being the most enjoyable to work with. There are those out there who will say that only accurate guns are interesting. I disagree but will allow that accurate guns can be more enjoyable to work with.
One of the features I most like about the GM II is the sight setup. Rather than employ basic contrast sights as in most pistols, they chose to mount flat black square sights. But instead of leaving a smooth and even semi-polished surface on the face of the sights as you'll see on other pistols, they chose to texture them to reduce the chance of them catching a glare or otherwise interfering with the sight picture. Personally, I'd prefer that the front blade be just a hitch wider to better fill the notch on the rear sight since with my arms, there's a bit too much of a gap on either side which makes it somewhat difficult to center. Still, I find this sight setup superior to that found on any of the other pistols I presently own.
With the price of ammunition going up steadily during the last few years and now with shortages abounding, I haven't been able to take this out as often as I'd like. But that hasn't prevented me from putting close to 3,000 rounds through it since I bought it. In all that time, I've had nary a misfeed or a problem that wasn't related to the ammunition I was using. If you get enough experience, you can hear and feel weak rounds as you fire them and it's only been after these rounds that I've seen problems with feeding or with the gun not going entirely into battery.
Over time, my performance with this gun has improved steadily and I've now reached the point where I look at those first three inch groups and cringe when I see them appear again. Without a doubt, this pistol shoots better than I do. Nevertheless, I've improved enough that at one outing earlier this year, I was able to bring home a target showing 8 shots in a group of just 1.6 inches out at 30 feet. I still think this gun shoots better than I can and would love to be able to tighten that up to about half that size. One thing is certain, as long as my wallet can hold up, it's going to be fun getting to that point!
"The Customer Is Always Right..."
Kimber has an outstanding reputation for performance. Every time I pick one up, whether this one, or one from the rental cabinet at my local range (they have several available, one of which I have decided I must have), I am pleased as can be with the performance. They just seem to work and work and all shoot very well.
Does that say they're problem free? Not at all. There are a number of people on the various forums who report that they have all sorts of problems with their pistols even when using factory round ball ammunition. (I should take a moment to note that there are specific instructions in the manufacturer's litterature stating that this gun was designed to feed round ball and only round ball ammunition. This pistol will not feed most semi-wad cutter or hollow point rounds.) Most of these folks have been able to resolve their difficulties with the help of Kimber's customer service department and seem largely pleased with the response even if they're not pleased with the fact that there were problems to begin with.
From what I have seen, calls to customer service seem to get positive results and the prevailing oppinion is that those on the other end of the line are generally courteous and helpful. The only reports I see that say otherwise seem to result from random representatives forgetting the first and second rules of customer service: 1. The customer is always right, and 2. If the customer ever is actually wrong, see rule 1.
While seeing these reports about what has generally been accepted to be a very fine organization is discouraging, I do not see them as common place experiences and it must also be remebered that you're likely to find random reports of this sort for pretty much any company, no matter the industry. Still, there were enough of them that I would hope these have not gone unnoticed within Kimber.
Last Words
All in all, I've been very satisfied with this pistol and do not for one moment regret topping four figures to get it. This has got to be the best pistol I have and I shoot better with this than I do with any other. It is superbly made and very attractive. The only alterations I can see making are really just customization, not tuning. These would include a 50% engraving which I will probably have done this fall, budget allowing, and more attractive grip panels to go along with that. Although the factory rosewood panels look good and are decently comfortable, I just don't think they quite suit this gun.
Do I like my Kimber Gold Match II? Oh my, yes! Would I buy another Kimber in the future? I already have plans to. Every Kimber I have picked up has felt very good in my hands. All of these I have had a chance to fire have grouped well and handled supurbly. As noted, there are those who have had mixed experiences with Kimber, even with this very model, but I'm not one of them. I couldn't be happier with my purchase and look forward to the next one.