Pietta Old Army

(.44 cap and ball)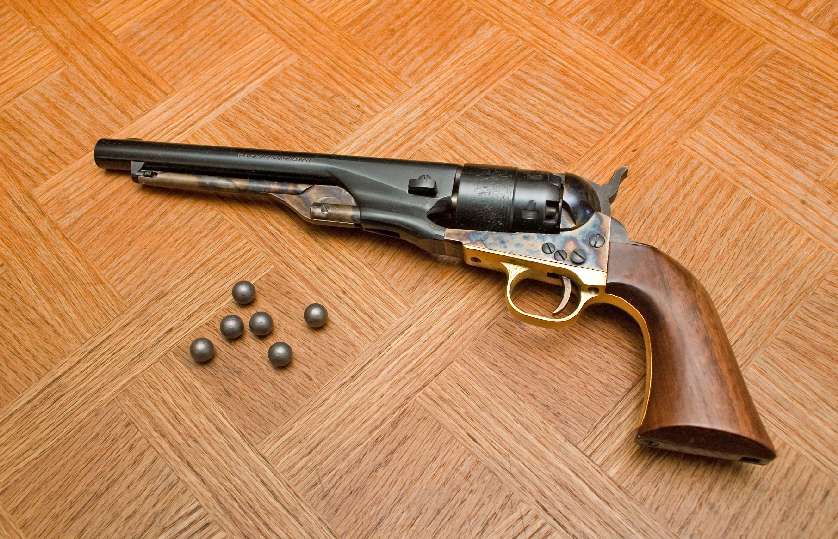 The Great Equalizer
God made men. Sam Colt made men equal.
There are few sayings in American Lore that are as well known as this one. For decades, inventors had been trying to come up with a practical method of operation for a repeating arm but few had any real success. An illusive problem, it was finaly solved by Samuel Colt and he received a patent for his idea in 1832. As indicated, his was not the first mind to envision a repeating arm, nor was he the first to attempt to solve the problem with a revolving mechanism. Colt's method was, however, the first practical method of doing so and has forever solidified his place in American and indeed world history.
After founding the Patent Arms Manufacturing company, at Paterson, New Jersey, he produced his first commercial models of what would become known as the Patterson five-shot revolver as well as various designs for revolving rifles and even revolving shotguns. Eventually, some of these weapons found their way into the hands of the Texas Rangers and in particular one Sam Walker. Through whatever interractions may or may not have taken place between Sam Colt and Sam Walker, the result was the production of a larger pistol of .44 caliber holding six rounds instead of five. This new six-shooter became known as the Walker. However, in all probability, before any revolvers were commercially produced, various conditions beyond Colt's control forced him to close up shop in 1842.
Colt's next attempt at commercial production would come in 1847 at the outbreak of the Mexcan War with the government hot after Colt's now famous revolver. In fact, in order to speed production, General Zachary Taylor sent Walker up from Texas to meet with Colt at his new facility in Whittneyville. With Walker whispering in his ear, Colt produced his model 1847 revolver or what is most often refered to as the Walker pistol with an improved model in 1848 which would become known as the Dragoon. The Walker, while a simplified arm as compared to the Patterson, was a massive revolver weighing in at over four pounds, firing a round ball seated over a massive black powder charge measuring as much as 60 grains.
Over the next 12 years, various improvements were made and various models produced, not the least of which was Colt's second most famous cap and ball revolver, the model 1851 Navy, which was favored by such men as "Wild" Bill Hickok. At one point, Colt even set up a factory in London to produce his revolvers although this venture was frought with problems due largely due to the innacuracy of the machines of the day employed at his facility not to mention problems with a populace that had become resentful of machinery which, while resulting in increased output all over England, also resulted in the loss of many jobs.
Colt Prepares for War
The year was now 1855 and an ominous wind blew over the land. Tensions between the North and South, Abolitionists and Anti-Abolitionists, and Federalists and Anti-Federalists were growing fast. Many people saw conflict on the horizon but few could foresee anything on the scale of what actually occured. Few, that is, except for Sam Colt. Placing his own interests aside, he enlarged his factory and began gearing up for wartime production. Colt examined the political situation of the day and determined that the conflict that erupted was likely to last for about five years, a remarkable prediction which went against the prevailing oppinion at the outset of the war.
Type:
Single-Action Revolver
Caliber:
.44 round ball
Capacity:
6
Barrel Length:
8 in.
Overall Length:
14 in.
Weight:
apx 20 oz.
Sights:
Blade Front, "V" Notch Rear
Finish:
Blue with Case Coloring
Market Price:
$300-$350
In 1860, Colt redesigned his 1848 Army revolver to take advantage of improvements in metalurgy and lessons he had learned during the design and production of the Navy model. The end result was a six shot .44 caliber pistol with a frame not much bigger than the Navy, weighing in at a mere 2 pounds, 11 ounces. It seated a round ball over 30 grains of black powder and, unlike the old Walker, had a latch for the ramming lever which was an improvement over an earlier latching mechanism to prevent the rod from coming loose during firing and jaming the pistol, preventing it from being recocked.
It is this pistol that is seen carried in the full flap holster by officers in the Union Army (and even in the Confederate army through the use of captured and replicated models.) But Colt pressed himself so hard during the first years of the war that his health declined rapidly ultimately resulting in his death in January of 1862 at age 48. It is not known how many of his model 1860 pistols were produced during the war as a fire in 1864 destroyed most of his company's documents, however Army Ordinance records show purchase of approximately 130,000 with others procured by soldiers, homesteaders, frontiersmen, as well as other nations.
Although cartidge weapons were becoming available even before the war, some of these revolvers were being used on the frontier right up until percussion caps started getting hard to find. Many of these revolvers were also converted to load and fire the new cartridge weapons as well. It is probable that a holstered Old Army revolver could be found as late as 1890. While Colt held too closely to the oppinion that people would always prefer to load their own powder and bullets, ignoring the fact that cartridge weapons were just faster, the company he founded would eventually come to see the light and give us what would become perhaps the most famous gun in all of history. But that is a story for another time.
Pietta's Replica
I've long loved black powder weapons and this is certainly one of the best handling guns I've seen. This pistol was purchased at Sportsman's Warehouse in the middle of '07. On one of my various trips to their shop to check out their collection of pistols and revolvers, I found myself wandering over to the far end of the counter where few who were not "in the know" visited. There on the wall was a line of percussion revolvers gently teasing me, nudging me to pick one of them up and take it home. A few fascinated gazes followed by brief words with the store clerk and I did just that.
Complete with the factory rolled egraving on the cylinder depecting, just as with the original, a navy scene (which is ironic for an army revolver), Pietta's reproduction is pretty faithful to the original. Disassembly is done by sliding a locking wedge out of the left side of the revolver (not removing, just unseating), releasing the ramming lever and using the plunger against the cylinder for leverage, gently removing the barrel followed by the cylinder. For a deep cleaning, the pistol was provided with a wrench for removing the nipples from the cylinder. At that point, it's a matter of brushing and swabbing the pistol until it's clean and lubricating as normal. (Note that Pietta recommends against using petrolium based lubricants on this pistol.)
Care and Feeding
Loading and handling a percussion pistol requires a different mindset than most are accustomed to. One thing you will notice straight off is that there are many more accessories needed with this pistol than with cartridge weapons. (Powder, lead bullets, bullet lube, percussion caps, priming tools, a nipple wrench with a wire probe for cleaning out the touch holes, and a power flask and powder measure made of non-sparking materials.)
The weapon itself also demands a great deal of care and respect. First, you're handling powder directly. Powder is sensitive to static and pressure. Handle it incorrectly and you have a problem on your hands. Second, just storing the powder can be a challenge. Black powder has an affinity for moisture and if too great a quantity is left out for too long, it will be all but useless unless properly dried (something which I do not recommend trying unless you positively know what you're doing.) Third, this is a percussion weapon. That means percussion caps. Caps are akin to the primers in modern bullets. When you're placing these on the nipples of the revolver cylinder, firm pressure from a fingernail can be enough to set them off. Get 100 of them together in a small metal can, give it a good shake, and you could end up minus a few parts and pieces. There is also the matter of loading the chambers. Load too much powder and the gun can blow up. While loading the powder, if you are foolish enough to pour powder directly from the flask, if you catch a hot ember in the cylinder you're loading or something else sets it alight, you now have a grenade in your hand that most certainly has the potential to kill you if it explodes. No, black powder weapons are not to be taken lightly.
Not all powders are created equal. Black powder is delineated by grain size, Fg, FFg, FFFg, FFFFg, and FFFFFg. These indicate the grain size of the power granules. Different sized granules burn at different rates. This can greatly affect pressures and performance. "30 grains of powder" doesn't mean much until you figure out whether you mean 2Fg or 3FG.
In practice, Fg and FFFFg are not used expect in special applications. FFg is most often used in shotguns, FFFFg sometimes is used in priming pans of flintlock weaspons with FFg and FFFg most often used in pistols and rifles. In my case, I use Hogdon's Tripple7 FFFg powder. This pistol is safe with a powder charge held to 30 grains or less of 3Fg black powder. Of course, Triple7 is a charcoal based black powder substitute and behaves somewhat differently. Because of that, I typically load only 25 grains. Note also that black powder charges are measured by volume, not by weight so put that power scale away. If this is an original revolver, reducing the charge further would not be out of order, assuming the weapon is even safe to fire. Of course, using T7 does come with one issue unique to it: it should not be compressed. This is hard to manage in a muzzle loader. Compression changes the pressure levels that develope in the chamber. With T7, this change can be much more greatly pronounced. T7 is also somewhat more energetic than standard black powder so charges have to be reduced somewhat to compensate. This powder was suggested to me by the guy at the counter who did not know much about powder weapons. T7 is best suited for cartridge reloading where such can be controlled (and for shell reloading, I think it will likely be my choice.) Hence, once this bottle is empty, I'll probably go to Goex as a proper black powder instead.
Loading this pistol can be a chore in itself. To start, I like to find a block or rock or something I can use to stand this pistol muzzle up and lean it against so I can have my hands free for the various stages. Bring the pistol to half cock and load each cylinder with a charge of 25-30 grains of powder by setting your powder measure appropriately, pouring from the flask into the measure and then from the measure into the cylinder. Seat a wad on top of the powder charge if desired (this is not strictly necessary but can make the pistol function somewhat better) and gently compact the powder. Be careful not to apply too much pressure so you don't accidentally set it off (this takes more force than you will certainly use but it is still possible.) After this is done, place a lubricated .454 diameter bullet on the end of one chamber, rotate that chamber under the rammer, and ram home. A small amount of lead will be shaved off the bullet as it enters the cylinder. This is normal and assures a tight seal. For my bullets, I use Hornady's Wonderlube and either a plastic bag or small plastic tub to store the bullets in. Many find that they do just fine with nothing more than Crisco. This time honored lubricant works well enough but some of the purpose made lubes have a chemistry designed to not only lubricate but also to protect the barrel and help keep powder residue soft so it can be more reasily removed. Many folks also recommend sealing up the end of the cylinder with a bit of lube or beeswax, especially when a full charge is used, leaving no room for a wad. I live in the Phoenix area where summer temperatures frequently exceed 108F so this is not practical for me as the lube is more often than not liquid instead of paste. Lastly, after and only after all cylinders are loaded (load only 5 if you intend to holster this and carry it around), pick up the gun with your left hand and the capper with your right hand. Carefully slide a #10 cap onto the end of each nipple, being careful not to use too much downward pressure. (The whole point of a cap is that it will detonate under pressure, after all.) At this point, the pistol is now loaded and ready to fire.
One thing to watch for with all muzzle loaders: misfire. This comes in two forms, caps that don't ignite and powder that doesn't burn. The first is reasonably easy to deal with. Just put a new cap on but be very careful removing the old one as it might still be able to fire. The second condition demands far, far more caution. After a cap discharges, there is the possibility of what is termed "hang fire" which is a delayed ignition of the primary powder charge. If a cap fires but there is no boom, do not move the pistol off target, wait for about 20 or 30 seconds. If by this time, the round has not fired, you should bring the pistol down to the bench (making sure to keep the muzzle downrange) and try a new cap. Should that not correct the problem, you may have a plugged nipple. Take your nipple pick and poke about in the little hole for a bit to make sure it's clear and try another cap. If after all that, it still does not go off, the problem is likely contaminated powder and you will need to remove the bullet and powder from the gun after discharging the remaining rounds. To do this, remove the cylinder from the pistol and either use a bullet extractor or you can remove the nipple use a small wooden dowel to push the bullet out from the back side after shaking all the powder out. I cannot stress enough how dangerous a situation a misfire can be. Always handle your weapon with extreme care in these situations and if you're not confident, it would not at all be out of order to call the range master over to assist you.
Performance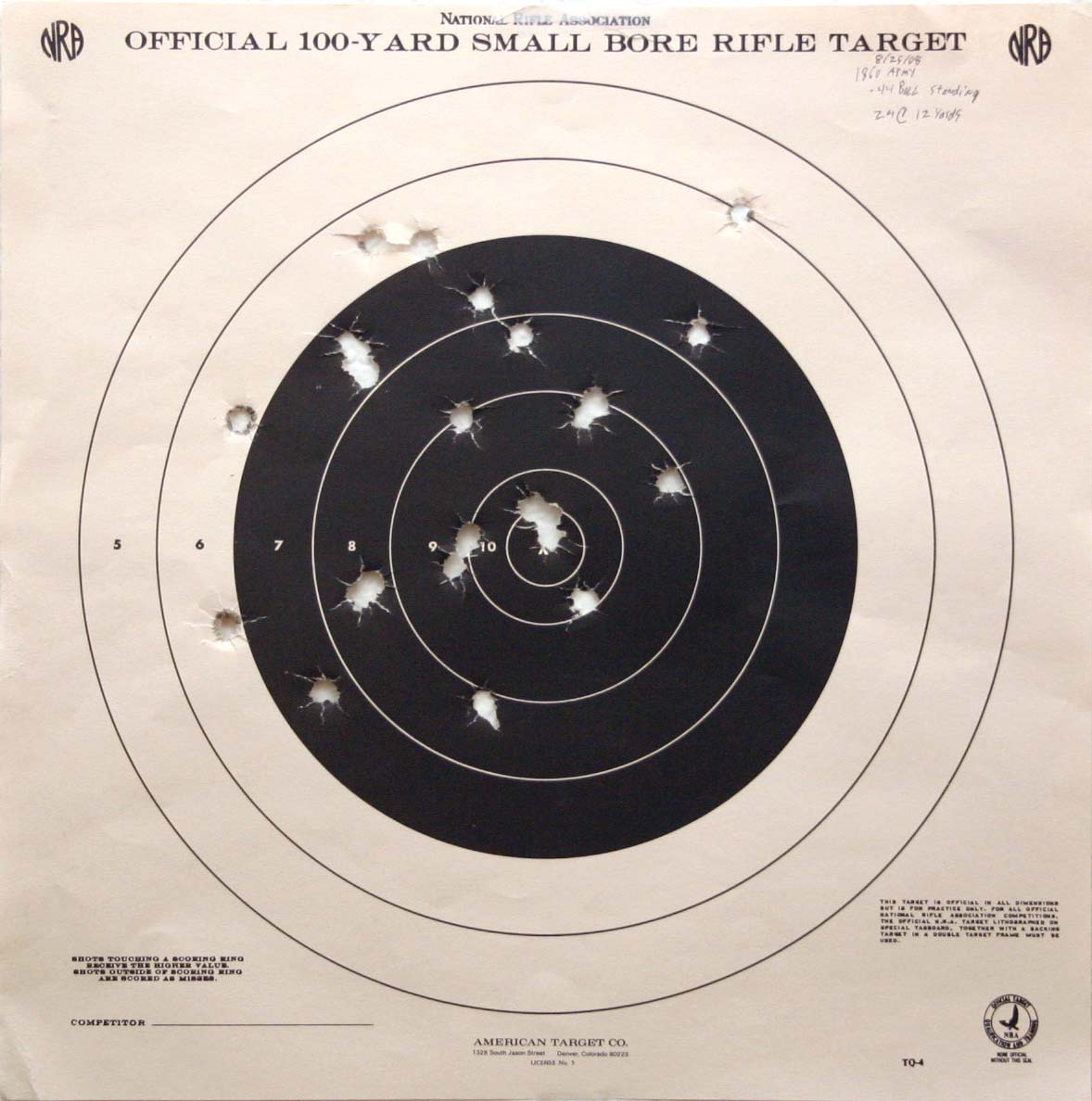 So just how accurate are these pistols? Generally, not very. Colt claimed that his Walker pistol was "Good on man or beast out to 200 yards." In reality, if you're trying to hit anything beyond about 50 feet, you're probably out of luck and even at that, you'll be lucky to inflict a fatal wound. Yes, yes, you all are about to remind me that with a Navy revolver, Bill Hickok hit a man in the heart at 75 paces. I'm not saying it's not possible to do that, just that it's not going to be an everyday occurance. One of the reasons for this is that since there is no top strap, the rear sight on the Old Army revolver is a "V" notch cut into the the hammer. Since this may not end up in exactly the same place every time, there is a certain amount of error from that alone. There is also the issue of the powder charge. Since this is measured by hand each time, the exact amount of powder may well vary as much as one to two grains. With an inconsitant charge, the pressure in the cylinder will be different and ultimately the velocity of the bullet can vary widely.
The larger problem however is the bullet itself. Today's bullets are conical projectiles and tightly fitted to the barrel they are designed to be used in. A conical bullet is much more aerodynamically stable in flight than a round ball is, even though it is spinning. So the further away you are, the more likely it will be that this bullet will have veered off course in some rabdom direction. Add to this that since these bullets are either molded or cast, the specific weight of each bullet will be a bit different than the next. All these factors mean that you're lucky if you can get good groups at 25 feet. At 10 yards, I was able to get 18 shots into a 10 inch group. I suspect that if I had taken more time, I could have brought that down to 5 inches. Still, that .44 caliber ball, weighing perhaps 180 grains, flying at 650fps or better will do a number on you if you're in the way. For its day, it was a pretty effective handgun.
One problem that has to be dealt with in all black powder arms is the extensive fouling that occurs. Black powder does not burn nearly as cleanly as modern smokeless powders do. This means that on a gun such as this, without taking it down to clean off the cylinder pin, pin hole, and barrel, after about 30 rounds, you're done for the day. After just 6 rounds, things will start to get noticably gummed up. After about 18 rounds, you'll know you're pushing the limit. I normally stop at 24. But function is not the only problem. These weapons must be thoroughly cleaned immediately after each shooting session since the residue from black powder is much more coorosive than smokeless powder. Fortunately, for the tough stuff, unlike smokeless powder, it is generally solulable in warm water. Of course, if there are problems with your finish, you can also oxidize the pistol so one must be careful.
Living History
Why do I love black powder weapons so much if they're so innacruate and such a chore? Well, for one thing, the history of the old arms is directly intertwined with world history and the history of this nation in particular. Firing one of these arms is a way to connect with that history. There is also something almost spiritual about pulling that trigger and then being envoloped in a cloud of white smoke, and for me, also a huge adrenaline rush. As much as a chore it is and as long as it takes to reload each time, I still find this perhaps my most favorite pistol to fire even if I don't get to shoot it that often. (Black powder weapons, because of the smoke, are generally not permitted on indoor ranges, which means that I have to go to the outdoor range which, for me, is out at Usery Pass and not a few minutes away.)
The Colt mode 1860 SAA is perhaps the height of percussion revolvers. Designed at a time when the nation was about to need all the weapons it could get its hands on, Colt produced a well made, simply designed, durable pistol which saw decades of service both in military and civilian hands and left us one of the most successful arms manufacturers in the world. This pistol has an honored place in my collection.