Remington 700 VLS

(.308 Winchester)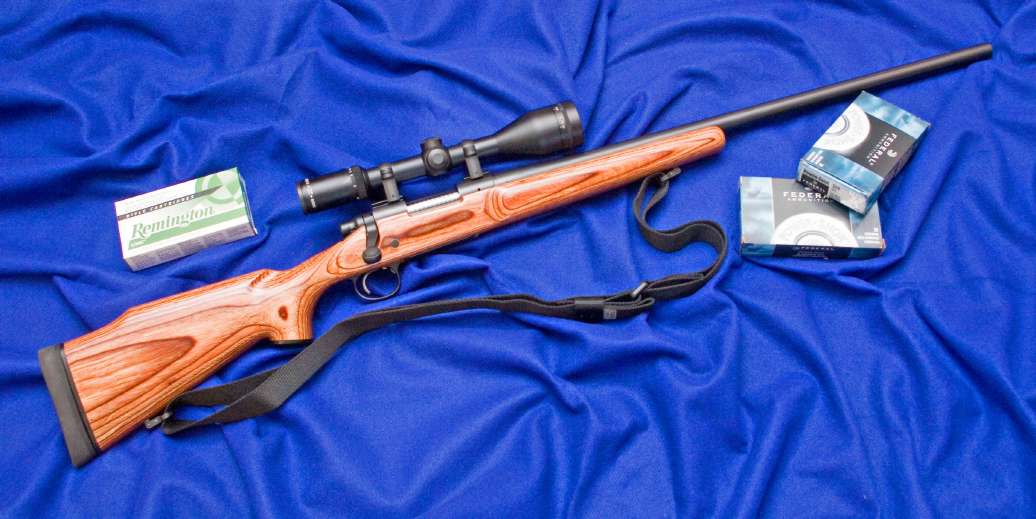 Every year, thousands of hunters traipse deep into the woods, stomping around trying to find the perfect spot where they can sit very still for many hours, freezing their fannys off hoping that some decently large woodland critter will happen by. When the creatures of the forest aren't pointing and laughing at this hunter (admit it... if you hunt, this has happened to you) and the hunter actually successfully bags his or her prey, there is a decent chance that the rifle at the hunter's side is a Remington model 700.
Introduced in 1962, the original four variations Remington lists were the ADL and BDL factory models along with the D-grade and F-grade premium and custom-shop offerings. Over the course of production—and assuming I counted correctly—there have been some 69 variants produced by Remington, not counting special runs, with 23 different varieties currently listed in their catalogue. "Out of the box accuracy" is one of Remington's key selling points for this model. Over the years, the rifle's reputation for performance has justified Remington's support of the model. This same reputation has also made it a popular base for custom projects.
When introduced, some of the features on the rifle, intended to keep production costs down and therefore market prices, were deemed cheap by some but Remington does not have a habit of producing poor quality products (which is a large part of the reason that they have been in business in one form or another for nearly 200 years.) Once the public got a look, they liked what they saw. In fact, after almost 50 years, the iron-sighted BDL is still in the catalogue and continues to be a best seller.
My rifle, though, is the more recent VLS. Entering the Remington catalogue in 1995, this short action rifle is in the varmint class. Instead of iron sights, this variety is fitted with rails for your favorite scope. The laminated wood stock of the VLS (which actually stands for Varmint Laminated Stock) is of the Monte Carlo style with a beaver tail fore-end. Even though I didn't know a ton about rifles at the time of my purchase, one thing I did notice almost straight off was the countoured barrel and the concave barrel crown. I noticed them because they struck me as somewhat unusual shapes. I'm not sure what I was actually expecting it to look like but this caught my attention.
Type:
Bolt-action rifle
Caliber:
.308
Capacity:
4
Barrel Length:
26 in.
Twist:
1:12
Overall Length:
45 3/4 in.
Weight:
9 lbs. 6 oz.
Sights:
None
Finish:
Blue
MSRP:
$951
So why did I choose the 700 VLS? Well, back when, when I went into the shop, my aim was to procure a decently accurate rifle chambered for a reasonably powerful, flat shooting round. There was no notion of getting any particular rifle or any particular caliber, simply, "Lets see what you have, and I'll see what I like." After listening to me explain my objectives, the woman at the counter turned around, considered for the briefest moment, and grabbed what to me was one of the better looking rifles they had on display at the time.
The 700 she handed me was chambered in .308 Winchester (which isn't exactly a varmint round, of course) and felt pretty comfortable. The bolt cycled smoothly and the trigger seemed to have a crisp, short pull. I was initially skeptical of the beaver tail fore-end but I've since gotten used to it and have come to appreciate it in a rifle of this caliber. I tried two or three other rifles but none of them felt quite right to me, so that was that.
Naturally, lacking fixed sights, I needed some way to aim this critter. While my knowledge of rifles was incomplete, I knew a thing or two about optics. A quick trip to that end of the counter and the optics display case resulted in the 700 being matched with a Burris Fulfield II. This Burris scope has a variable magnification of 4.5 to 14X with a 42mm objective lense and parallax adjustment graduated from 50 to 500 yards with a "wish and a prayer" infinity setting just in case you want to try your luck a bit further out. The reticle is what Burris terms a "Ballistic Plex" which is basically a drop compensating reticle. It almost goes without saying that, after spending that much on both the rifle and scope combined, the scope rings were thrown in for free along with assistance getting them mounted properly.
The rifle itself weighs about nine and a half pounds. With the scope and rings, add another 20 ounces for a total weight of about ten and a half pounds. I appreciate this extra mass since, with the factory hard rubber recoil pad, the .308 will certainly pound the heck out of your shoulder if you spend all day at the range and since any skill worth learning requires considerable practice, I can speak from experience. To that end, one of the first things I did was to find a thicker, softer pad to bolt on in place of this. Since that time though, I have become much more accustomed to stiff recoil and now think that I probably could tolerate the standard pad with little to no issue.
Snap, Crackle, Pop
Down at the range, I was immediately impressed with this rifle. Loading four rounds into the internal magazine and setting my scope on ten power, the six inch target out at 100 yards came into view. Even with my less-than-adequate shooting, all 4 rounds went inside the 6 ring. Remember the break-in period, it got better from there and so has my shooting.
After getting to know this rifle, I have grown very fond of it. With practice, I have become a decent rifle shooter with pretty much anything I pick up, whether using a scope or iron sights. Yet this rifle is the match of just about anything else I have had the opportunity to fire, even with factory ammunition.
The .308 winchester has been among the most popular rounds almost since it was developed. With a muzzle velocity approaching 2,500 fps, these rounds develop about 2,000 ft-lbs of energy, very similar to its parent cartridge, the venerable .30-06. That is more than enough for all but the biggest game. Hand loading data is also quite abundant and very easy to come by.
My VLS has always been exceptionally accurate. Even with my shooting, off the bag, I'm able to get groups as tight as two inches at 100 yards quite routinely. Every once in a while I have a bad day, but as the targets demonstrate, this was not one of them. The largest group was just over three inches using Remington's 150gr MC target rounds.
Recall that I stated two to three inches with the stock rifle using factory ammunition, and generic target rounds at that. There is no doubt in my mind at all that I could shave perhaps a half inch off that with a visit to the gunsmith for no more than the most basic tuning and through the use of careful handloads. Fired from a fixture, that would probably make this a sub-MOA rifle.
Fast Friends
My Remington 700 VLS and I have become fast friends over the time it has been in my posession. Every time I take it out to the range I come home happy. For me, if my plans for the week included sitting in a stand out deep in the woods freezing my back side off, waiting for a mature, good looking bull elk to come into view, I don't think I'd want to carry anything else. Oh sure, there are other rifles and other calibers out there that will also get the job done and I'll likely end up with a good number of them as well when all is said and done but this rifle just works oh so well. Despite putting many a round through this rifle, I've never had a failure or even a hiccup that I couldn't attribute to the ammunition I was using. As long I take care of it, it keeps taking whatever I throw at it.
Remington's model 700 is not a top of the line rifle by most standards but that's not the intent. Performance at an affordable price was one of the original goals and thus it remains firmly at competitive price levels. I couldn't be happier with this purchase and am grateful to have been introduced to this line of rifles.