A. Uberti's Cattleman

(.45 Colt)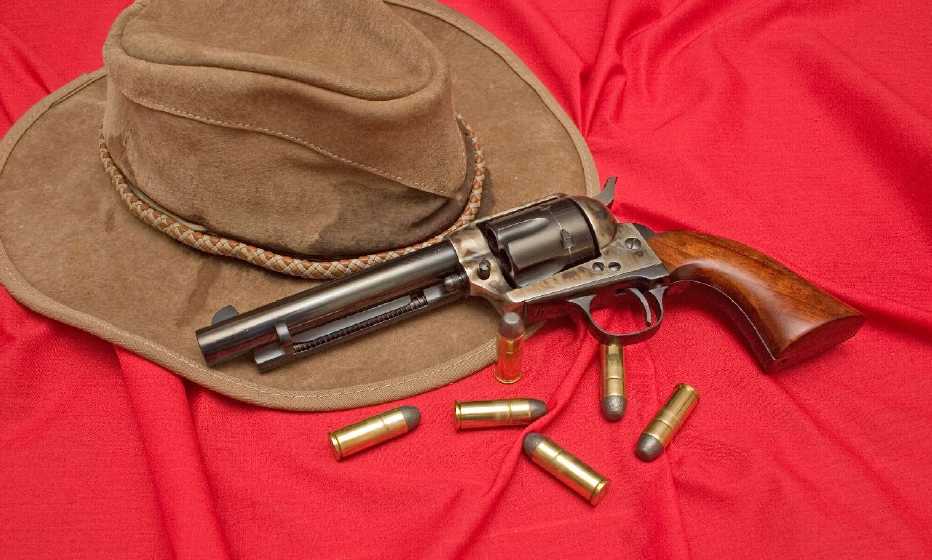 If there's an iconic (albeit largely fictitious) image of the Old West, it has to be that of a lawman standing on a dirt street facing down a surley opponent with guns drawn. In all probabilty, these guns would have been the Colt 1873 SAA. Designed, as the name implies, as an Army service revolver, this pistol changed the way we look at firearms forever. Known by many names, including "equalizer," "hog leg" (sometimes spelled "hawg&quot), generically a "fourty-five", or "plowhandle," the most popular monachre for this pistol is, of course, the "Peacemaker" although it was also known in the factory as the model "P." It was not the first cartridge revolver by any means (Smith & Wesson's model 1 using .22 rimfire was actually developed 15 years earlier and the self contained cartridge had been conceived of even before that) but it was the first practical design to really catch the attention of the public. Both light and simple, the Colt revolver quickly garnered attention in many circles.
First built in 1871, formally adopted late in 1872 (resulting in it occassionally being incorrectly refered to as the 1872 SAA), but not issued until 1873, this pistol became a favorite with soldiers and civilians alike. Standard barrel lengths were initially 7 1/2, 5 1/2, and 4 3/4 inches identified as the cavalry, artillary, and what was termed the civilian model. Other barrel lengths were offered on pocket models as well as custom pistols so this weapon may be found with barrels ranging anywhere from about three inches all the way up to the so-called "Buntline Specials" having barrels of 10 inches or longer and most often being accompanied by a detachable shoulder stock.
Between 1873 and 1893, over 35,000 Colt pistols were purchased by the army, mostly for the cavalry and militia units. From the outset, the new army pistol was also marketed to the public and in order to further capitalize on the civilian market which had come to greatly appreciate the capabilities of the new Colt pistol, in 1877 Colt introduced what was perhaps the most famous variant of this arm, what they termed the "Frontier Six-Shooter" and was typically marked as such on the barrel. Chambered in .44-40, the same cartridge that Winchester used in their famed lever action rifle, this meant that a settler or rancher only had to carry one cartridge for both weapons. In my oppinion, it was this pairing that probably led to both arms being around for so long.
While both the factory and an untold number of gunsmiths made custom alterations to these pistols, supplying them in a myriad of calibers, when all was said and done, the most popular chamberings, in order, were .32-20, .38-40, .44-40, and the .45 Colt which accounted for almost half of total production. Of the lesser chamberings, the most notable is the .41 Colt, accounting for an estimated 5% of total production. But the .45 in addition to being the most popular was also the original chambering and since for me this is a sample of history, that's what I looked for. Eventually, I want to pick up a 7 1/2 inch .44-40 but that will have to wait for another time. With prices of first generation Colt revolvers reaching five figures in some cases, it is unlikely that I will ever be able add one of these great originals to my collection.
So why was the Colt so popular when there were so many other weapons out there such as the Smith & Wesson, the recent cartridge conversions, Starr, Remington, and other lesser pistols? Well, concensus seems to be that many of these pistols, while servicable and otherwise very excellent arms, seemed to be somewhat delicate and had rather tight tollerances or were just plain complicated to build and operate. When speaking of reliability, most commentary seems to focus on the S&Ws, fairly or not. This is quite probably due to the fact that among the military, the Smith & Wesson pistol was the chief rival of the Colt revolvers and therefore received more attention than the other models available.
The criticism of the Smith & Wesson pistols held that they were good designs and in some ways perhaps technically superior to the Colt design, but were also more easily damaged and prone to rapidly diminishing function from fouling or improper maintenance. The Colt pistols, on the other hand, quickly gained a reputation for being able to take pretty well whatever treatment they were given and keep on functioning. As it is with any business, rugged reliability proved key to making this arm a success. As an aside, it should be noted that the tight tolerances spoken of are actually a sign of precision manufacturing and speaks pretty well for the quality control of Smith & Wesson, however, in this application those same tolerenaces could also be viewed as poor engineering. (Not allowing sufficient clearances on exposed parts prone to collecting dirt, etc.) Still, the Smith & Wesson was good enough to also be purchased by the government, though not in the same quantities that the Colt was.
Some confusion seems to arise surrounding the monachre, "Peacemaker". Various writers use this term rather freely and even those who can be called authorities on the subject of the Colt 1873 SAA often mix the usage of this term. For instance, Charles Edward Chapel writes in his book, Guns of the Old West,
Colt Model [1873], also called the Peacemaker, and the Frontier Model
and in the very same paragraph,
The standard barrel lengths were 7.5 inches for most revolvers, including the Cavalry Model and Peacemaker...
So in the same breath, he uses the term Peacemaker to refer to all Colt 1873 revolvers yet also references a specific configuration as though a Peacemaker were a particular variant of the Colt SAA revolver. To further confuse the issue, just a couple of paragraphs later, Chapel makes reference to an image of a Buntline Special he observes to have "true 'Peacemaker' characteristics"
Consequently, where the term "Peacemaker" originated and what properties it is intended to describe is quite difficult to ascertain. It is most probable that this derrives from one of the nicknames applied to Samuel Colt by those who were fond of his designs. John Parsons in his book The Peacemaker and its Rivals states that the first appearance of this name in connection with the Model "P" was by the firm B. Kittredge & Co. as well as others in the earliest advertisements for this arm. A reproduction of one of these adterizements is printed inside the front and back covers of his book. So this name was not something that was applied over time, it was used right from the get-go.
Often you will see writers describing virtually any 1873 SAA pattern as a Peacemaker and many have accepted this as the correct usage of the term. However, from my own research, it seems that there are two schools of thought here. Some writers, as noted, call them all Peacemakers while others seem to agree in principle that a true Peacemaker is defined by at least two items: first to guns chambered in .45 Colt (Parsons' writing supports this), and then generally only to guns posessing a 7 1/2 inch barrel.
For example, the pocket or so-called "storekeeper" models, because of their short barrels, would not qualify for this designation. A very few pistols are also known to have been altered to include a birdshead style grip. These custom pistols, while interesting, would likewise not be properly classified as a Peacemaker. As to which deffinition is correct, I don't have enough information to make a call with certainty one way or the other but I personally lean towards the latter of the two. But among those that I have seen use this description, what more specific characteristics might be used to further delineate this classification are less generally agreed upon.
Type:
Single-Action Revolver
Caliber:
.45 Colt
Capacity:
6
Barrel Length:
4 3/4 in.
Overall Length:
10 1/2 in.
Weight:
apx 33 oz.
Sights:
Blade Front, Channel Rear
Finish:
Blue
MSRP:
$519
So successful was the design of this pistol that production continued for nearly 70 years. When Colt finaly did decide to retire that model in 1941, it was really a result of sales that had been falling for some time from factors including more powerful cartridges being used in military circles such as the .45 ACP, law enforcement and public adoption of the .38 special as the principle defensive cartridge, and the fact that the equipment used to produce these was just old and wearning out with quality suffering as a result. But the final straw was the changeover to war time production as a result of WWII.
The Colt SAA was not dead, however. (Quite probably, the Colt 1873 SAA and especially the .45 Colt cartridge have been declared dead more times than Elvis.) Nostalgia for the old pistol arose through the new medium of television, giving another generation of Americans the chance to grow up with the old "B" Westerns and contemporary horse operas in the form of the television serial. Seeing all their television heros spinning their revolvers and performing impossible feats of marksmakship restored interest in this pistol. In 1956, sensing an opportunity to capitalize on this nostalgia as well as satisfying the demand from Hollywood for pistols for use in the film and television productions of the day, Colt began manufacturing a second generation of the SAA but this production was nowhere near the original quality and it finaly ceased in 1974 with the last two years of production apparently being from leftover parts and pieces.
But the nostalgia continued even after production ceased and in 1976, Colt began producing a third generation revolver which remains in production to this day. It should be noted, though, that these are not merely replicas of the original. Certain items have been updated and various safety features incorporated. The current generation of SAA revolvers is a modern gun built for modern times under modern laws. But lets also not forget that Cowboy Action Shooting is a major factor in the popularity of this pistol and as such, a nod to historical accuracy is also given in their production.
As indicated, second generation Colts and even the early production third generation pistols are not generally looked on favorably from a quality standpoint for various reasons that I, not being an authoritative source, will not deign to get into. However, current generation revolvers are viewed as being quality arms and generally worth the investment. Most who hold a fondness for the first generation Colts will say that these do not shoot nearly as well as the originals and that may indeed be true but such views are often tainted with personal sentiment for one of the greatest guns in history so must be taken in that light.
Aldo Uberti's pistols
Of course, Colt's war-time cesation of production of first generation pistols, the problems with the second generation Colt pistols as well as the continuing public interest in westerns and western arms allowed an opening for other makers to get into the game. Among many who started producing pistols at various times was Aldo Uberti. Long fascinated by the history of America and particularly the American West, Uberti started out in 1959 by making replicas of Civil War arms directed towards the reenactors. In the 1950s, with Colt no longer manufacturing the real thing (prior to 1956, of course), several replica makers began sending their wares to the United States to support the market created by the Spaghetti Westerns and the escalating price of the genuine article. Initially, these were of dubious quality with poor finishes (the very term "Italian replica" became something of a dimminuitive expression) but as time progressed and these makers got more experience, quality began to improve and things only got better from there.
Currently, Uberti's arms are considered among the best quality arms, rivaling not only all the other replicas but the modern guns as well. While Aldo Uberti is no longer with us, having passed on in 1998, his company produces a wide variety of western replicas for all tastes in a whole host of finishes, chamberings, and styles. Uberti's website presently lists 58 versions of this revolver on sale. Chamberings include .45 Colt, .44-40 and .357 magnum in each of the three standard barrel lengths. Finishes include nickel, stainless steel, blue, charcoal blue, color case-hardened, a matte finish, and more recently, their Old West finish (a finish designed to give the appearance of a 125 year old pistol that actually carries it off pretty well.) I had seen some reviews of this Old West finish and they spoke very highly of it but did not personally run across one until recently and I can now say the reviews weren't lying. This is a very attractive finish.
Some of these finishes are complete coverings (such as nickel or stainless steel) but naturally most are used in combination with each other with some models also having brass furniture. Likewise, various factory fitted grips are available from one piece walnut, to checkered synthetic, to immitation ivory and mother of pearl. Uberti's website also designates several of these combinations with their own monachre including thing such as "Cattleman Chisolm", "Cattleman Hombre", and "Cattleman Frisco" to name a few.
These revolvers are quite affordable and as a result of their price and inherent quality have become some of the more popular pistols for Cowboy shooting but Uberti's website reminds us that these are not merely good looking toys, they were built to be used. They're just at home in the field with full house loads as well as on the line of a fast draw competition, firing wax bullets.
My purchase was somewhat spur of the moment. I was in one of my favorite gun shops, Guns, Etc, in 2007 and saw a used basic .45 colt with a 4 3/4 inch barrel in the display case for what I considered a bit of a steal. This gun was obtained by them as part of an estate sale so I was happy to be able to place it in my own collection in tribute to whomever had owned it before me since it was quite obvious that this gun had been appreciated for what it was and while it was well cared for, it was also obvious that it had been fired quite a bit. The exterior of the pistol was in excellent condition and the mechanism functions well enough, although there are indications of wear as you draw the hammer back, a distinct cylinder ring, and somewhat greater than desirable cylinder play. On full inspection, once I had it home, I found that the cleaning had been somewhat less than thorough and had to knock out a ring of powder residue from each of the chambers but otherwise, the gun seemed to be in great shape with no dings or scratches visible.
This pistol incorporates every significant feature of the first generation Colt design, including the hammer mounted firing pin which I personally think makes the hammer and the whole pistol look a lot better when looking at someone holding this gun, narrow trigger, leaf mainspring, and straight cylinder pin with spring release. Uberti also supplies what they call "Old Model" pistols with a screw retainer in place of the spring lock on the cylinder pin, as a nod to the earlier production SAA Colts before the design was changed to the spring retainer beginning about number 153,000.
My pistol, as I indicated, is a pretty basic gun with a blued finish, color case-hardened frame, steel backstrap and trigger guard, and one-piece walnut grips which are pretty well fitted to the frame with only very slight misalignments most notably on the forward edges. Although functioning acceptably, as stated earlier, you can clearly see a pretty well defined cylinder ring forming. Additionally, after having used it in a few shooting sessions and getting more accustomed to this revolver and revolvers in general, I have now noticed that I can feel the cylinder skip or hesitate on occassion. In order to prevent unnecessary wear on the pistol and the cylinder, I do think a trip to the gunsmith is in order before too much longer.
Performance
For reasons I can't quite figure, the original military cartridge was designed around a 230 grain bullet with 28 grains of powder whereas the commercial load held 35 to 40 grains. Why the army would not want more power behind their rounds when many of the other revolvers submitted for evaluation were criticized for their weak cartridges, I do not know. Parons lists the relative muzzle velocities of the service load as 733 fps as opposed to 890 fps with commercial cartridges loaded with 37.6 grains of power. This translates to 274 ft-lbs of energy vs 404. That's 47% more energy in the commercial cartridge. While this had notably more recoil, a faster bullet will also tend to have a flatter trajectory and will therefore be easier to aim. Likewise, the additional energy will mean a longer effective range which itself was a criticism of other cartridges.
Today, many of the commercially available cartridges for the .45 Colt pistol are loaded based on the Single Action Shooting Society (SASS) standards. These standards hold that the velocity of these loads should be between 400 and 1000 fps. This certainly allows for some pretty hefty cartridges but you'll not likely find them at your local market. There are two reasons for this. First, many of the competition shooters deliberately want lighter loads so recoil is reduced. This helps them recover faster for the next shot since the muzzle is not being thrown all over the place and the pistol is not shifting in their hands. However, it is the second reason, in my oppinion, that is perhaps the more notable. Wanting to err on the conservative side thanks to liability concerns reinforced by direct statements from the SASS handbook that "Shooters may be held responsible for damage caused to a target or injury to personnel due to bounce back because of inappropriate ammunition", factory loads don't usually come anywhere near the maximum and indeed are closer to the original military load in velocity and power than they are to the commercial Bridgeport load. There are faster loads out there but perusing the shelves at my local stores has typically left me disappointed. Still, I get by.
This is no criticism of SASS, by the way. It's not really even a statement against the ammunition makers. These folks are running a business and to stay in business, they have to make a profit. This minor requirement means that they're only going to produce what they can sell, preferably in quantity. Consequently, rounds being loaded are being loaded to satisfy the demand for competition and in competition, close range targets are the norm. One must also remember that today's society is such that if you can be construed as being even partly responsible for an injury or damage, you get a lawsuit. So we end up with the majority of rounds being loaded to the minimum necessary to get the bullet downrange. I just find it mildly irritating that there are not a few more commercial offerings meant for performance instead of competition.
Black Hills 250gr
641.1
21.5
228
1.8
Winchester 250gr
643.1
31.0
230
2.5
Magtech 250gr
732.8
32.5
298
2.1
GOEX Black Dawge 235gr
795.7
7.3
330
2.5
For my tests, I obtained four boxes of shells. The first three of these were Cowboy loads from Winchester, Magtech, and Black Hills all 250gr. The fourth was a more recent offering, GOEX Black Dawge cartridges with 235gr slugs. These last rounds are loaded with replica black powder for those who wish to get a sense of the original without the additional effort of loading their own.
As you can see, velocities varied considerably. I was both surprised and quite pleased when I fired the Blawk Dawge rounds. These were quite obviously more powerfully loaded shells than the others. Having spent more than enough time shooting the usual lightly loaded offerings, it was actually surprising to feel the pistol jump from the recoil – surprising, but imminently pleasing. Having a fondness for black powder, it was amusing to me that these were also the most consistant of the bunch. It should be remembered as well that out of a 7 1/2 inch barrel, these velocities would likely have been five to ten percent higher, putting the GOEX load at between 835 and 875 fps. Still, these do not quite replicate the old commercial loads (close, but not quite) so if that's what you're after, handloading is the way to go.
After taking velocity measurements, I set out to see what kind of patterns I could cut with these. Normally, when I print patterns on paper with pistols, I do so from a standing position with no additional support. But when it comes to handguns, I'm a bit inconsistant. For these tests, I really wanted to see just what the gun was capable of and opted to fire from a bag rest at my target set out to 30 feet.
Top honors go to the Black Hills rounds, coming in at a mere 1.8 in. All the rounds performed well and I suspect if I had been a bit more careful, I could have gotten the Winchester and GOEX rounds under 2 in. also.
On a whim, I aimed my revolver a little further afield and took a few pot shots at the 200 yard gong and loaded up some more of the Magtech rounds. The first few shots, pretty well as expected, did nothing more than toss up a cloud of dust near the top of the 100 yard burm. The next two shots impacted a bit low and behind the gong. About 18 rounds later, the revolver was getting pretty gummed up and didn't want to cycle so well. I managed to hit all around that target but never quite could zero in on it before calling it quits. Perhaps this signals a project for future outings!
Before leaving this topic, I've mentioned several times how eventually I fully intend to start handloading for this revolver. One important note about the various pistols out there is that there is a significant variance in frame strength. The original pistols are best used with black powder only. First generation Colts of later manufacture had been suitably strengthened for use with smokeless power but if you are not certain what period yours was made in, go with black powder (and it would probably not be a bad idea to lighten the load if you're firing a $10,000 pistol.) For today's pistols, recall that strength means increased price and manufacturing costs. Therefore, many of the replica pistols will not stand up as well as a pistol specifically designed for those who seem to want to see just how much it takes to stretch a frame or blow up a cylinder. This is especially true over time. Do not assume that all replicas fall into this category but as a general rule, it's the safer bet. So before you go trying to put full house loads into your gun, make sure it's rated for it.
Final Thoughts
The old model P was introduced more than 135 years ago during the days of the Old West. Even though this encompassed a period of only a few short decades extending from roughly 1865 to just after the turn of the century, just over 35 years, those years have become perhaps one of the most culturally significant period in our nation's history. More than 100 years since the sun set on that era, the Old West is still being celebrated in novels, films, television productions, music, and poetry. Ask anyone to picture a sheriff, marshal, cowboy, or outlaw from that period and they almost inevitable picture a man standing on a dusty street, wearing a Colt 1873 Single Action Army revolver. This pistol was so well liked that it has become an icon for the Old West.
Pretty well daily, somewhere cowboy action shooters gather to relive a little piece of this history. Participants eagerly dress the part (even if not required to do so, many still would), grab their leather, and strap on their revolvers. Many of these are designs passed down from the iconic Colt pistol. At these matches, on occassion, one may even encounter a first generation pistol still in service after all these many years, now filling a somewhat different role from what it was originally designed for, but still faithfully serving its owner nonetheless.
Like so many others, I doubt that I'll ever be able to afford a first generation Colt. For us, having a faithful replica becomes important. If we can't get the original in our collection, then a replica as true as we can get is the next best thing. The Uberti pistols may differ in the specific details on some parts but these deviations are generally something that can be ignored by most every day users. Even collectors seeking an affordable specimen pretty well faithful to the originals can usually find a replica they will be happy with. Not forgetting, of course, that a big advantage of a replica is that you don't have to think about the cost of the gun every time you pull the trigger.
Uberti has given us an attractive and functional pistol. With the success of their Cattleman series, they have continued to expand their line and currently offer 15 different variations with multiple barrel lengths and grips. Some of these guns I have seen on display at the local shops and I must admit that with the exception of the matte black finish (I'm sorry, I can't help it... it just looks awful), I find the majority of pistols I have seen to be quite attractive. While most generally intended for Cowboy Action Shooting, remember that one of the chamberings offered is the (relatively) powerful .357 magnum. To be able to handle this cartridge safely, the gun has to be strong.
My Cattleman revolver may not be exactly new but it wouldn't take much to return it to like new condition. It feels good in the hands, shoots well, and looks good to boot. The Colt Peacemaker is an important piece of American heritage. It may sound cliche but in a very real sense, having this pistol in my collection honestly has helped me to connect with that part of history. It is a shame that factory rounds are so expensive because this gun is just a joy to shoot.